Need money to run a quick project to payback later? Good. Here are 9 Top Loan Mobile Apps in Nigeria that can help you quickly get things done. These are small term loans for individuals and SMEs.
Update 1st March 2022: These apps are updated, bigger and better.

Read the follow up article here
1. Carbon (Formerly PayLater)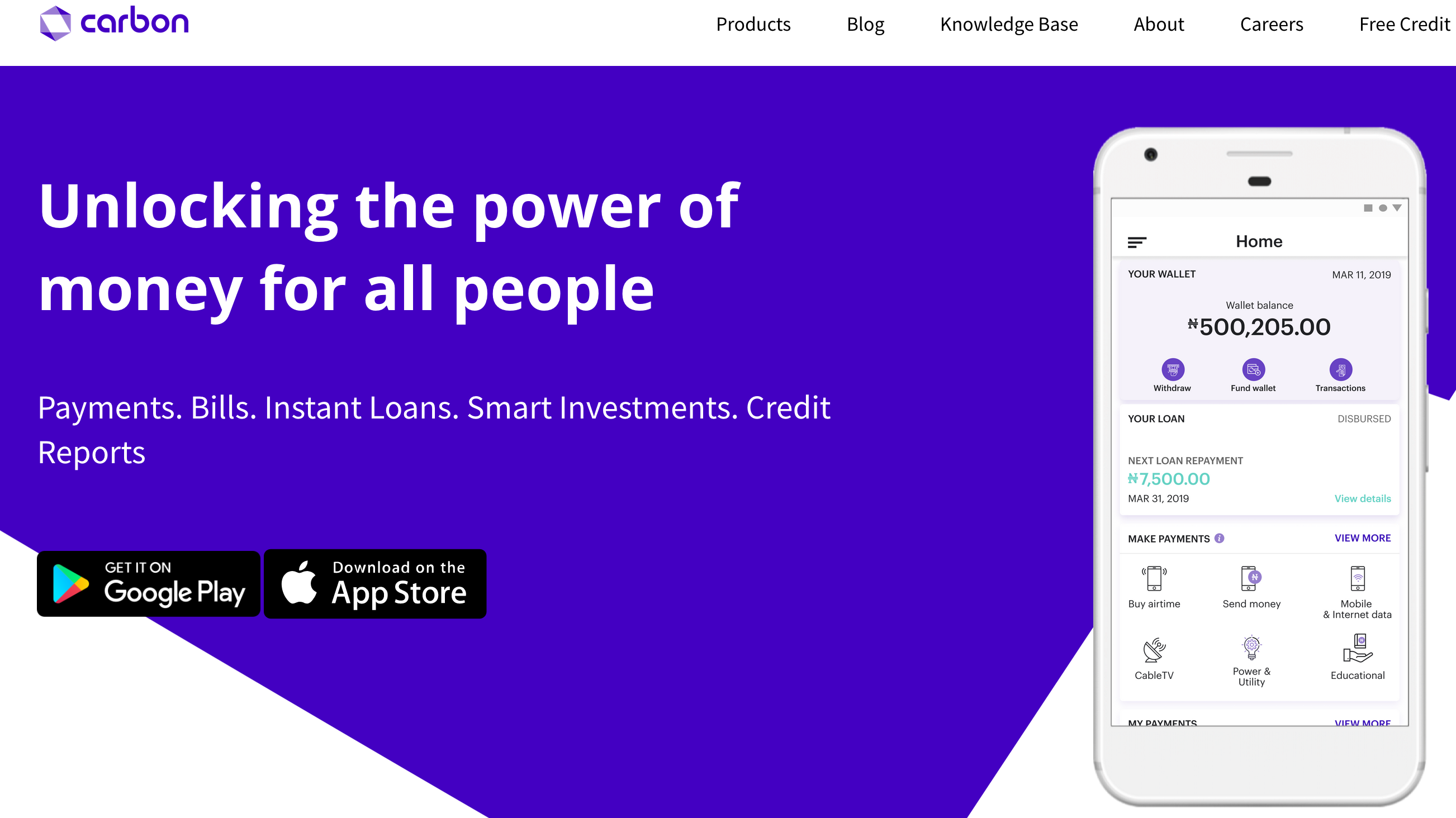 Carbon, formerly Paylater® lets you control your finances with a few clicks. You can get instant short-term loans for urgent needs, invest money to earn high-interest rates, recharge airtime on your mobile phone, and make bill payments for services.
It's fast, secure, reliable and works 24/7. Currently available in Nigeria and Ghana. A word of caution though — if you don't pay on time, your credit report gets damaged and it will be hard to get another loan until you pay up. But the good thing is that: Pay only what you owe. No late fees, rollover fees, or processing costs.
As of 2022, Carbon is now a digital bank where you are given your own account number and everything.
See a customer's review about Carbon (paylater)
USSD Code for Loans in Nigeria 
2. QuickCheck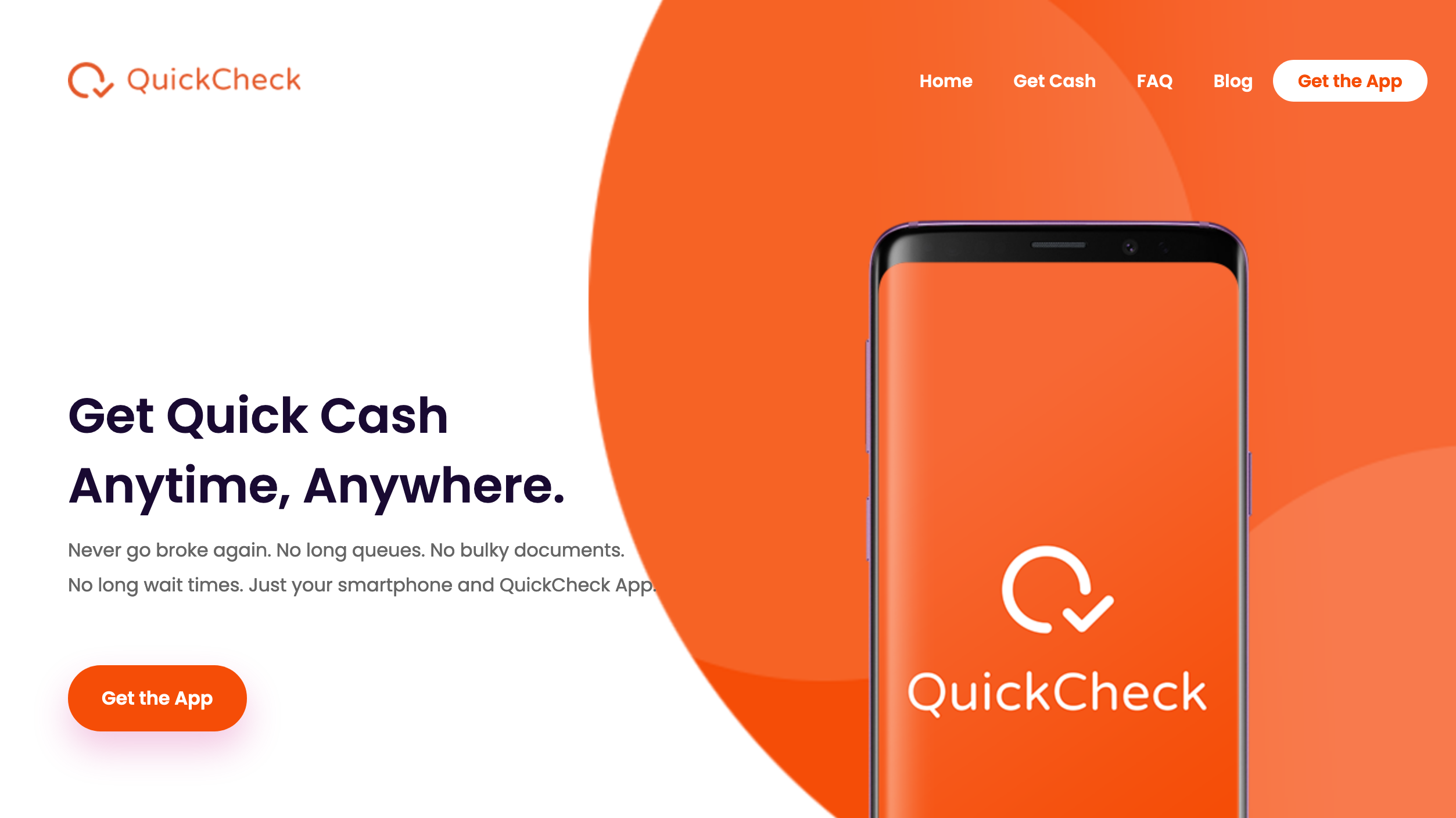 This money loan app in Nigeria is a lending and credit system which is designed for small business enterprises and private individuals. With them, clients can receive instant and readily accessible funds of not more than 30,000 Nigerian Naira for a period of either fifteen or thirty days without providing any collateral in exchange. Quick Check app is available only Google Play for now.
They are quite reliable. QuickCheck loan has interest rates starting from as low as 5% monthly on the first loan. Generally, interest ranges from 2% – 30%, with an equivalent monthly interest rate of 1 – 21%.
3. QuickTeller Loans
Quickteller is a financial service application that enables you to make online transactions like sending and receiving money, airtime, paying bills etc. The digital payments company, Interswitch developed and maintains this application.
Interswitch is a digital payments and commerce company. They facilitate electronic payments and value of exchange between individuals and organizations across Africa.
Getting a loan from Quickteller doesn't require any paperwork or collateral but can be done using your mobile phones, tablets, and laptops. You sign up by filling in your details which would include your name, email, password, and mobile number. The next step to take is to sign in to your Quickteller account, add your bank details, and then make a request for a loan.
Quickteller has an option in their main banking app or their website to request for small loans. I checked it out and it looked good. You may have to try and try again though – as the option hardly ever works.
To get started simply dial *322*6# and follow the prompt and there are 2 options " request loan & borrow airtime" or visit https://next.quickteller.com/loan-request 
This offer is for those who need between N1000 – N10,000 and it will be credited to your bank account once you are eligible. It NEVER works though.

RECOMMENDED READ: About Kenya's MPESA
4. KiaKia Loan
Though not an app, it is worthy of mention.
Kiakia loan is offered by Sterling Bank. It's a non collateral offer. The Kiakia loan comes with a new Sterling Bank account when applying. The amount you borrow will be deposited into your new account once your loan is approved.
How to Apply for KiaKia Loan
Visit the website and create an account with your accurate details
Start an application chat on the site
Upload a valid means of identification
Enter your desired loan amount
Choose the loan duration
Upload a screenshot of your last 3 salary or business income alerts
Accept the loan terms and conditions if your application is approved
Authenticate your bank account and Get credited
Currently, there is no KiaKia loan app in any of the mobile app stores. All borrowing services are conducted through their website. They claim that this is to allow customers with utility phones to access all their services.
Things I don't like:
You have to meet an agent for the loan application. (For a quick loan?)
You will be required to pay an application fee. It is N2500. (huh?)
You will need to wait for few weeks for the sterling bank account to be opened.
I'd recommend you looking at other options though, especially if you don't want a Sterling Account.
And no 5 in our list of top Loan Mobile Apps in Nigeria:
5. Fairmoney Loan App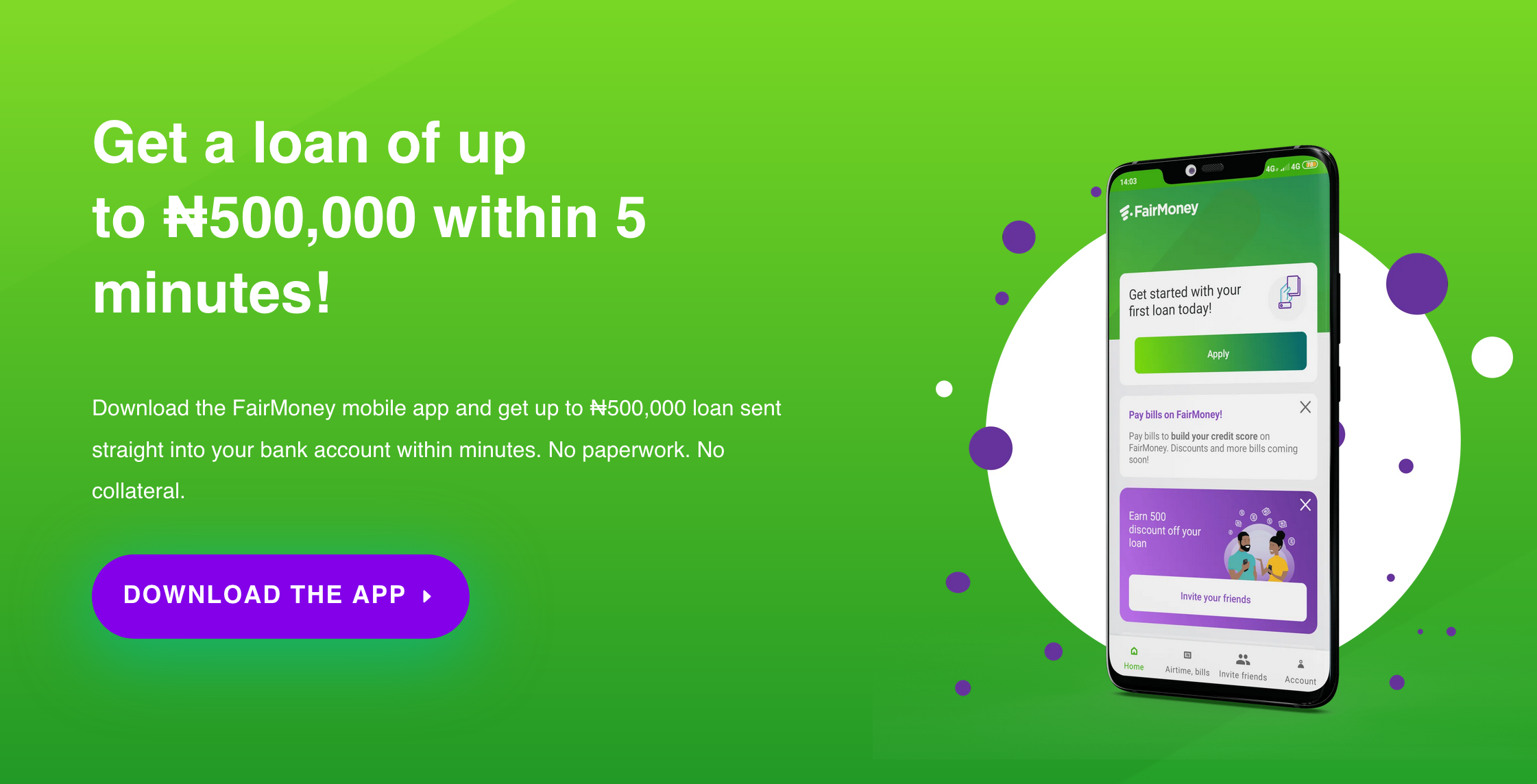 Fairmoney is a Loan App that gives you access to loans anywhere within 5 minutes, as they claim.
With FairMoney Loan App, you can get up to ₦40,000 for your first loan without collateral. Fairmoney works almost as well as Carbon, and is quite reliable – but the interest rates are HIGH.
To use Fairmoney, you need an Android phone. Then:
Download the FairMoney app
Sign up with the phone number linked to your BVN,
answer a few questions and confirm your identity to receive a loan offer.
If you accept it, you will receive your loan instantly in your preferred bank account!
Proceed with caution though as late payment isn't welcome and their interest rates are high. There's also a penalty per day for late payment.

6. Branch Loan App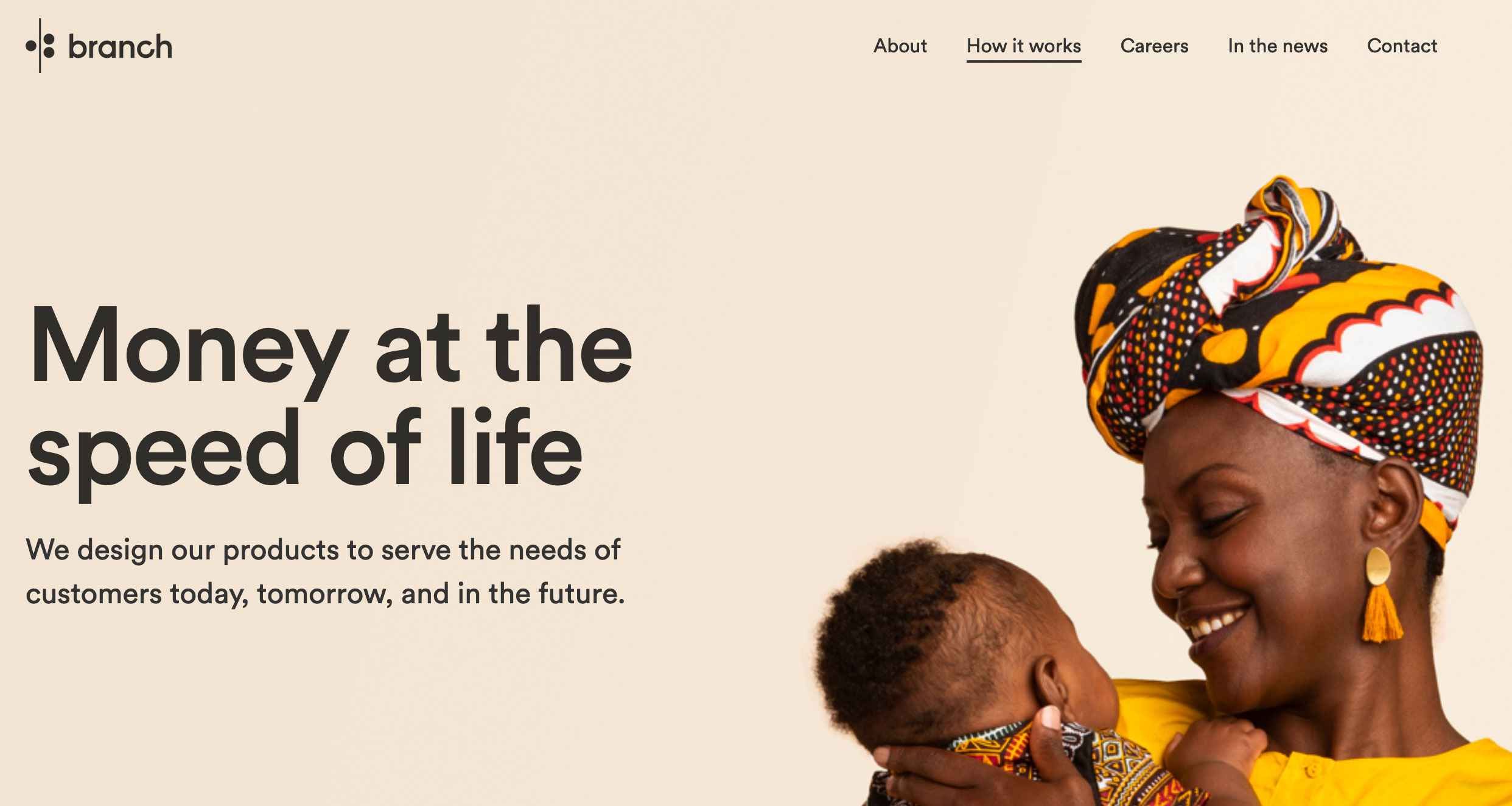 Branch offers instant loans that help people achieve their business and personal needs. The company operates in Nigeria, Kenya, Mexico, India, and Tanzania.
Over the last couple of years, the app has seen incredible growth with over 1.2 million users and over one million loans disbursed, worth over N9 billion in Nigeria alone. This incredible growth rate is a testimony to its service demand and usefulness.
How it works:
Use your Android phone to download Branch from the Google Play store.

Fill out a simple form in under 30 seconds and submit for a quick review.

Loans are conveniently sent to your mobile money or bank account in minutes.

Repay with your mobile account. Build your credit to unlock larger loans.
The App is only available on Android.
7. Aella Credit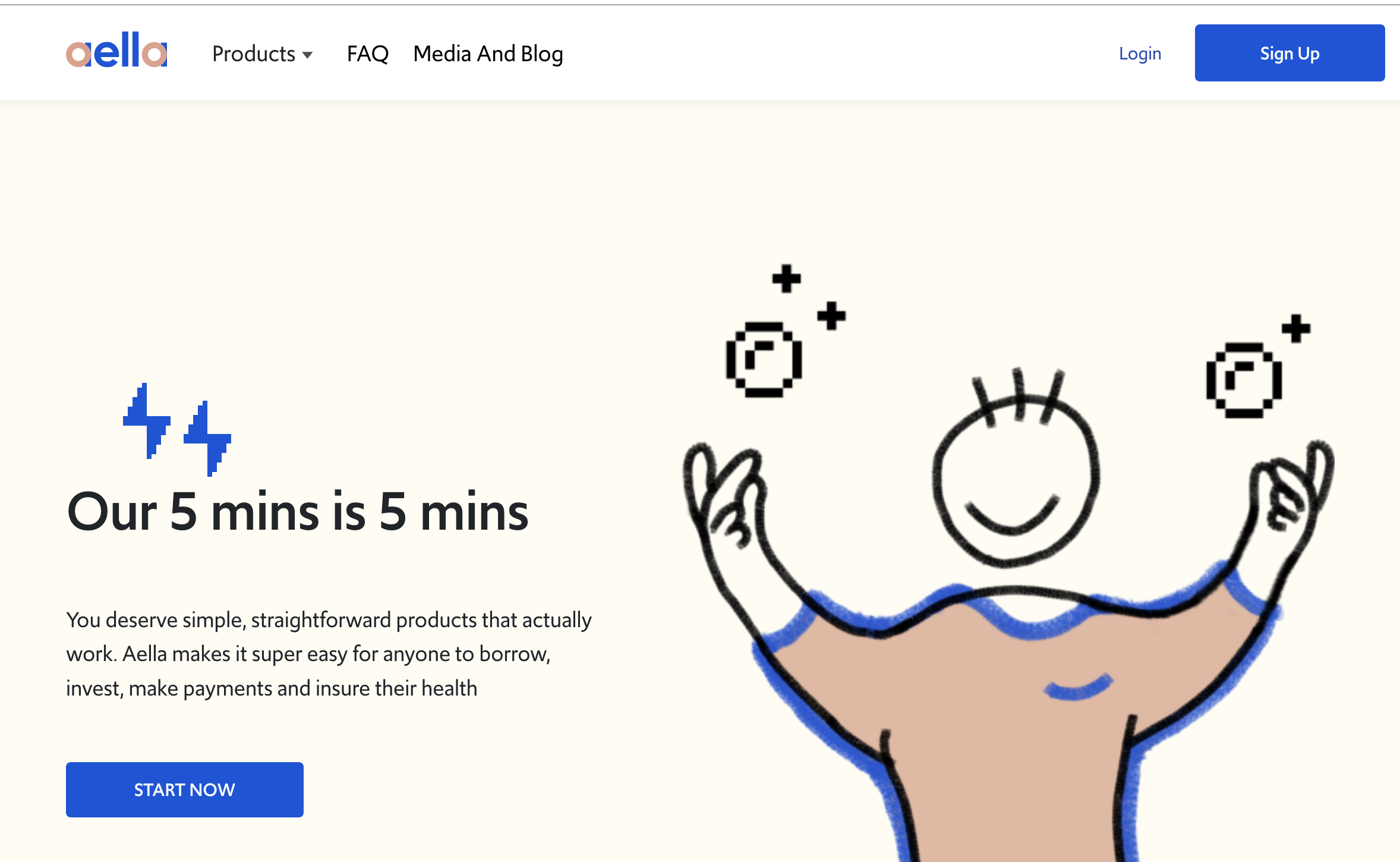 Aella Credit was first intended for employees and salary earners, but they have since upgraded, and now anyone can request a loan, if your credit report is ok. Just download the app and open an account and request a loan. Your original amount may not be approved but you will get close to it.
Available loan amounts are between N2000 and N1,000,000 with a maximum tenure of 3 months. Interest rates range between 6% and 20%, and there are no late or rollover fees.
The hack to qualify for higher loan amounts is to make prompt repayments so you can build your credit score to be available for not just higher loan amounts but more favourable interest rates.
The app is available on Google Play and App Store.
8. PalmCredit Loans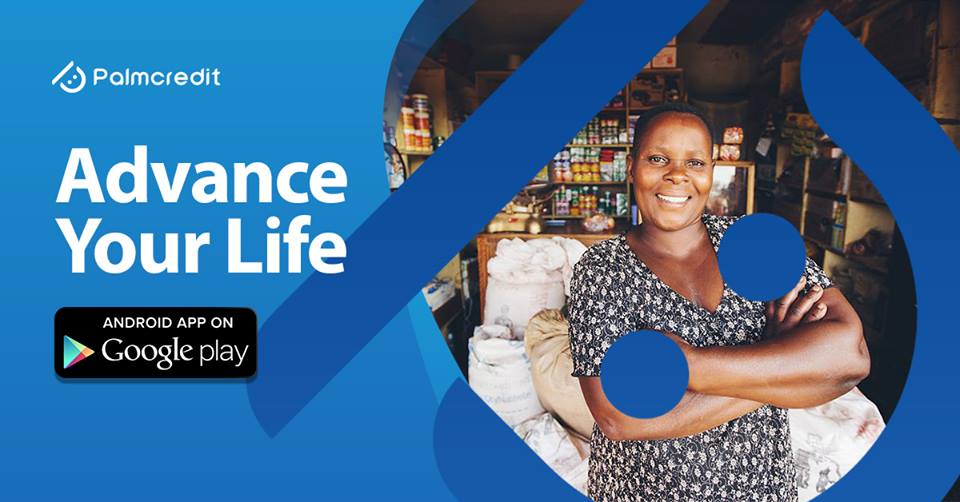 I like PalmCredit and I think it's one of the best Loan Mobile Apps in Nigeria, behind PayLater and Fairmoney and should be before Aella Credit. As soon as you repay, your credit score is updated. Repay on time and your limit can grow to as much as 100k. I hear the highest you can be given is 3-5k, which I'm not sure makes sense.
– Loans Limit Range From NGN 2,000 to NGN 100,000
– Loans Duration Ranging Between 91days to 180days
– Loans Interest Rate: 14% to 24%, Equivalent Monthly interest 4%~4.7%, the Annual Percentage Rate (APR) on a Palmcredit loan is 48%~56%
Palmcredit is an online platform owned by Newedge Finance Limited, and With over 75k downloads on the Google Play store as at December 2020, it is safe to say that the Palm credit app has quite a decent user base.
9. Sokoloan App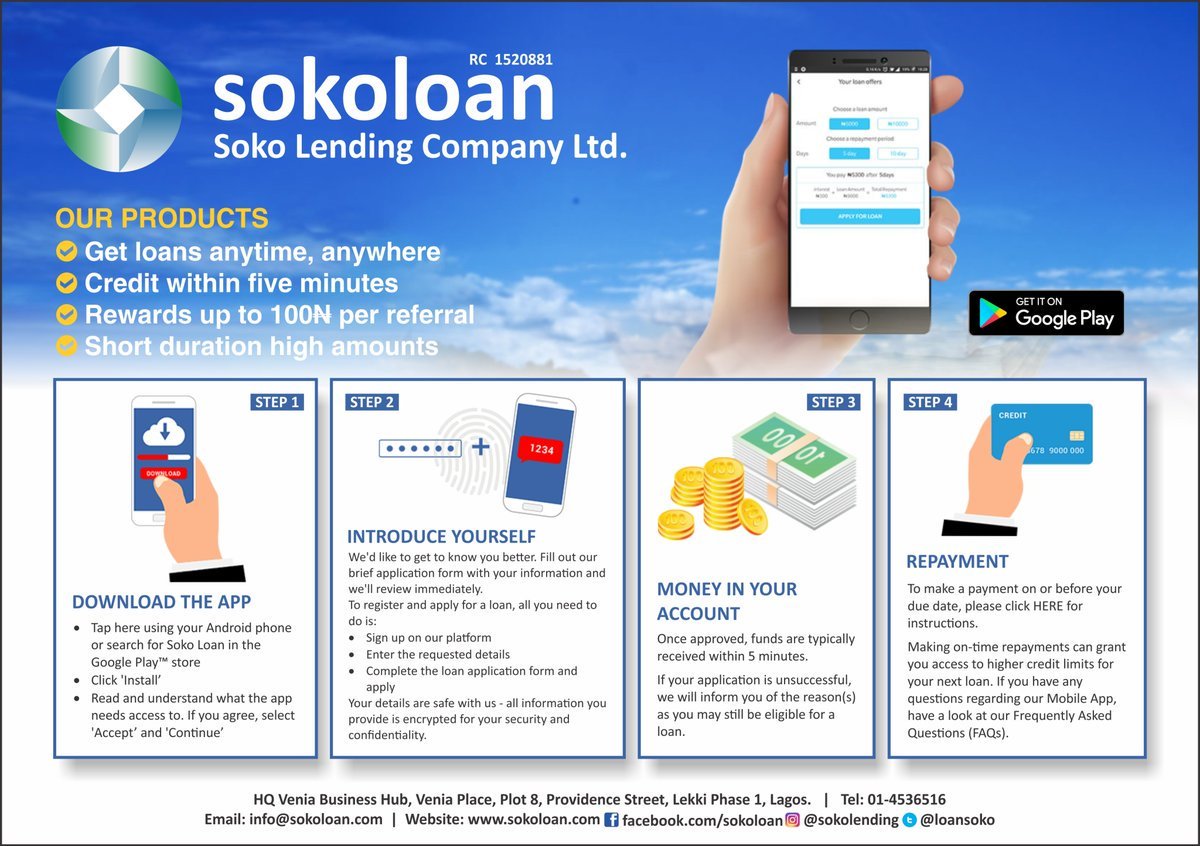 If you look beyond the website design, which needs a lot more work in my opinion, then you would like Sokoloan. You have to wait 2 days for a loan approval, and you still may not get it. Their interface seems light, but they do the work.
Update, 2023: Sokoloan is not available on the PlayStore anymore. Here's why.
RECOMMENDED READ: 6 online Payment Gateways in Nigeria
So there you have it – 9 Top Loan Mobile Apps in Nigeria that can help you get things done quickly. Give them a try and let us know if it works!
A WORD OF CAUTION
Though most of these platforms claim to offer quick loans without any collateral, carefully study their Terms & Conditions (T&C) before joining the bandwagon. Look thoroughly through the Interest rates and payback period and consequences for late payment because… you never know!
Click to read this review about how or not legit these apps are
Good luck.
Zee
—
Recommended Reading: