This Kuda Bank Review has been due for a while now, due to it's claim of being the first digital bank in Nigeria. 
In 2017, Nigeria's Wema Bank launched ALAT — a full digital banking platform. I regret opening that account, so you can bear with me when I say I'm skeptical about this new Kuda Bank hype that's all over social media.
Full Kuda Bank Review
1. What is Kuda Bank?
Kuda Bank is a digital-only bank that runs predominantly on smartphones. Yes, you read that right.
They don't have a physical location to provide its banking services. Before becoming Kuda Bank, they were known as Kudimoney. This digital-only bank is fully licensed by the Central Bank of Nigeria. To be clear, this digital-only bank is not a mobile wallet or simply a mobile app piggybacking on an existing bank. It is an actual bank, it is just a digital-only bank.
A digital–only bank provides banking facilities exclusively through digital platforms, such as mobile, tablets, and the Internet. It offers basic services in the most simplified manner, with the help of electronic documentation, real-time data, and automated processes.
2. Kuda Bank Brief History
Babs Ogundeyi (CEO) and Musty Mustapha (CTO) are the co-founders of Kuda Bank. Before Kuda, Babs was the Special Adviser on Finance to the former governor of Oyo state, Abiola Ajimobi. And Musty was a Senior Software Engineer at Stanbic IBTC Bank. As the only digital bank without connections to either an existing bank or company, Kuda Bank raised $1.6 million pre-seed funding in June 2019.
3. What Kuda claims:
No signup fees FOREVER
NO card maintenance fee
No Account Maintenance fee
No Debit card fee
25 free transfers every month
No SMS charges for credit and debit cards (For real!?)
ATM withdrawals are free
Kuda Current Account is provided through Kuda Microfinance Bank. Kuda card is issued by access bank, pursuant to a license from Visa International & Verve.
How do they make money?
Like regular banks, we make money by using collective deposits to make risk-free investments backed by the government. We also make money from service fees sellers pay us when people like you shop with your Kuda Card. In the future, we will make money from interest paid on loans. 
How to open a Kuda Bank Account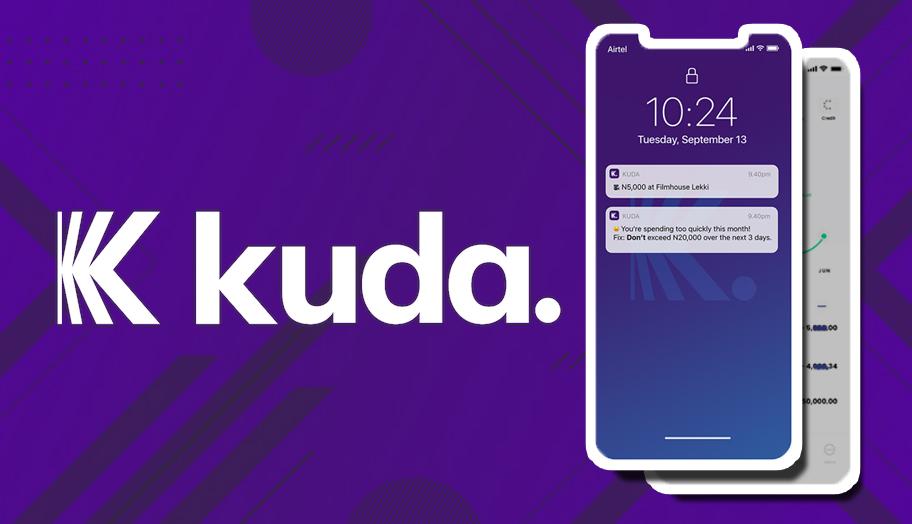 Go to your app store and download the app.
You will be asked to register/ open an account. Information like your BVN, phone number, email address and picture  (to verify your identity) and other basic information will be required.
Once you have finished the registration process, you will be given your account number and you can start transacting.
Using the bank is divided into 3 tiers: Lite, Basic and Premium.
With a name, email, address, phone number, Bank Verification Number and a selfie, you get a basic account with a single deposit limit of ₦50,000 and maximum balance of ₦300,000. By uploading a government-issued ID, it becomes an unlimited bank account.
Users can request a debit card even with a basic account. The card, which has no maintenance fee, can be used to withdraw at Access bank branches for free. Users get monthly reports that show transaction history.
How is a digital bank different from an online bank?
A digital bank has no physical infrastructure like a banking hall or branch but it offers similar services to brick-and-mortar banks. Online or internet banking on the other hand is offered as a complementary solution by traditional banks.
The difference between internet and mobile banking is that while the former requires an internet connection, the latter doesn't. With USSD codes, customers can use mobile banking, offline. Also, The scope of online banking is somewhat limited; essentially they encompass the traditional branch functions being made accessible online for customers. On the other hand, digital banking goes way beyond the realms of normal banking solutions.
Are there any other digital banks in Nigeria apart from Kuda?
Yes. We have ALAT by Wema, V by VFD Microfinance Bank, Sparkle, Eyowo, Rubies and now Kuda.
Does Kuda Banking Work?
On the Play Store, sure – they have tons of Kuda Bank review. But how about real users? Below are a few screenshots from disgruntled users:
I thought my prayers had been answered when I got my card but it keeps embarrassing me.

I went to a store and they thought the card wasn't from a Nigerian bank and I smiled ear-to-ear as I educated them about the next best bank.

My card got declined when I was done talking.

— Michael Obi (@twisted_myk) June 4, 2020
Omo, this my @kudabank Master card no dey work internationally. Wetin dey sup

— yinka. (@geniusyinka) September 22, 2020
Anyone paid electricity bill using @kudabank app? How did you get your token… Cos my case rn… Money gone, no token.

— Fyoung (@Fyoung_Jr) September 24, 2020
All you have to do is go on a Twitter search for the hashtag #kudabank and make up your own mind, I guess.
Should you trust Kuda Bank?
I don't know. This is Nigeria and things that work easily for others don't work for us, so I'd say tread with caution as there's nowhere to run when shit hits the fan. I generally wouldn't trust anything as sensitive as my money into a new phenomenon like digital banking. However, the hype has made me – and others like myself – pay attention, so let's keep our fingers crossed for the future.
Zee
Related Reading: