How do you know if your email marketing campaign is working? With around 269 billion emails sent each day, there's a lot of competition for your audience's attention.
Why an Email Marketing Campaign?
One advantage we have is that people still use email widely. This makes email marketing the perfect tool for building customer relationships to help you generate leads and sales. But before you run a successful email marketing campaign, you've got to do some research. So how do we start?
Start with an Objective
"It's important to understand what your main objective is when sending emails.
A lot of people get hung up on open rates, thinking they need to be focusing on subject lines to get more opens ("click bait"), and in turn will drive clicks. What most will find out, however, is that there's usually a disconnect between the subject line and the content of the email. People open an email but don't find the content they expect, so they immediately click off or delete. Even if the content is good, most people don't give it a chance if it's not the content they are looking for because the subject line is too vague or misleading." – FORBES
Outline the goals of your email marketing campaign.
Example: 
Remind customers that your business exists
Reward existing customers with special promotions
Nurture prospective customers with drip email campaigns until they are ready to buy
Actively try to get prospects to purchase your product or service
Encourage customers to refer their friends and family to you
Communicate and build your brand image
Foster engagement and relationships with your clients
1. Know Your Audience
If you're just getting started, you'll have to target your content. Don't worry; you'll start collecting subscriber info the minute you send your first campaign, so next time round, you'll have real data to work with. Think about your target audience. Being empathetic about the needs and concerns of your target audience is the quickest way to create meaningful email content and campaigns that will be both valuable to you and your customers.
2. Good and Creative Subject Line
The subject line has a main role to play when it comes to getting people to open and click your emails. Like the headline on your blog post, an email subject line has to get attention so people want to go further.
Don't use too many words. Campaign Monitor's data shows that most subject lines range from 41 to 50 characters. Even less of your subject line shows on mobile screens, so it's wise to put the most important parts at the start.
3. Use Direct Copy and a Call to Action
Write a concise email speaking directly to your target audience, and describe whatever the direct benefit of the click is. "Receive a 25% discount on your next purchase" is a clear benefit. "Receive 25% off all socks – today only" is an even more time sensitive call to action.
Your reader should really want to click because there is an immediate, emotional benefit and you can also leverage curiosity. Letting your reader know there's more valuable content piques curiosity and drives the customer to where you want them to go – your site. – FORBES
Tip: For best results, keep email marketing copy short, and avoid pitching your offer too early. You want people to get comfortable first.
4. Finally, Test!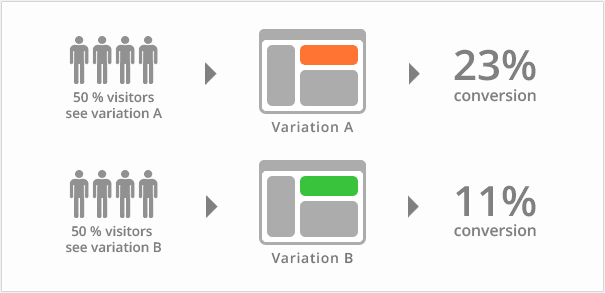 No marketing play should be implemented without measuring success, including email marketing.
Before you send out a massive email campaign, try it out first. Take two concepts you think will be successful and dry run it to groups of 50. Look at the metrics to see which one performs better, and you know which subject line and call to action are your clear, definitive winners.
Test everything – design and layout, email marketing copy, subject lines and calls to action. Do A/B Tests and experiment with email send times, too.
Monitor email analytics from your service provider relating to opens, clicks, unsubscribes and forwards. This will enable you to figure out what's working and what's not with email marketing.
What's successful? It depends on industry and campaign. Rather than looking for someone else's benchmark, start looking at where you are today, and create a goal to move it up 5% using best practices.
Tip: Manage your email subscriber list by attempting to re-engage inactive subscribers, and by removing them if your attempts fail. It's better for email marketing open and click rates to have fewer active subscribers than large numbers of inactive ones.
Good luck!
Zee
Related Posts