It's 2019 and Instagram is still hot – if not hotter. If you run a business, you really ought to start leveraging on the most visited social media platform ever and you can do that with good marketing strategy, so here are my 14 ways to start Instagram marketing campaign for your business.
Before we proceed, Why do you want to start an Instagram Marketing Campaign?
There are various reasons you may want to start an instagram marketing campaign – maybe you are a musician and need to produce dope content, or you run a client's page or some personal stuff – the truth is that you have to settle your why first. This will help you.
Secondly, why Instagram? Not Facebook, LinkedIn or Twitter, but Instagram. Are you sure this is the platform you want to use? To help your decision making process,
Brands that post content on Instagram receive 15 times more engagement than content shared on platforms like Facebook and Twitter. – Entrepreneur.com
So having decided that this is the way you want to go, then do the next steps and you're on your way, hopefully.
During an Instagram marketing campaign, you're trying to achieve a specific objective over a fixed period of time. All …content in your campaign is aligned and focused on a single target, which is specific and measurable. – Hootsuite.
1. Know your audience
Who is following your profile?? Bots or humans, kids or aged? Rich or middle class? You need to know who is following you on Instagram so you can successfully plan your campaign. So how do you know who's following you? The links below can help. You can also use the inbuilt Instagram analytics and see all you need to know.
Stats:
Instagram has 1bn monthly active users. Over 60% of users log in daily, making it the second most engaged network after Facebook. The biggest demographic group are males between 18 – 24 years old, while 60.4% of all users are aged between 18 and 24. 35% of US internet users are now on Instagram.
2. Set your budget
Instagram ads are cheap and at the same time, expensive. These pennies do add up, so it's better to know EXACTLY what we will be using them for. The figure below gives an idea how much Instagram and Facebook costs.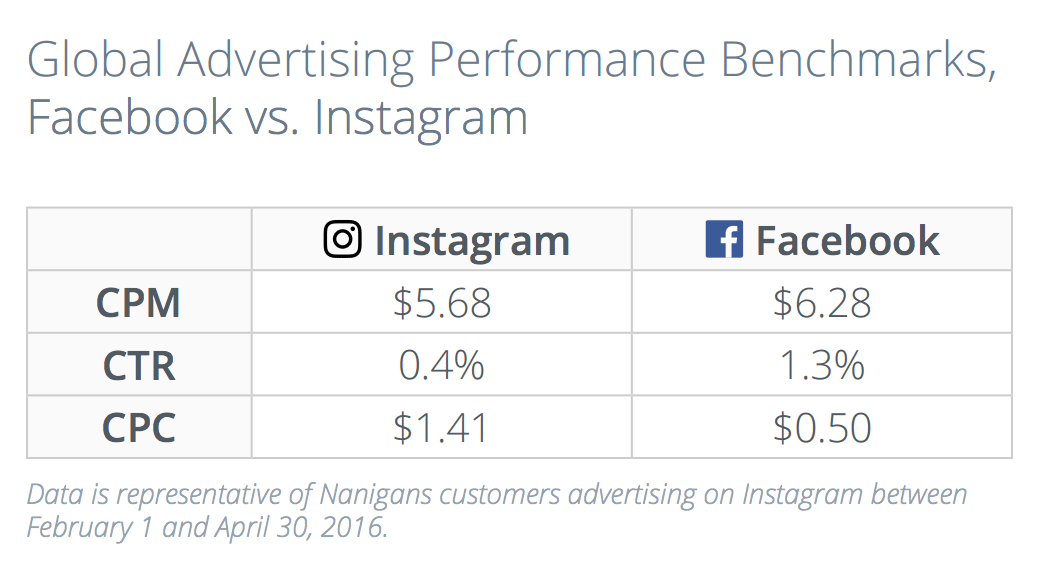 You can spend $100 and you can spend $10000 on a single ad campaign and no one will complain. It all depends on you and your expectations. But here are a few things to note:
Your budget must include what you can't do well for yourself.
Your budget should help you make sales – if that's your forte – so you can have more money to spend.
For example, if I had a $100 budget as a tech agency and I wanted to start an Instagram Marketing campaign, I would…. read till the end of the post to know how to use this.
How much does social marketing cost?
3. Have a clear Goal
Creating predefined campaign goals will give you and your social media marketing team something reasonable and definitive to strive for. Like I stated in my intro, why do you want to start an Instagram marketing campaign? The following reasons are likely:
Grow followers
Sell a new product or drive sales
Promote a cause
Gain brand awareness
As a web design agency, if we were to start an Instagram marketing campaign, our main goal would be to drive sales, create brand awareness and grow followers. So you see, our goals are clearly stated.
You have to be specific though. For example, we have a little over 1000 followers on Instagram so in setting our goals we would say, get an additional 1k followers. Numbers help every time.
4. Test run before you start
So now you know your audience, you've set your budget and you've stated your goal. What next? Test run. Take $5 and test your campaign.



Just randomly boost a promotional post and see if you will get results. If your goal is to get followers, then set it up. Just click on promote post.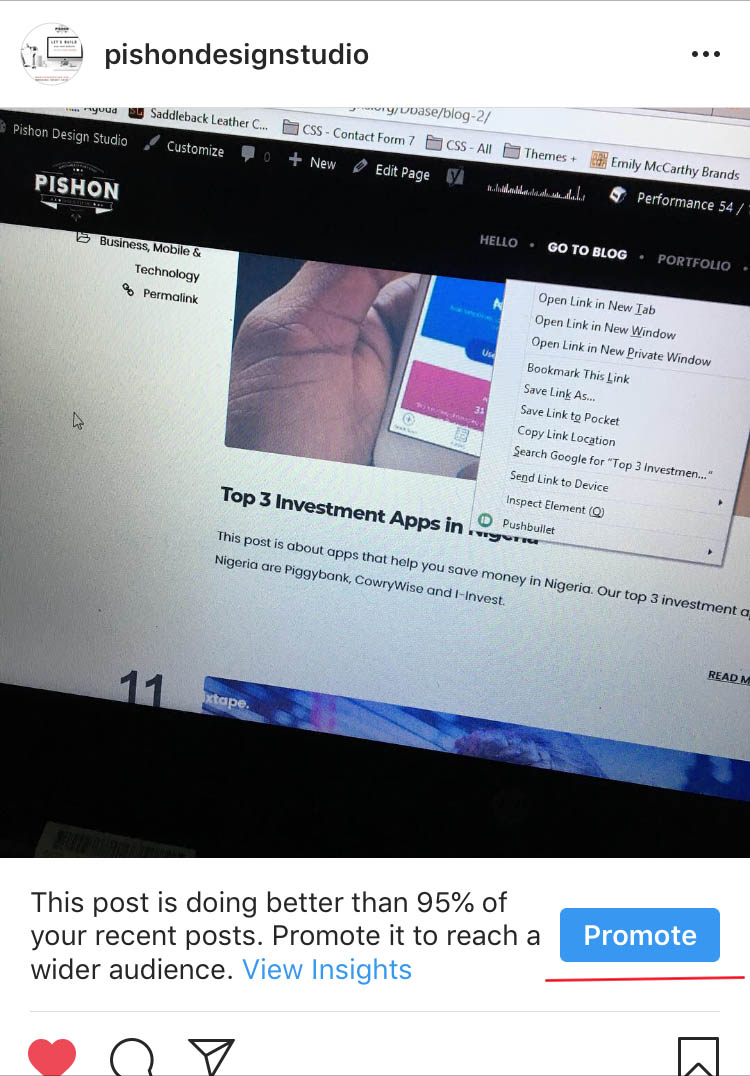 Then the options will come out, you choose your preferences and you're good to go.
5. Don't ignore influencer marketing
I don't like them much but you can't ignore them. Influencer marketing is all the ish now and you need them if you're to start an Instagram marketing campaign. But instead of going for the high profile influencers, go for the micros. The ones who are big but not so big. They are relatable so at least they will reply your DM or email. However the best approach is DM – direct messaging on Instagram.
Start by creating a spreadsheet and adding the names and Instagram profile links for each influencer that you're wanting to contact….Make a note of the time and date that you contacted each influencer so that you can follow up again in a day or two.
However when approaching influencers follow the rules below:
Do your due diligence and know if they are for real. Sometimes the numbers and likes are fake or are because they are part of a huge Instagram pod.
Make sure they are the right fit for your theme and genre. For example as a web design blog/agency, we have no business approaching a fashion influencer to help us start an Instagram Marketing Campaign, do we?
According to Adweek, expect the price to be around $200-$400 per sponsored post.
6. Instagram Stories are huge. Use it!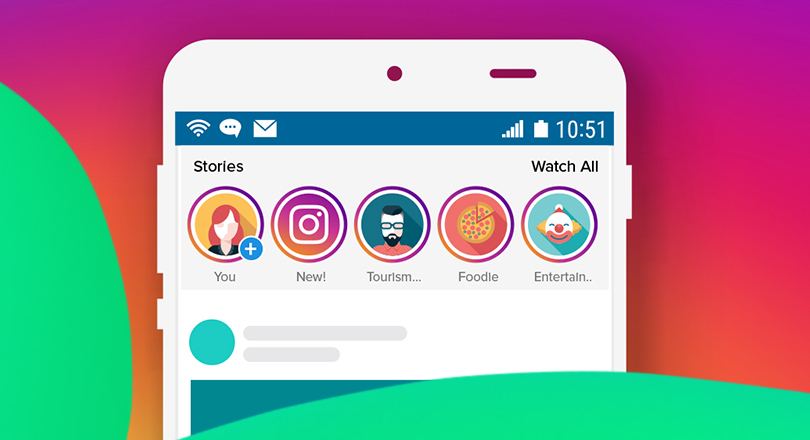 Instagram Stories is a feature on IG that lets users post photos and videos that vanish after 24 hours.
I don't use this much on our company profile but I do on my personal profile. If you want to start an Instagram marketing campaign and need it to be successful, consider using stories. They are huge, like this report on Later.com says.
How do you use Instagram stories for a campaign? Read this from CoShedule
Recommended:
7. B2B Instagram Campaigns



B2B means Business to Business. So to start an Instagram marketing campaign, reach out to a fellow business in your niche and collaborate. You'll be amazed at the responses both companies will receive. It doesn't have to be same niche too, but think collaboration. If it is in line with your campaign goals then you are well on your way to getting a good return on your money.
This is also a bit like influencer marketing above. Bottom line, reach out, collaborate.
8. Start an Instagram marketing campaign with a
clear call to action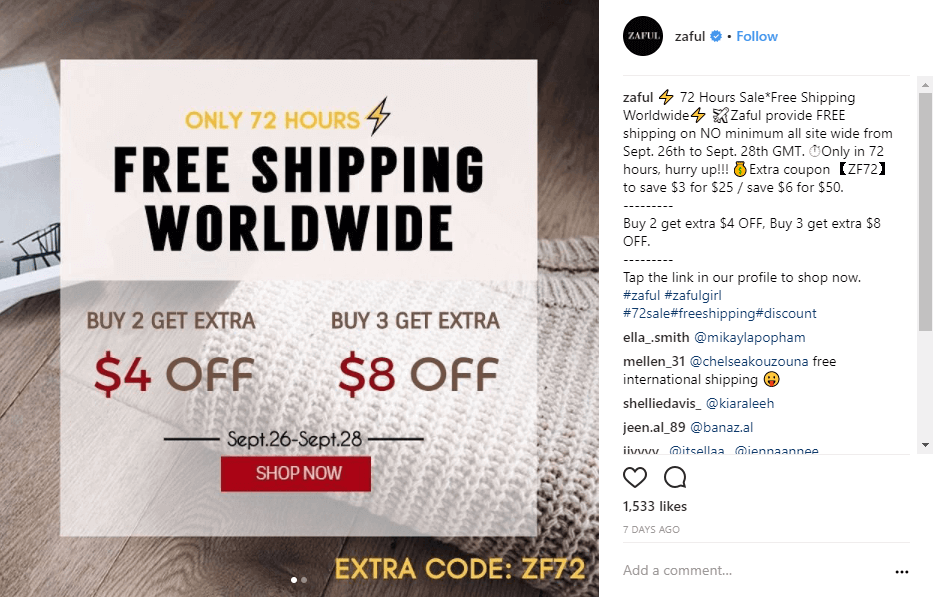 When you start an Instagram Marketing campaign, be as clear as spring water. If you don't tell your audience what you are selling, how will they buy?
Rather than simply asking audience members to visit your brand's website, consider driving them to a specific page for a specific reason.
Remember that Instagram is extremely addictive, so if i stumble upon your ad campaign, the reason to leave has to be compelling enough.
Sample call to actions
Clicks to your website,
Downloads of your app and increase in your engagement,
Generation of video views,
Increase the reach of your posts and mass brand awareness. (NeilPatel)
9. Go Offline
Yes Instagram is good and all that but to have an encompassing and successful campaign, you NEED to be elsewhere. Try going offline. Your audience is EVERYWHERE.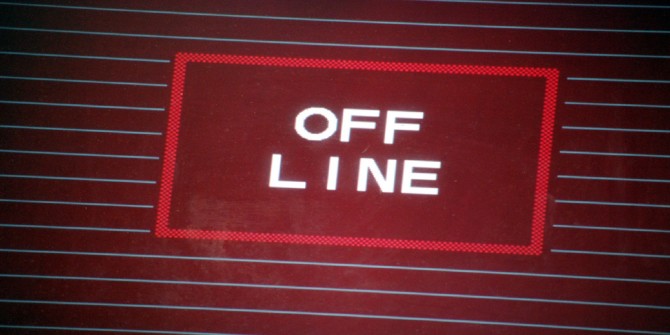 Some types of offline marketing include:
Billboard ads
Live demonstrations
Guerilla marketing
Direct mail
Telemarketing
Print Ads
Once you link these with your online campaign strategy you are sure you are on the right path.
10. Good Content Strategy
I know you want to start an Instagram Marketing Campaign but how good is your content strategy in itself? What have you been posting and how have you been posting it? This will help your campaign to be successful in the long run. Even if your campaign is dope enough and all that, and they follow you, what subsequent posts will you be doing? So pay attention to this.
Some of the best content for Instagram will occur spontaneously, especially if your aim is to highlight company culture or events. By preparing content and setting a general schedule in advance, you can allow the flexibility to take advantage of opportunities when they occur. During events, be ready to publish quickly to take advantage of real-time social engagement. But use scheduled Instagram posts to fill in the gaps in between. – Sprout Social
Recommended content themes for Instagram:
Behind-the-scenes
Recipes
Education
Product/Promotional
Community
Testimonial
Inspiration
Quote
Informal
11. Hashtag it
That's a no brainer, honestly. The best hashtag campaigns use a hashtag that's short and simple: three words or fewer.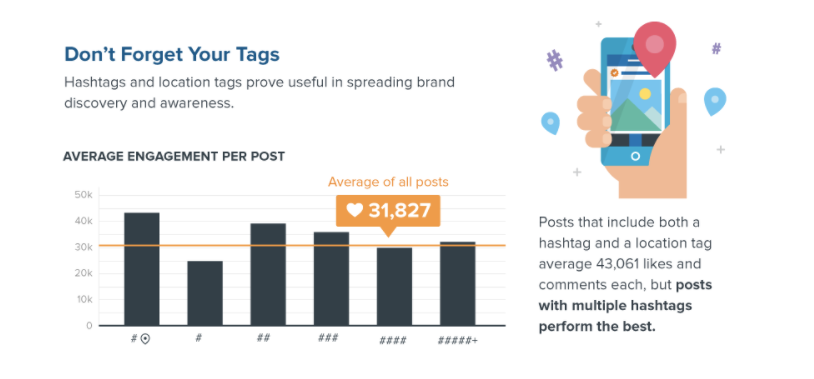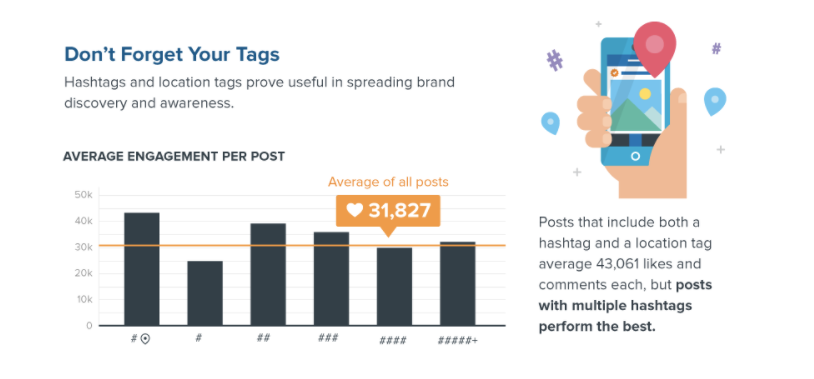 Let your hashtags be custom, memorable and short. No matter what hashtag you choose, make sure it represents your message and brand. Include 5-10 related hashtags – I like to use the whole 30 – about the content of the image to gain leverage.
As people find your posts with these hashtags, they'll encounter your branded hashtag and get inspired to join your cause or campaign.
Recommended: See this guide to using hashtags correctly.
12. Run a Contest/Giveaway
I've always wanted to do this but haven't gotten around to it. The best part of contests is that it is the best way to start an Instagram marketing campaign. There are so many advantages to this.
The goal of your contest shouldn't just be to increase your follower count. You want to build awareness for your brand and engage your current followers. Here's what you should do:
Use the hashtag thingy we mentioned in tip 11 above
State your rules and disclaimer clearly
Let the prize you offer be relevant to the contest and your brand. For example, if you're a phone apple, give away maybe 1 month internet subscription or a phone.
Take advantage of User Generated Content (USG). Successful Instagram marketing campaigns that use USG are the best. E.g getting people to take some sort of action such as posting a picture and tagging your brand will generate more engagement and build your following.
To gain followers use tag-to-win concepts.
Unless you have thousands and thousands of followers, it's not enough for you to push out a single post about your contest. You need to cross-promote over many platforms. Go offline, use Facebook, use other mediums. It will be worth it in the end!

Create a sense of urgency so it doesn't become too boring.
According to a survey from Ipsos MediaCT and Crowdtap, UGC is 35% more memorable and 50% more trusted than other types of media. Instead of filling your Instagram feed with self-promotional posts, let your audience market your brand for you. – Sprout
13. Don't skimp on photo quality /graphics
Instagram is a photo sharing app, so the doper the pictures the doper the engagement, so to speak. If you're serious about your marketing strategy and ongoing campaign, the best photos will help you. Invest in a good phone. There are dope phones under $300 that have amazing camera capabilities that is if you do not want to invest in a photographer.
If you cannot afford a designer, pleeeeeeeeease use Canva. But Do NOT let your image look like it was created with the notepad on your android.
Tips for a good photo?
JPEG or PNG
100-300 dpi in resolution
Bold colors work.
14. Learn from those who have done it before you
We learn from watching others. Look at profiles run by major brands, famous influencers and well-known photographers or videographers, there are some awesome campaigns on Instagram and studying these will give you ideas on what to do for your next campaign.
Recommended:
Hope this post has helped you massively. Let's summarize everything you need to start an Instagram marketing campaign:
Know your audience
Set your budget
Set your goal
Test run
Don't ignore influencer marketing
Use Instagram Stories
B2B campaigns
Have a clear call to action
Go offline
Have a good content strategy in general
Hashtag it.
Run a contest
Don't skimp on photo quality/graphics
Learn from those who have done it before you.
Go ahead an start your campaign today.
Z