Is Google Fi in 2022 still worth the hype?
This is a more detailed follow up to the feature post about Google's Mobile Operator, the updates and all you need to know and how it concerns us here in Nigeria.
If you need to refresh your memory on that, please click here.
To recap, what is Google Fi?
Google Fi is an MNVO – a mobile virtual network operator – launched by Google in 2015, initially named Project Fi, and usage was strictly by invitation. It's 2022, and Google Fi is now available to anyone who has a working smartphone.
MNVOs are different because they don't own the network they run on. We don't have MNVOs in Nigeria, but basically that's what Google Fi is. It runs on T-Mobile and US Cellular's networks in the US.
Availability in Africa
Is Google Fi available in Africa? Nigeria, to be specific. Click here to verify for yourself. Yes. I subscribed for a google fi plan but cancelled when I realized Nigeria was going to make transactions in USD difficult. But yes, Google Fi is very much present as confirmed in the screenshot below: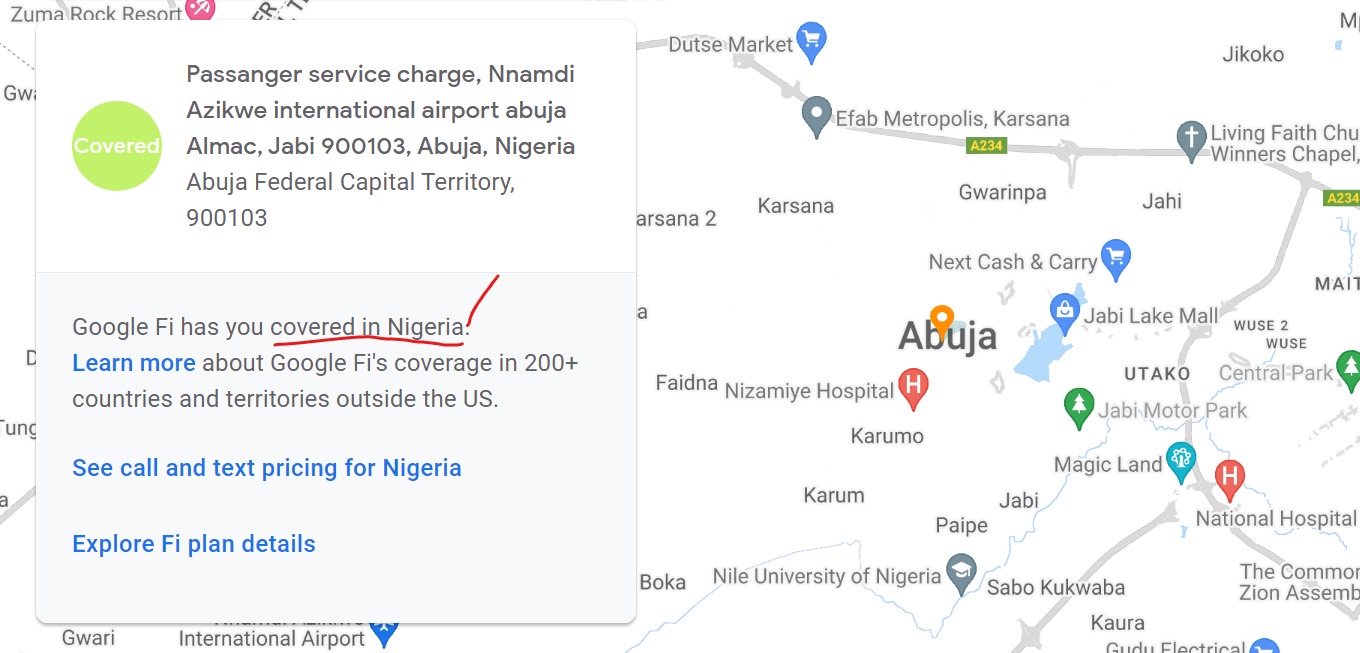 But em, there's a caveat.
To use your phone for calls, texts, and data outside the US, you must activate your Google Fi account and use Fi in the US (territories not included). You don't need to change your phone's settings or turn on international coverage each time you travel. – Source
How does Google Fi Work?
Fi uses your phone's "Wi-Fi assistant" to constantly search for and connect to good Wi-Fi networks. Fi will also take any solid connection and route it through a VPN for your safety.
Plans and Pricing
You can use your phone in over 200 destinations. For international use:
Cellular calls are $0.20 per minute. (83 Naira/minute, as of August 2022)
Texts are included.
You can make calls over Wi-Fi. The rates for calling over Wi-Fi internationally depend on the country or region you're calling.
For specific rates, go to Google Voice calling rates.
Free calls between the US, Canada and Mexico.
See full plans here.
Before traveling abroad, confirm if the country you plan to visit blocks Wi-Fi calls.
If you plan to stay abroad for an extended period of time, we recommend you use a local carrier until you can return to the US. We grant exceptions to military and State Department employees who serve abroad.
Does Nigeria allow Wi-Fi Calls?
Yes we do, surprisingly. One advantage Google Fi has over other cellular networks is that it offers Wi-Fi calls. Sorta like what WhatsApp does, but a little different.
"Wi-Fi calling is a voice service that lets users place and receive calls over a wireless internet connection, as opposed to using a cellular signal. Smartphone users can make use of Wi-Fi calling to talk and text on their smartphones from locations where it's difficult to reach a strong cellular phone signal. – Source
In 2019, Tizeti, a leading internet service provider (ISP) in Nigeria, launched a voice calling service, WifiCall.ng, that will enable users to make and receive crystal clear, unlimited voice call from and to anywhere in the world. So far, they are the ONLY ones in NIGERIA to offer this service.
Think of it this way, A residential consumer with existing internet connection can make hi-quality crystal clear calls at cheaper costs when there is limited or no access to a free OTT service like Skype or WhatsApp. 
So, Google Fi has great fertilizer to run on, so to speak – though WifiCall by Tizeti may actually be a rival to the success of the Google mobile powerhorse.
Wi-Fi calling might not be available if you're not using a device Designed for Fi.
Can all phone models run Google Fi?
No.
Only unlocked devices can be used with Google Fi. If you purchased your phone through Google Fi or the Google Store, your device is unlocked.
At a minimum, all Android models must run Android 7.0, have LTE bands 2 and 4, and support VoLTE.
All iPhone and iPad models must run iOS 13 or higher.
Designed for Fi phones are sold by Google Fi or the Google Store and give you the full Fi experience. Other phones listed as here.
So if you travel a lot, you can get Google Fi in 2022 on your phone and test it out, and dump the sim when you want to enter Nigeria.
Or better still, japa and use Google Fi for life, or till they cancel it, as they like to do to their products.
Either way, stay sane. 🙂
Zee.
Related Posts