Getting Started with Google Fi in Nigeria.
Google Fi is a cell phone service operated by Google. In the US, it gives you data service on three mobile networks (T-Mobile, Sprint, and U.S. Cellular), which your phone will intelligently switch between — it also uses Wi-Fi to make calls and send texts whenever available.
Google Fi is an MVNO (mobile network virtual operator), meaning that it uses other networks to deliver service. In Fi's case, those networks are T-Mobile, Sprint and regional carrier U.S. Cellular. By consolidating all three, Google provides better coverage than any of them individually.
Google Fi, formally Project Fi, partners with T-Mobile, Sprint and U.S. Cellular, intelligently switching your phone from one network to another depending on your location. While only select phones worked with the service before, now you can use just about any smartphone with Google Fi, including Apple's iPhone.
Plans and Pricing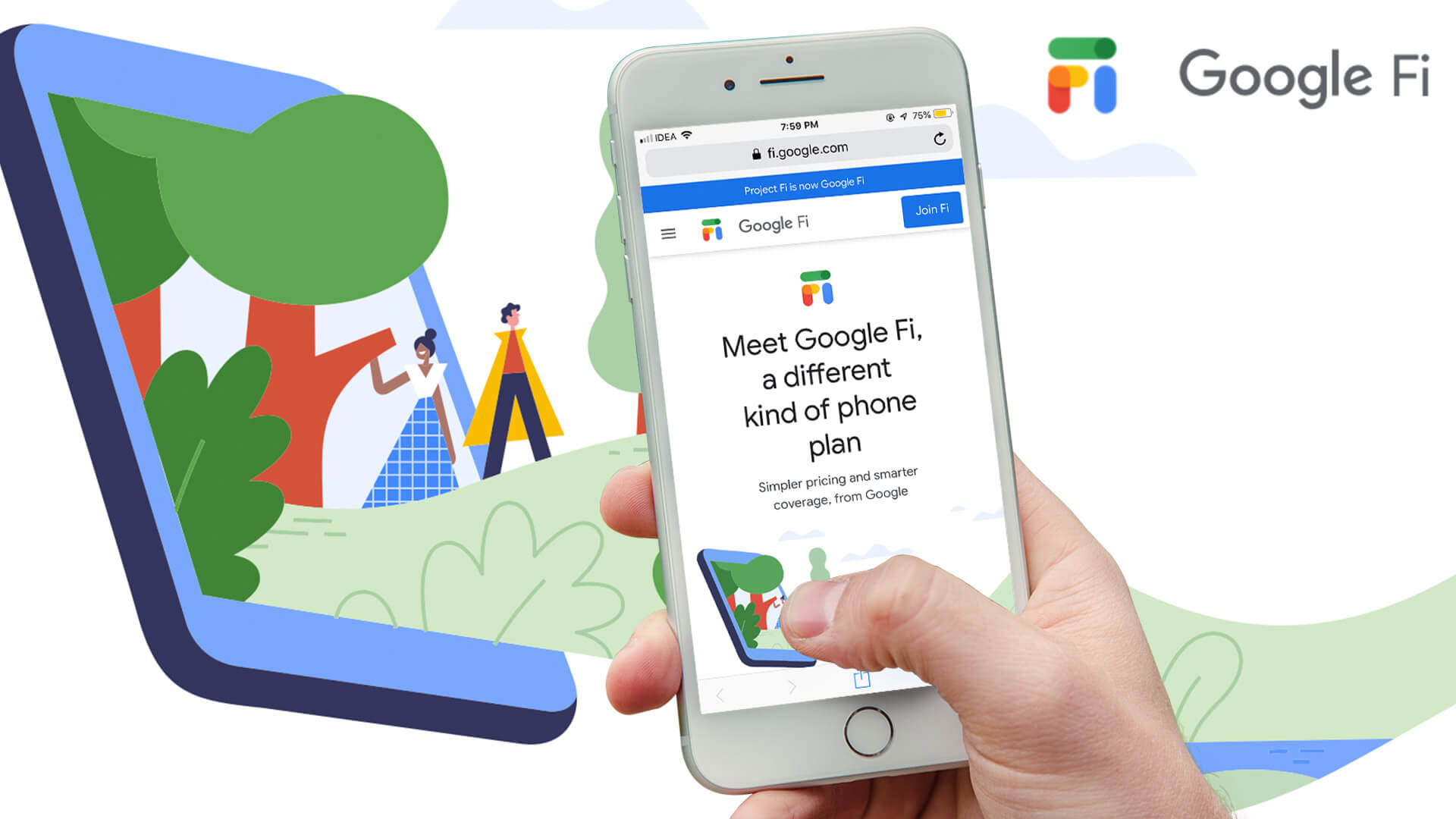 As of March 2020, Google Fi offers two different types of plans — one with unlimited data, and another where you pay as you go. Each has its own advantages, but it's up to you to decide which you need. Both plans work for up to six lines, so it's a great option for large families.
Fi Unlimited offers unlimited talk, text and data
Fi Flexible offers unlimited talk and text, data is $10 per gigabyte
Read: Use Google Fi outside Nigeria

**With Bill Protection, you aren't charged for additional data past a certain threshold. This effectively turns all Google Fi plans into unlimited data plans once you spend enough money. For example, under the current $10-per-gigabyte model, an individual stops getting charged for data after consuming 6GB, or the equivalent of $80 in one month.
What does it mean?
Google Fi is all about flexibility, so your plan can be a month-to-month unlimited plan when you need it and a pay-per-gig plan when you don't. To get the most out of the service, here's three main components you'll want to understand.
You pay a flat rate of $20 per line for unlimited talk and text.
You pay $10 per GB only for the data you use (calculated to the nearest 0.1 GB).
You have "bill protection," which means you'll never pay more than $70 for data, no matter how much you use. –  Android Authority
International
If you're a frequent traveler, this is the most important part of Google Fi! Relying on Wi-Fi alone may not be practical, so this plan solves that and allows users to keep in contact with free texts and access high-speed data while out of the country.
Google Fi's network covers more than 200 destinations around the world. Text messages are free, and voice calls are $0.20 per minute. Yes, Nigeria is covered.
How to Get Started
Use the code 1UFKJ4 to get $20 off.
1. Choose your plan. I'll go with regular, for one person.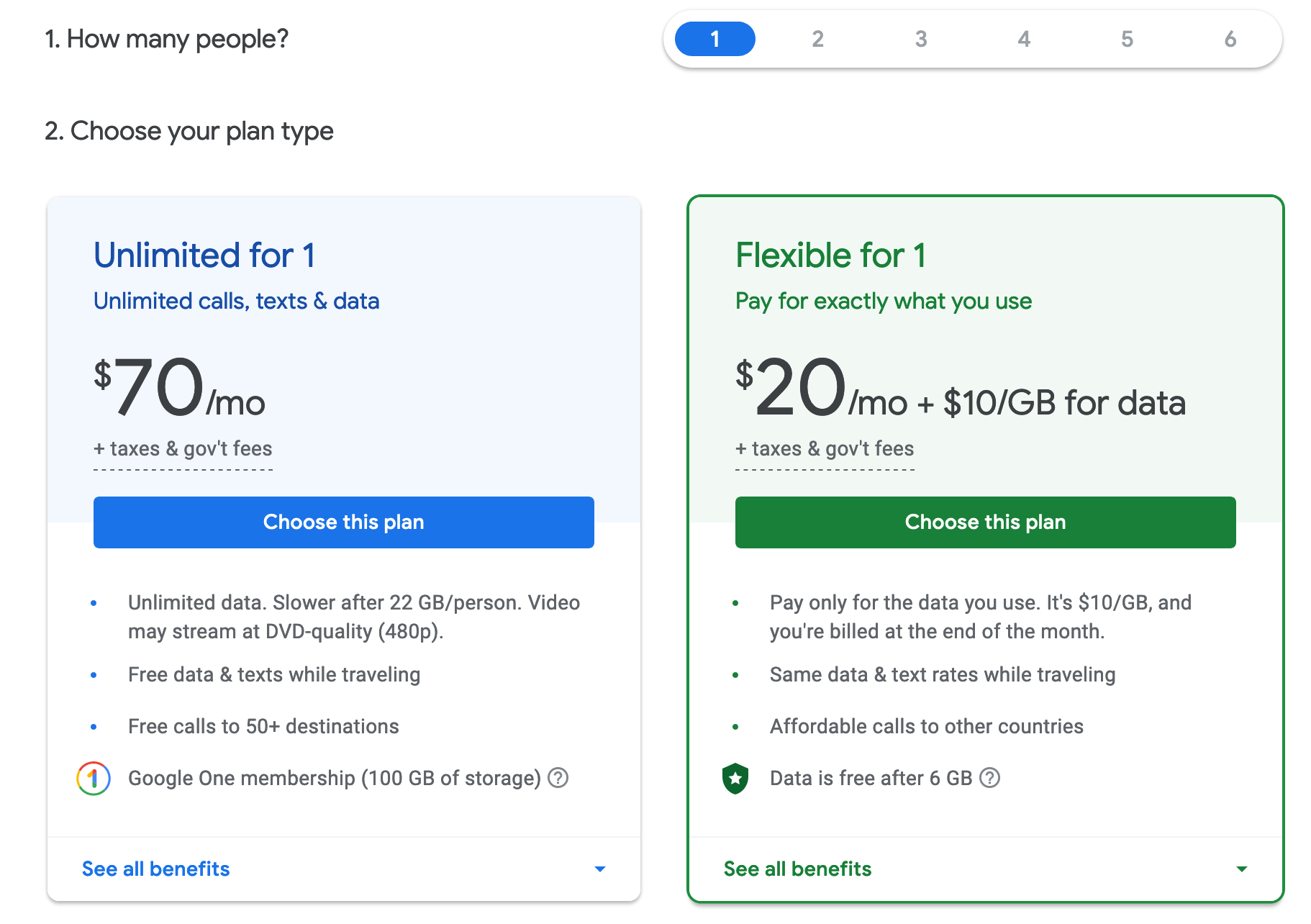 2. I chose unlimited calls and text, and any data after 6GB is free. I'm using an iPhone XS, and thus will use a sim free set-up.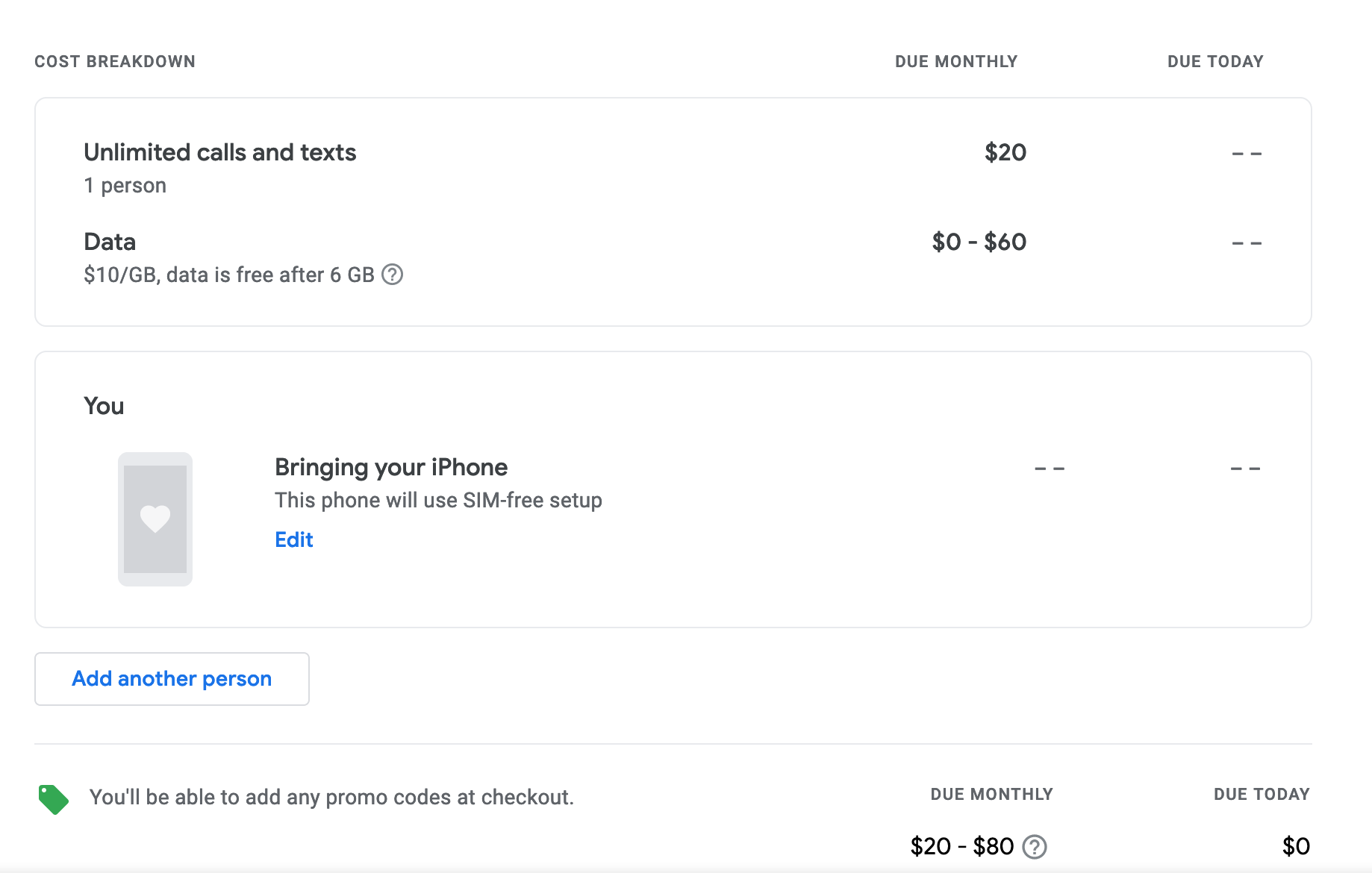 Other Steps
3. Complete your payment terms. My Nigerian GTB Mastercard worked. You will be charged $0.10.
4. Download the app (preferably using a VPN/Change Country Mode if you're not in the US) and get browsing.
Conclusion
I'm a heavy data user – like 50GB/month, so I'm going to take it for a test run and see how it fares compared to major Nigerian networks like MTN, Airtel, GLO and 9Mobile and which in the end is ultimately cheaper.
Stay healthy!
Zee
Recommended Reading: