I find myself very recently looking at options for cloud services since I no longer want to store work locally on my system. This post explores the services available and which is best for you.
We all want a place to store our files where we can access them securely, wherever we are, and having the best cloud storage means you can safely stash all kinds of files, whatever the size, in the knowledge that you can get it anywhere and that'll it be safely backed up in the event of hardware failure. 
What is Cloud Storage?
Cloud storage is a model of computer data storage in which the digital data is stored in logical pools. The physical storage spans multiple servers, and the physical environment is typically owned and managed by a hosting company.  – Wikipedia 
In a simpler definition, 
Cloud storage is a service model in which data is transmitted and stored on remote storage systems, where it is maintained, managed, backed up and made available to users over a network (typically the internet). Users generally pay for their cloud data storage on a per-consumption, monthly rate. 
So basically, instead of storing information to your computer's hard drive or other local storage device, you save it to a remote database. The Internet provides the connection between your computer and the database.
And
If you run a business, cloud storage solutions are ideal for covering the needs of remote workers, distributed office locations as well as maintaining secure offsite backups of important files. 
How secure is Cloud Storage?
The security of cloud storage services continues to be a concern among users. Service providers have tried to allay those fears by enhancing their security capabilities by incorporating data encryption, multi-factor authentication and improved physical security into their services.
To secure your data so no one else can get at it, cloud systems use authentication processes like usernames and passwords to limit access, and data encryption to protect data that is stolen or intercepted en route. And yet, passwords can be hacked; often it's the service provider who holds the encryption keys to your data, meaning that rogue employees could access it; and your data isn't immune to search and seizure by government entities.
Since cloud storage companies live and die by their reputation – they take great pains to employ the most advanced security techniques and provide the most reliable service possible. But you would would be wise to keep anything truly sensitive stored on your personal computer or private cloud behind a firewall, and never upload it to the public cloud.
How Cloud Hosting Works
See image below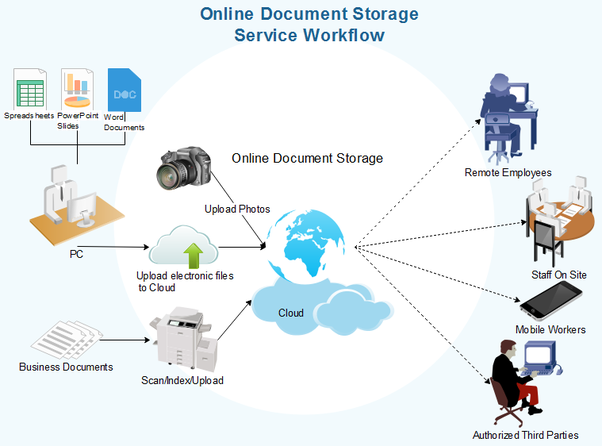 how cloud hosting works
Top 5 Cloud Storage Service Providers
My top 5 cloud storage services judged in terms of security, ease of use, pricing and accessibility.
Dropbox
Amazon AWS
Google Drive
iDrive
Microsoft One Drive
Note that these services also have Business options so I will be reviewing those as well.
1. Dropbox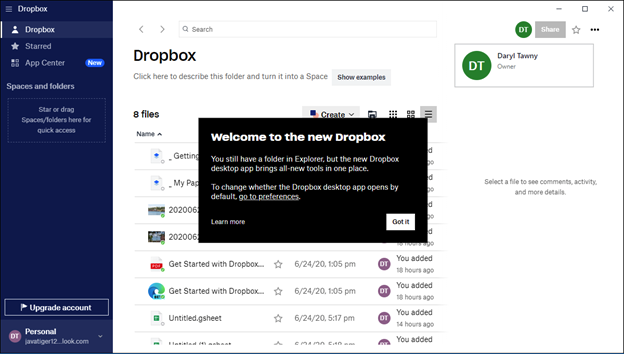 Let's start with the one that everyone knows about. Dropbox has been around since before I knew what Cloud Storage was. Dropbox is a simple, reliable file-syncing and storage service with enhanced collaboration features, just way more expensive.
To use Dropbox, you simply put files in the Dropbox folder and leave them there. Files you save at home automatically show up on your office computer. Photos you upload from the Dropbox iPhone app show up on your laptop at home, and so forth.
Dropbox uses standard SSL/TLS for transferring files, and data at rest is encrypted using 256-bit Advanced Encryption Standard (AES). You can choose two-factor authentication using either SMS text messages or an authenticator app like Microsoft Authenticator.
Dropbox can sync files across multiple devices and operating systems, including all primary desktop and mobile platforms.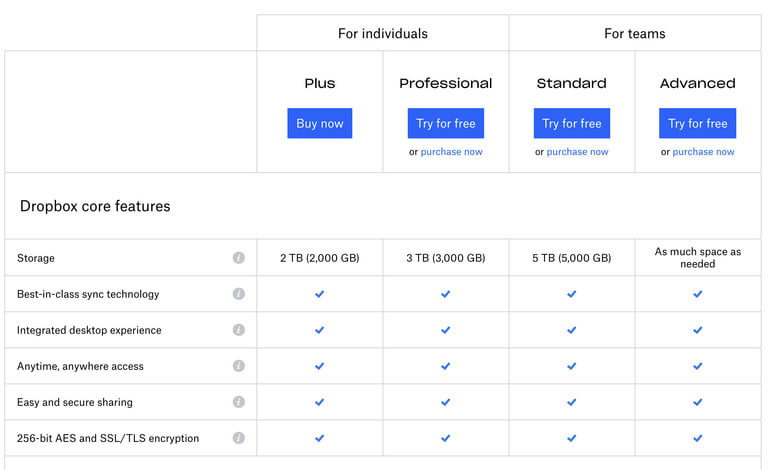 Pricing: The free Basic account starts you out with a small  2GB which is tiny. By comparison, several other file-syncing and storage programs give you much more than 2GB to start. 
Dropbox also has two account levels for individuals and two for businesses. The Plus account costs $11.99 per month or $119.88 per year, which gets you  2TB of storage. It also adds offline file access, remote device wipe, Smart Sync and priority email support.  
The next level up, Professional ($19.99 per month or $199 per year) gets you 3TB, Smart Sync, a Showcase feature to present and track your work, shared link controls, full-text search, watermarking, 120-day version history, and live chat support.
The price for Business Dropbox accounts varies based on the number of employees. Pricing starts at $15 per month per user, with a minimum of 3 users. Business accounts include a lot of additional features and services, such as multiple team management, and audit log, and granular sharing permissions.
With Dropbox, there is no file-size limit for files uploaded via the desktop application or mobile apps, provided your account has enough room. Files uploaded via the website, however, are capped at 50GB.
2. Amazon AWS

Amazon is codedly becoming a force in the tech world.
Amazon Web Services (AWS) is a secure cloud services platform, offering compute power, database storage, content delivery and other functionality to help businesses scale and grow. .
Amazon S3 stands for Amazon Simple Storage Service. It is a cloud storage service which is provided by Amazon Web Services. It provides object storage through a web service interface. It allows to store any type of objects like data lakes for analytics, data archives, backup and recovery, disaster recovery, hybrid cloud storage and internet applications. It was launched by AWS in 2006.
It is more of a cloud computing platform  but it does offer a Cloud Storage option — S3 — which is what I'll be looking at.
Amazon Simple Storage Service (Amazon S3) is an object storage service that offers industry-leading scalability, data availability, security, and performance. This means customers of all sizes and industries can use it to store and protect any amount of data for a range of use cases, such as websites, mobile applications, backup and restore, archive, enterprise applications, IoT devices, and big data analytics.
Amazon Drive will not create a default folder automatically. Instead, it will ask you to either sync the default Photos and Videos folder or choose one that already exists. You can manually create and name a folder Amazon Drive and sync it. What is confusing is that Amazon decided to call their software Amazon Photos but accepts images as well as videos. It supports all file formats but won't play all of them online by default.
Some of the features offered by Amazon S3 are:
Write, read, and delete objects containing from 1 byte to 5 terabytes of data each. The number of objects you can store is unlimited.
Each object is stored in a bucket and retrieved via a unique, developer-assigned key.
A bucket can be stored in one of several Regions. You can choose a Region to optimize for latency, minimize costs, or address regulatory requirements. Amazon S3 is currently available in the US Standard, US West (Oregon), US West (Northern California), EU (Ireland), Asia Pacific (Singapore), Asia Pacific (Tokyo), Asia Pacific (Sydney), South America (Sao Paulo), and GovCloud (US) Regions.
Amazon Drive is available for Windows, Mac, Android and iOS platform.
Pricing: Amazon Prime members get 5GB of storage for use with Amazon Drive and unlimited photo storage with Prime Photos. Amazon Drive offers 100GB for $11.99 and 1TB for $59.99 paid yearly. There are no monthly plans at the moment. Each additional TB will cost you $59.99 for up to 30TB.
If you're an Amazon Prime member, Amazon Drive is worth it. If you're not, say NO.
3. Google Drive
Google Drive offers free storage space for those who would like to try out their services before putting down a few dollars a month for something more expansive and permanent. Google Drive comes as standard, with 15GB of free space. That 15GB is spread across Google Drive, Gmail (including spam), and Google Photos, so you may use that space quickly.
If you have a few files and folders or are merely giving cloud backup a try, Google Drive would be our first recommendation, as its free offering is vastly superior to others.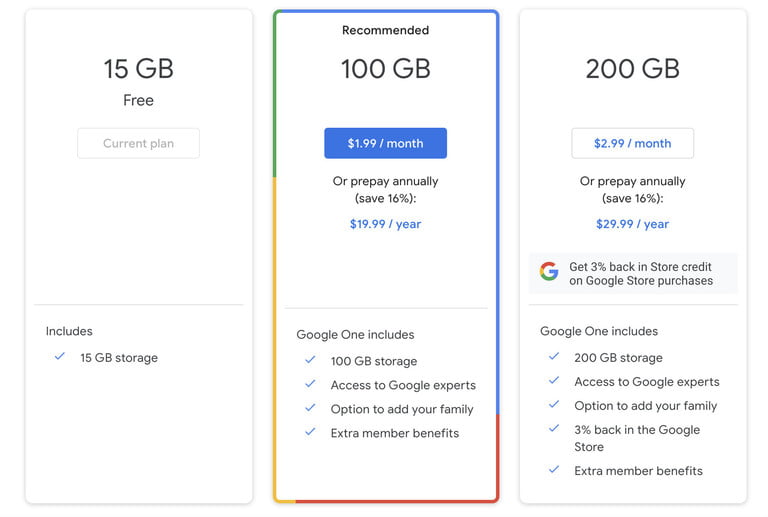 Google Drive lets you share files and folders using the mobile app or in the web-browser interface, with direct links, or the option to email access to your trusted share partner. It also offers the opportunity to give viewing and editing permissions to those you share with, letting you customize the power they have. The only downside is that without passwords or expiry dates on those links, they do present a potential security problem if you don't move your shared files or folders in the future.
Google Drive offers comparable security features, though it uses 256-bit AES encryption with files in transit and 128-bit AES encryption when at rest. It also supports two-factor authentication and Cloud Identity features for businesses.
For Pricing, Google Drive offers three primary tiers after the free option, all generally called Google One. The first is a $2 per month plan that provides 100GB, access to Google experts, and the ability to add family members. The second is a $3 per month option for 200GB that includes the previous benefits plus a discount for the Google Store. The final option is a more professional-oriented tier of 2TB for $10 per month, which gives you an even more significant discount. Now there are additional options for Google Drive, all the way up to 30TB for $300 per month. Still, these are primarily focused on enterprise-level users, and other benefits rarely change after the fourth tier.
4. iDrive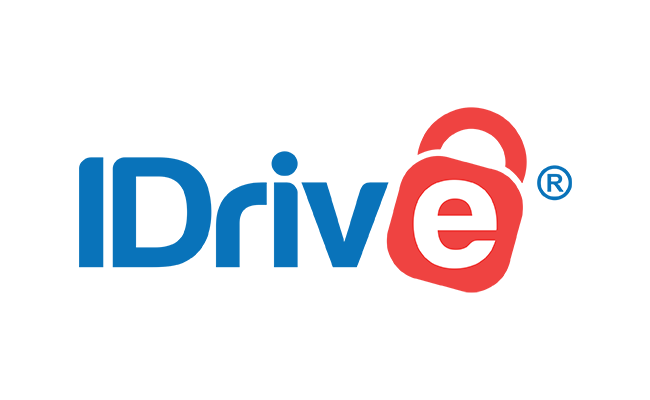 IDrive is one of the few services that offers a permanent and free 5GB account, which is nice.
With IDrive, you can share files by email, but the recipient must sign up for an IDrive account in order to view them. This is inconvenient, and we prefer Dropbox that just offers a link and the person doesn't need an account to view.
As well as two-factor authentication, iDrive also offers end-to-end encryption for your data – this requires a private key known only to you, so if you forget it then you can't get anything back. It also means you won't be able to share files and folders with other people, as this will break the end-to-end encryption protocols.
You can opt for standard encryption, which isn't quite as secure but will still protect your data. Here, iDrive stores the encryption key, so they can help you restore your data if needed. (You also can use this and share with others.)
Pricing: The personal plans give you storage tiers of either 2TB ($69.50 or about £55 a year) or 5TB ($99.50 or about £80 a year), while business plans start at 250GB ($99.50 or about £80 a year) and go all the way up to 12.5TB ($2,999.50 at about £2,410 a year).
Opting for a business account rather than a personal one gives you extra features such as server backups, multiple user management, and access to priority support.
5. Microsoft One Drive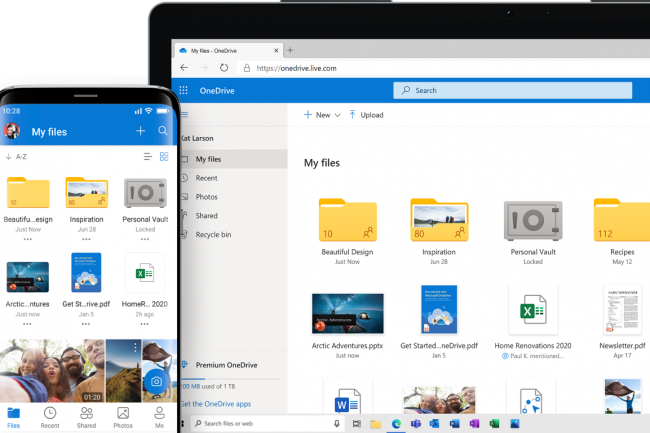 OneDrive is Microsoft's answer to Apple's iCloud and Google Drive. OneDrive serves a lot of functions. 
OneDrive is baked into Windows and they're very sweet together. Microsoft OneDrive's real selling point is –besides working hand-in-glove with Windows — it also works closely with Microsoft Office programs. With Office 365, you can also collaborate with others in documents and spreadsheets in real-time with your partners.
If you just want access to documents or media files, it offers simple online storage accessible from the web. If you want the same set of files replicated on multiple PCs, it provides folder syncing. For Windows 10 users, it backs up device settings, including things like lock-screen and desktop-background images and browser favorites. It also syncs Office documents and enables coauthoring.
Anyone with a Microsoft account already has a OneDrive account; that includes everyone who's ever signed up for a Hotmail, Live, Office 365, or Outlook.com account, but you can also sign up with any other email provider. 
Free users get 5GB free storage space, and some smartphones and PCs add free OneDrive storage.
Pricing: Office 365 users get an extra terabyte with their $6.99-per-month Personal subscription, along with more features like expiring and password-protected share links and ransomware protection, not to mention downloadable Office programs. A $9.99-per-month Home subscription includes 6TB (1TB each for six users). Another option is to add 200GB of storage to OneDrive for $1.99 per month, though you lose the just-mentioned benefits. 
Conclusion: What Cloud Storage is best for You?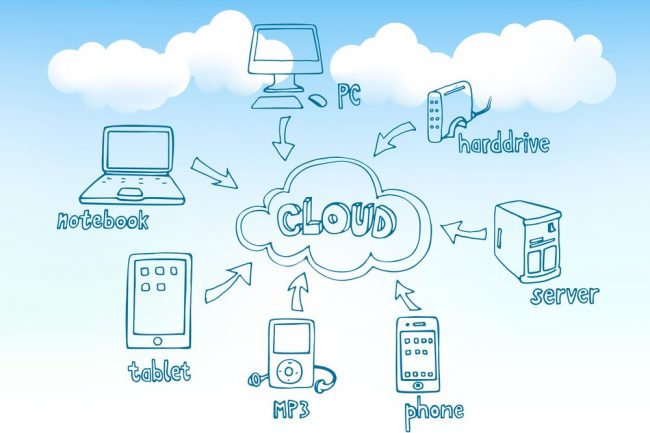 In concluding, I'll say this – it all depends on what you want to do and what you are saving. There're other options I didn't measure such as Apple's iCloud and more, but they are not for today's post. Personally, as an individual, it's a no-brainer, I need to store files online so I can access it without having my Mac on me.
As a company, you need to consider the following:
Cloud storage considerations
To determine whether using cloud storage will realize operational efficiencies and be cost-effective, a company must:
Compare the one-time and recurring costs of purchasing and managing storage capacity in-house versus the ongoing costs of storing and accessing data in the cloud.
Determine if additional telecommunications expenses will be required for the appropriate access to the service provider.
Decide if the cloud storage service provides adequate security and data governance.
Develop in-house procedures for access and use of cloud storage to maintain effective management of data and control expenses.
It's not a question of what if you should use a cloud storage service, but which is cost effective. I use all Google Drive for documents, Dropbox for photos and files, and iCloud because I have no choice, lol.
Have fun choosing.
Zee
Recommended Reading: