If you want to own a website, then it's a no brainer that you need a web hosting company. I have reviewed these before, but this time we want to know which ones are exactly relevant in 2021.
Bear in mind that there is no such thing as a "best" web host. The "best" is the right fit for your project based on your goals, budget, experience & expertise.
When looking for a good host though, you need to know how many domains, databases, disk space, emails etc that they offer before you make a decision.
5 Hosting Companies I love
1. InMotion Hosting
InMotion Hosting performs well on three big areas of uptime, speed, and support.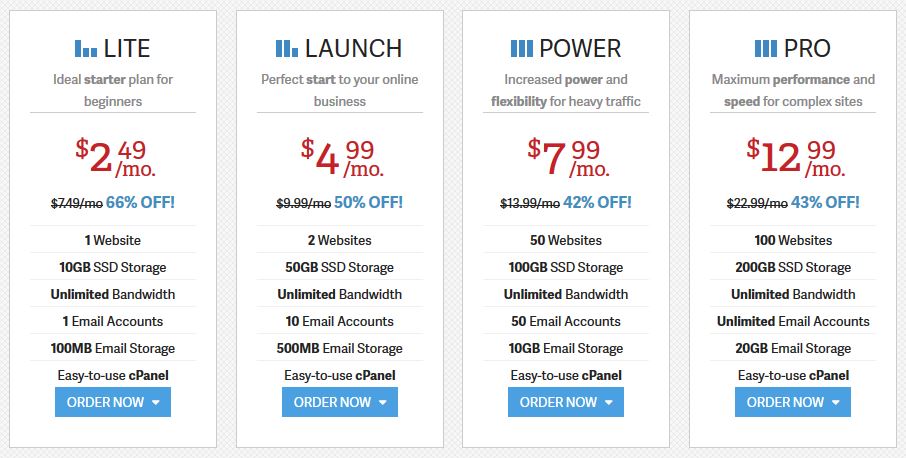 They also provide a few additional features which can make your experience more enjoyable such as an
Above-Average Uptime of 99.95%,
really good customer support,
a nice security plugin for your website and
just an overall "bad-assness."
Pardon me if I sound biased, but I have used every single hosting company on this list and there's a reason InMotion Hosting is still my best host till date. People have their issues with them but in all honestly, in over 5 years of hosting this site with them, y'all couldn't be more wrong.
Inmotion is more priced than the others though, so take note.
Use my link to get a fair discount.
Inmotion Base Price: Lite Plan: $2.49/month and renews at $7.49/month subsequently.
2. BlueHost

I'll be frank – not everything that is popular is good for you. Bluehost, in my opinion, is one of such examples. Their domain names start at $17.99 a year, which is just wrong. Be aware that their Basic plan only allows you to have 1 site (domain name), the other plans offer unlimited sites (domains).
However, if you're a simple user with no tech knowledge and low expectations, then these are the guys for you. With an initial $2.95 you should be good to go.
Bluehost Hosting
Basic: Beginning at $2.95 per month, this plan jumps up to $7.99 per month after 1 year.
Plus: This plan is regularly $10.99 per month.
Choice Plus: This plan is $23.99 per month.
Cons of Bluehost
Bad support: Along with iPage, They seem to have one of the worst support teams I've ever dealt with.
Their system is packed with continuous upsell pitches, which gets annoying.
Unlike other providers, you only have the option to host your site in the US. If your readers come from other regions, they could face having a (very) slow site.
Still extremely popular so at least you're safe. Or are you?
3. Namecheap

I've used Namecheap for some client websites for a while now (at least 4 years) and I can confidently tell you that I'd choose Namecheap over Bluehost anyday, anytime. NameCheap Hosting is incredibly cheap, though they do have heavy plan limitations. If you have a small website and looking for a good, discount host – they could be a great fit.
I'd even pick Namecheap over Godaddy, and that's saying a lot.
NameCheap also provides email, a website builder, SSLs, and various services with 24-hour support and a 30-day money back guarantee.
Cons of Namecheap
No phone number, just a chat section. 
Honestly that's the only con I can think. Most people

love Namecheap

.
4. Hostgator

HostGator really should not be on this list since it's owned by Endurance International, the same company that owns Bluehost. However, there's a reason it's also popular. Hostgator has been one of the top leaders when it comes to web hosting services for over 15 years, and they are one of the most popular hosting companies around today.
Their basic shared hosting plans come with unlimited storage, bandwidth, free domain (for the first year), and a free SSL certificate. They also have great customer service, who connected through a live chat instantly and answered each question within a few seconds each.
HostGator plans start at just $2.75 per month for shared hosting – it also offers VPS, WordPress, cloud, reseller, and dedicated hosting plans. Dedicated hosting is the most expensive, starting at $118.99 per month. These are discounted prices, so look out for renewal costs, plus any additional charges such as domains, CodeGuard backups, and other extras.
5. Siteground

Siteground is a hosting company that I once loved. The downside is that they are one of the most expensive companies I've come across, and that is saying a lot. The good news is that they are SSD and their specs are second to none.
If you're all about speed, SiteGround's JetPack plugin and SSD-based server hardware make it one of the fastest options out there.



Pros & Cons of Siteground?
Good Customer Support
Above average load time
Good performance
Overall really good web host.
Cons? It's VERY expensive and unless you're making some sort of money from your website, not realistic.
So that's it, fam. I hope you're you make a good decision!
Zee