Ever visited a website and you get blocked, either by location or some other reason? Or even when watching Netflix, you find that you're blocked by location? Then you need a VPN to browse freely. Here's my detailed list of 10 top VPN services you need.
What is VPN?
"A virtual private network extends a private network across a public network, and enables users to send and receive data across shared or public networks as if their computing devices were directly connected to the private network." – Wikipedia
In simple English, A VPN service "allows you to change your IP address to a secure server. That helps to make you more anonymous online and let's you effectively trick your laptop or mobile device into thinking it's in another location." – Techradar
The core function of a VPN is to get you around blocked websites and help you browse safely around the web. If you use a lot of free WiFi, then yes, you need a VPN and my list of 25 top VPN services 2019 will be profoundly useful. Let's dig in.
How does a VPN protect you?
Adding a VPN adds a layer of encryption between your device and your chosen VPN service provider, so any communication from your computer through to your VPN service provider is encrypted. They do NOT see your browsing habits nor can they store them. You are completely protected.
What kind of encryption does VPN service provide?
These are the types of VPN encryption protocols available. When searching for a VPN service provider, choose the ones that use OpenVPN, IPSec, IKEv2, L2TP or even OpenSSH.
See: Another review on encryptions
What a VPN Cannot do
To really disguise yourself online, you should route your traffic through the labyrinthine Tor network. You should also protect your machine with standalone antivirus, protect your accounts by activating two-factor authentication wherever it's available, and use a password manager to create unique, complex passwords for every site and service. – PCMAG
How do you determine if a VPN is top or not?
Well, the encryption protocol, price – and payment anonymity number of devices it supports and if it has a kill switch and a no logging policy are my factors. You can also use factors such as location, number of servers and clients, as well as presence in other countries as additional factors.
See: What to look for when choosing a VPN provider
Top VPN services
1. Hotspot Shield VPN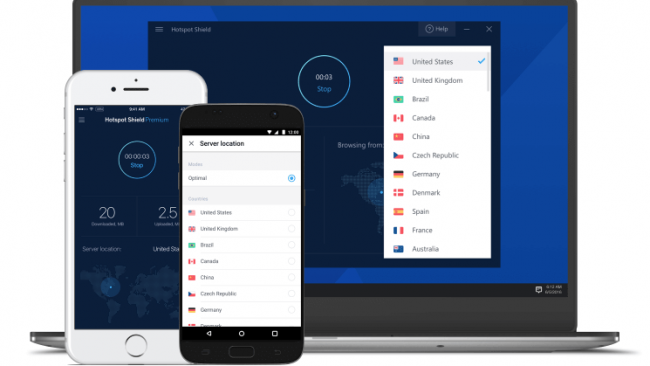 Maximum devices supported: 5
I love hotspot shield, and I used it on my Mac and iPhone. They have also been around since 2005 so I guess they are here to stay. According to their website, 650 million users access the Internet securely with Hotspot Shield. They support Windows, Mac, iOS, and Android, along with plugins for Chrome and Firefox.
Quick View: Extremely fast, incredible UI, full support of torrenting and netflix, use of their own HYDRA protocol, has a kill switch and allows 5 devices. Free trial for 7 days is a plus too.
Pricing
36 months 3.99€/month
12 months 6.99€/month
6 months 10.99€/month
1 month 15.99€/month
This review explains why they are number one on my top VPN services list.
2. NordVPN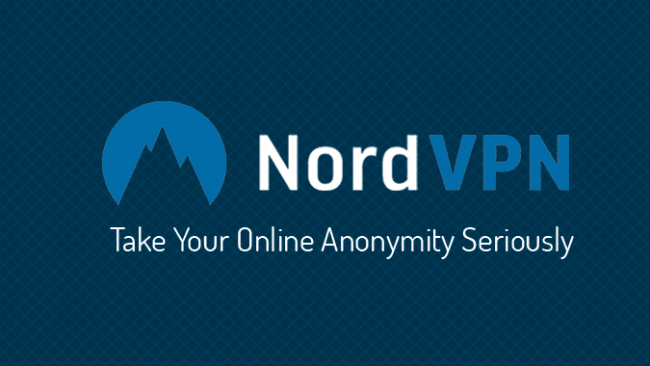 NordVPN is the best budget VPN out there, that's why it's on my top VPN services 2019. It has over 5000 servers, is fast and supports a maximum of 6 devices – everyone else offers five – plus the data gets a 2048-bit encryption. NordVPN uses AES (Advanced Encryption Standard) with 256 bit-keys. In fact, it was used by the U.S. government to secure classified information and by the NSA to protect national security data, before it became the most frequently used algorithm in symmetric key cryptography.
If pure security is your need, then NordVPN is one of the options for you, thanks to the provider's 2048-bit encryption that'd leave even the military impressed – and blocked out. – TOM'S GUIDE
Read this Techradar Review on NordVPN
Quick View: Ok fast, AES protocol, has a kill switch and allows 6 devices.
Pricing
36 months $2.99/mth
12 months $6.99/mth
1 month $11.95/mth
3. EXPRESS VPN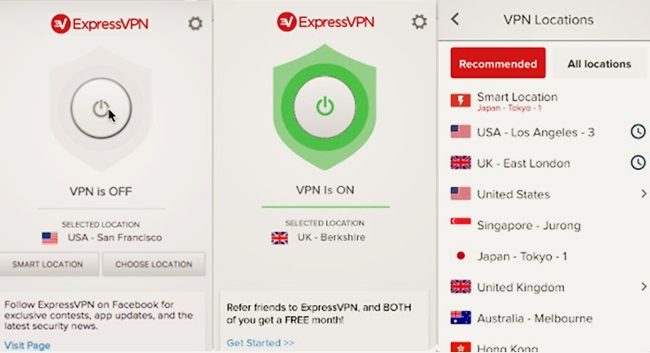 Express VPN is actually more popular than the 2 above  according to some die hards. But the main reason it is number 3 on my list is because it allows only a max of 3 devices, unlike the 5 of hotspot shield or 6 of NordVPN. In this day and age of so many gadgets, 3 is a deal breaker o.
The company has been in business since 2009, and has a substantial network of fast VPN servers spread across 94 countries.
Quick View: ExpressVPN has it all – blazing fast, no restrictions, unlimited bandwidth, privacy protection and a very nice and responsive website.
Pricing
12 months $6.67/mth
6 months $9.99/mth
1 month $12.95/mth
4. IPVANISH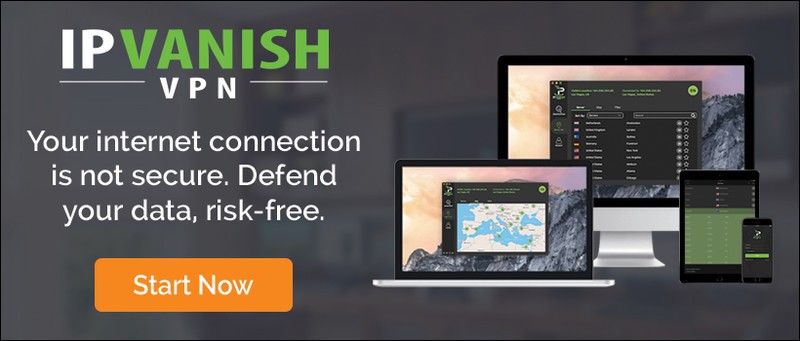 IPVANISH VPN is not the cheapest VPN out there but it does what it claims to do, and without fuss. The good news is that it supports a wide range of clients, covering Windows, Mac, Android, iOS, even Amazon Fire, and even provides setup guides for Linux, Chromebooks and others.
IPVanish supports up to 10 connections for a single user, which is more than ExpressVPN, Nord and even Hotspot Shield.
IPVanish uses industry-standard AES-256 encryption, supports OpenVPN and IKEv2 though I don't like it much because pricing is a bit high, and there's no kill switch. Asides that, you're fine.
Pricing
12 months $6.49/mth
3 months $8.99/mth
1 month $10/mth
5. CyberGhost VPN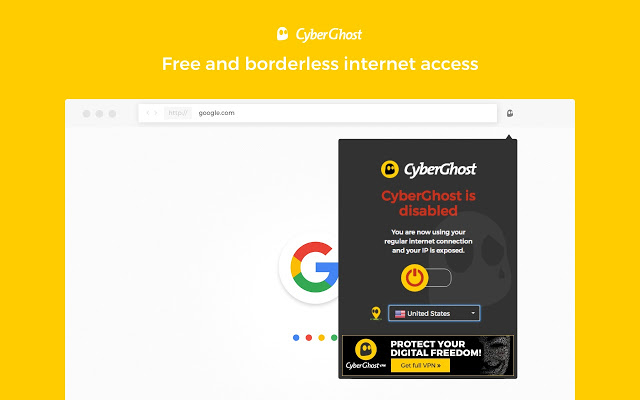 Even the name gives me the shivers. CyberGhost makes it to my list of top VPN services 2019. It is based in Germany and has over 10 million users, thanks to it's ease of use. It's not all rosy though as it only offers a 24 hour trial, the interface is hard to understand and a few quirks here and there.
CyberGhost is present in 60 different countries with over 3500+ servers, has a kill switch, allows a maximum of 7 devices and hides your IP well. It supports major protocols including OpenVPN, L2TP, and IPSec.
Did I mention no logging policy and no leaks?
Pricing
Monthly: $12.99 per month ($155.88 per year)
1 Year: $5.25 per month ($63 per year)
3 Years: $2.50 per month ($89.90 per 3 years)
6. PRIVATE INTERNET ACCESS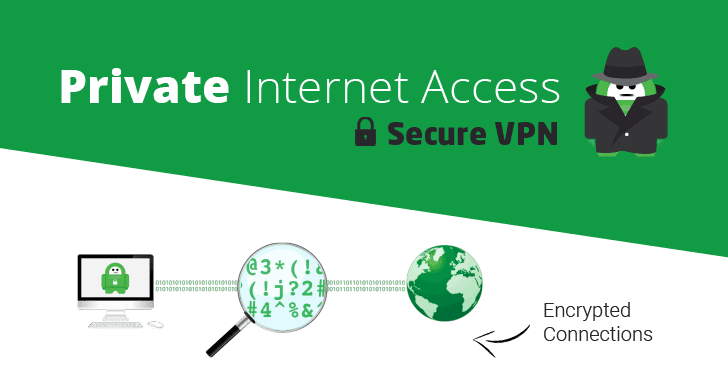 Private Internet Access (PIA) is one of the most popular VPNs available so you know why it made it to our top VPN services. I guess it's also because like NordVPN, it is one of the cheapest.
PIA is fast – though not as fast as Hotspot shield – but based on the price, no worries; has a no logging policy, no leaking detected, very strong encryption, over 3000+ servers, allows a maximum of 5 connections and is loved by everyone. They say they have a kill switch but don't believe it.
Still on our top VPN services 2019 list though.
Pricing
Monthly $6.95/month
Yearly $3.33/mo ($39.95 per year)
2 years $2.91/mo ($69.95 per 2 years)
7. TUNNELBEAR VPN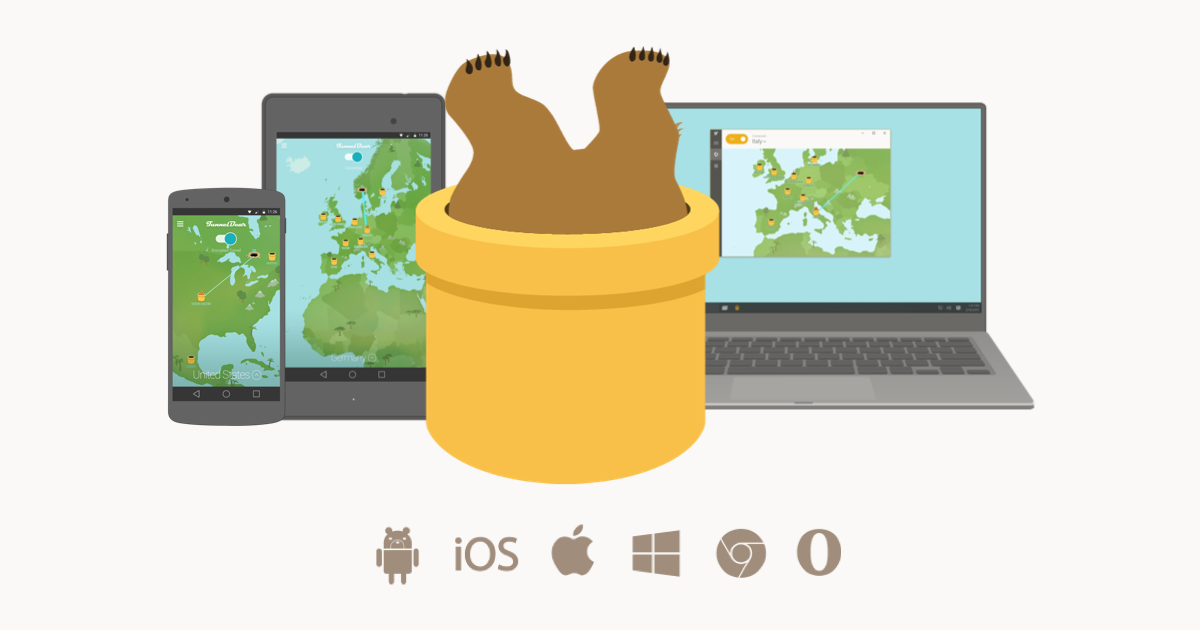 Tunnelbear is another high end and very secure VPN, and they have a 500MB monthly free plan for customers. Privacy conscious users will be extremely glad that Tunnelbear VPN has a strict no logging policy, though their VPN connection is quite slow, compared to the others.
TunnelBear uses OpenVPN by default, paired with the most advanced, uncrackable encryption standard on the market in AES-256 and is DNS leak free. It also allows a maximum of 5 devices. So far, so good.
Pricing
Giant – $9.99/month
Grizzly – $59.99/12 months
Free Plan – 500MB monthly
8. GOLDEN FROG'S VYPRVPN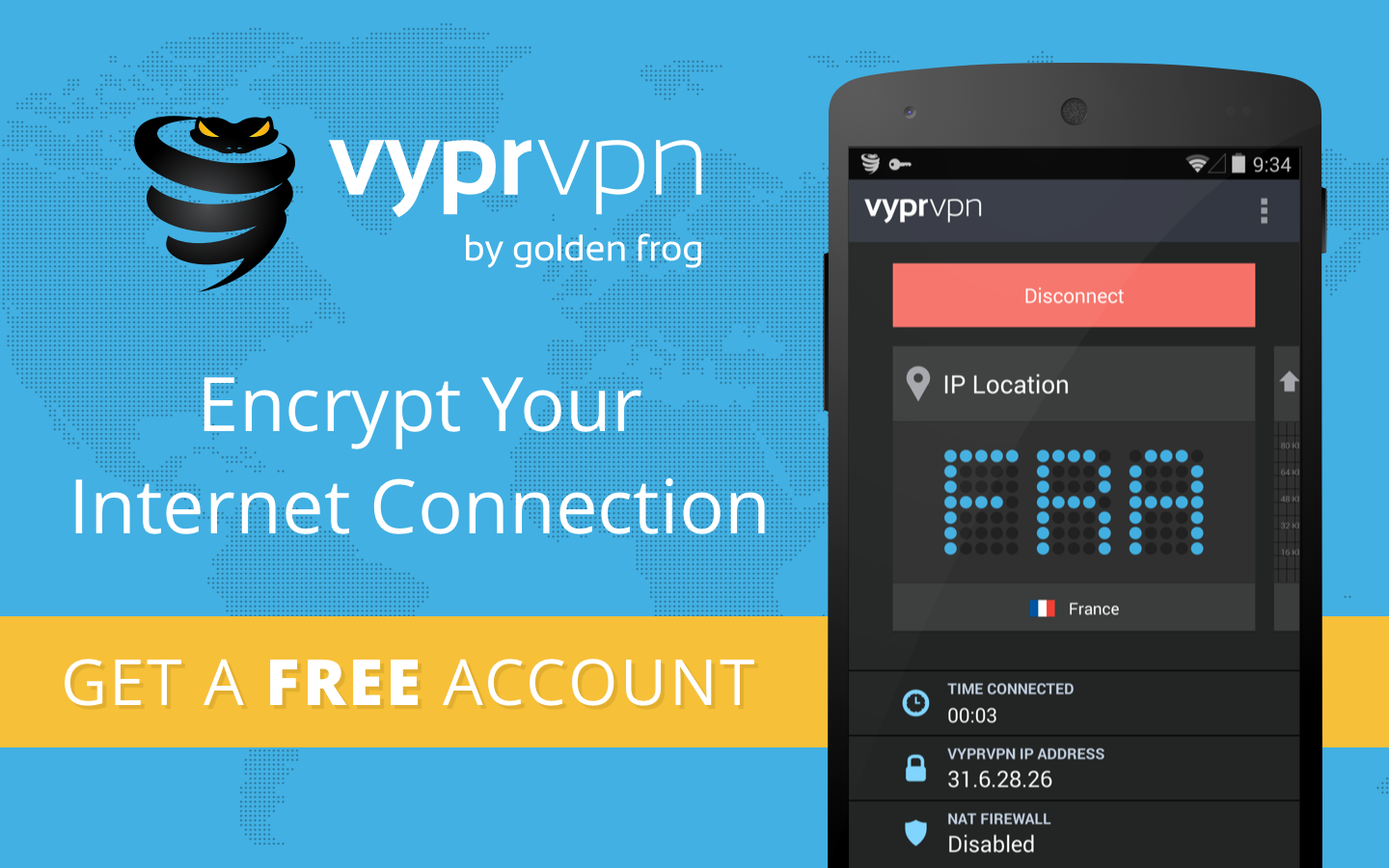 I did a lot of research regarding VyprVPN and I loved that it has a very strong encryption.
VyprVPN has clients for most platforms, including Mac, Windows, iOS and Android plus Android TV and more, plus it's superfast. It used to log your data, but for only 30 days and for minute details like for details like connection times and IP addresses but I hear that as of March 2019 VyprVPN has a strict no logging policy. Yay!
No IP leaks, no malware, and really fast speeds help the cause of VyprVPN. Furthermore, they have a fantastic killswitch which allows you to rest easy knowing that, even if you get disconnected from one of their servers all your activities will be immediately shut down, preventing your information from being compromised. I like it!
Pricing
The Basic Plan
$60.00/year when you select the yearly plan ($5.00/mo)
$9.95/mo for a monthly subscription
3 simultaneous connections
Unlimited data usage
The Premium Plan
$80.00/year when billed annually ($6.67/mo)
$12.95/mo for a monthly subscription
5 simultaneous connections
VyprVPN Cloud Included
Chameleon Included (proprietary technology known as Chameleon™ that scrambles your metadata so that you can continue to use your VPN without getting picked up by the DPI scans.)

9. HIDEMYASS VPN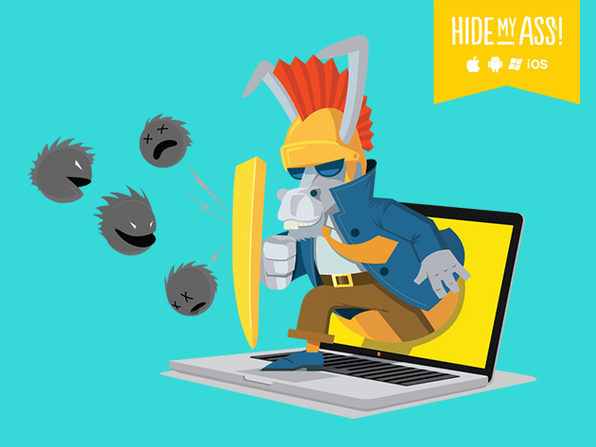 And award for the worst name of the year goes to…..
HideMyAss! is a virtual private network provider founded in 2005 in the United Kingdom. It has been a subsidiary of the Czech cybersecurity company Avast since 2016. – Wikipedia
Name aside, how good is this as a VPN?
HideMyAss logs connection data, so that's a no-no for me. Their speeds are OK, not great – but I do have high standards, lol. They have 930 servers in 280 locations across 190 countries so that's a huge advantage. While it looks like they get to destinations like Greenland, cover Africa and the Middle East really well, plus a few in smaller Pacific Islands – in reality most of their locations are virtual ones, which means there's no actual server physically sitting, say, in Greenland, but your requests get a local IP and still get forwarded via a US or UK proxy server.
HideMyAss! has pre-built apps for Windows, Mac, iOS, and Android devices and allows up to 5 simultaneous devices which are protected with OpenVPN (256-bit encryption), PPTP and L2TP/IPSec.
A word of caution though – if the FBI comes calling, because HideMyAss! logs your data, they will report you instantly, as we see here.
Pricing
$11.99 monthly
$83.88 every 12 months ($6.99 per month – 42% discount)
$119.76 every 24 months ($4.99 per month – 58% discount)
10. STRONG VPN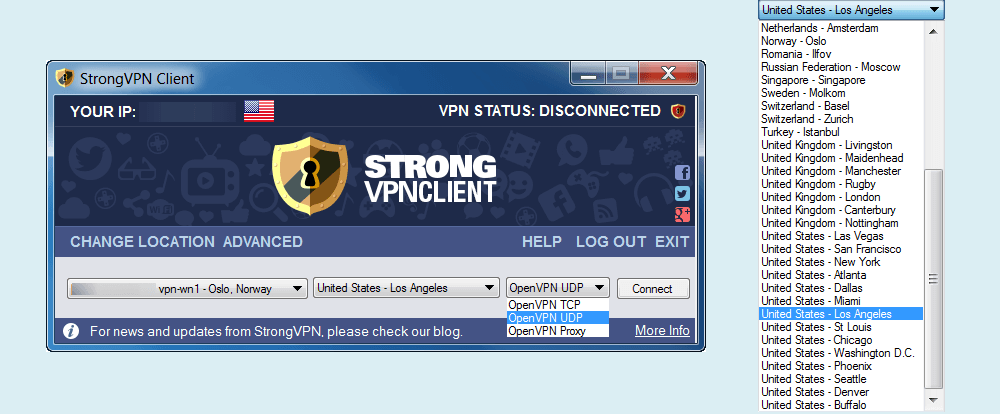 "By default, StrongVPN chooses the closest server for the best possible speeds. If that's not to your liking, click Best Available Location to see StrongVPN's location listings. StrongVPN's locations are limited, but it has enough servers in various countries throughout the world to satisfy most users." – PC WORLD
With 688 servers spread across 26 countries StrongVPN's server base isn't the biggest.
Their services are compatible with most major devices including Windows, Mac, iOS, Android, and Google Chrome.
StrongVPN allows their customers to connect using all major protocols and they have built-in kill-switch app.
They have a no logging policy and is extremely secure.
BUT 3 things don't do it for me – their interface reminds you of Windows 97, the pricing is insane and Strong VPN is one of the slowest VPNs around.
Pricing
Monthly: $10 or $120 per year
Yearly: $69.99
So that's my list of top top VPN services with HideMyAss! and StrongVPN the ones I DO NOT recommend you use.
Zee
Recommended Reading: