Investment has become an increasingly important aspect of personal finance, and with the rise of technology, there are now numerous investment apps in Nigeria that make it easier than ever to manage your money and grow your wealth.
These apps offer a variety of features, including the ability to buy and sell stocks, invest in mutual funds, and track your portfolio, all from the convenience of your smartphone. Whether you're a seasoned investor or just starting out, these investment apps have made it easier to take control of your financial future and achieve your financial goals.
Investment Apps in Nigeria
1. Pillow Fund (For USD)
Pillow Fund is a dollar-savings programme that enables users to obtain the best returns. By investing in stable funds, Pillow Fund enables Nigerians to get the maximum returns on their Naira. Pillow Fund currently guarantees annual returns of 14% on investments made in its money-saving product. Users can also make over 10% on stablecoins and over 6% on BTC and ETH.
Pillow Fund wants to make investing money in both crypto and dollars simple for customers all around the world. To begin receiving daily returns, users must transfer money to their Pillow Fund accounts. This investment platform handles labor-intensive tasks at the back end so that your front-end investing experience is easy.
Additionally, with just a 3000 NGN initial investment, you may start making 14% yearly profits. The software has received plaudit for its user-friendly interface and simplicity of use, particularly in Nigeria. Some users have even referred to it as a "lifeline" during these challenging economic times. Additionally, Pillow Fund has partnered with numerous specialists and advisers in the Nigerian and wider African ecosystems who can assist in offering important financial education.
2. PiggyVest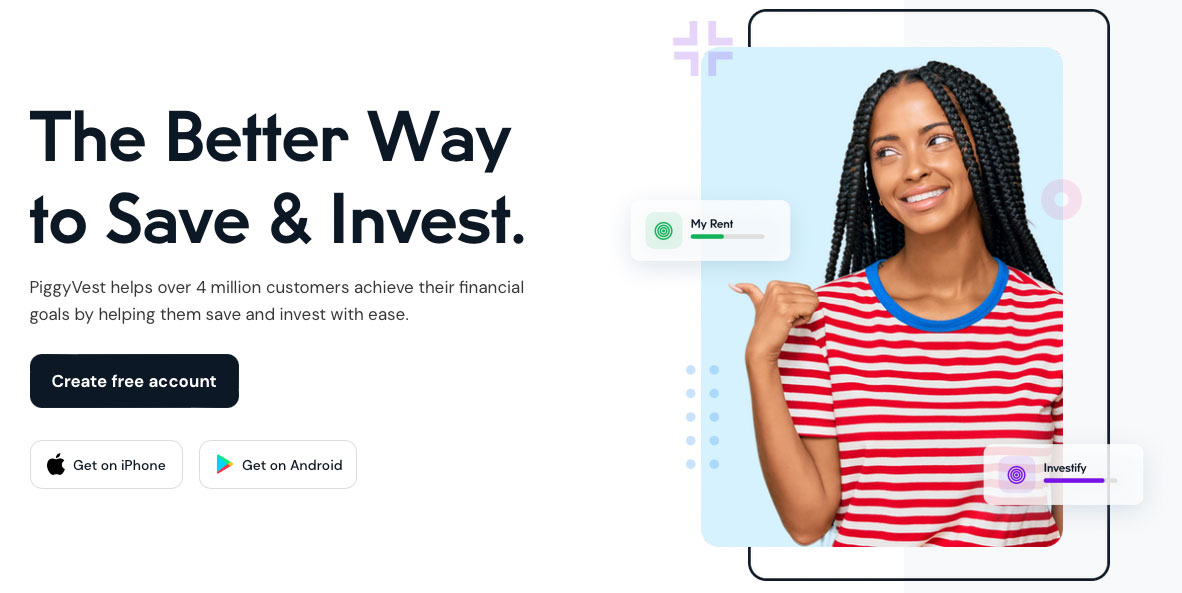 PiggyVest allows you to save and invest easily. This investment platform allows you to stop spending in excess. You can put away your additional funds and watch your money grow.
You can choose to save little amounts periodically or meet your targets by locking away funds for a specific period. PiggyVest allows you to build discipline with savings conveniently and flexibly.
PiggyVest has several savings and investment plans for differentiated needs. You can use the Piggybank if you would like to save and withdraw every quarter. You can use Target Savings to save towards specific goals like vacation or travel. If you have long-term goals, you can use SafeLock to lock away funds for a longer period. Further, you can diversify your portfolio with low-risk investment options through Investify.
3. Cowrywise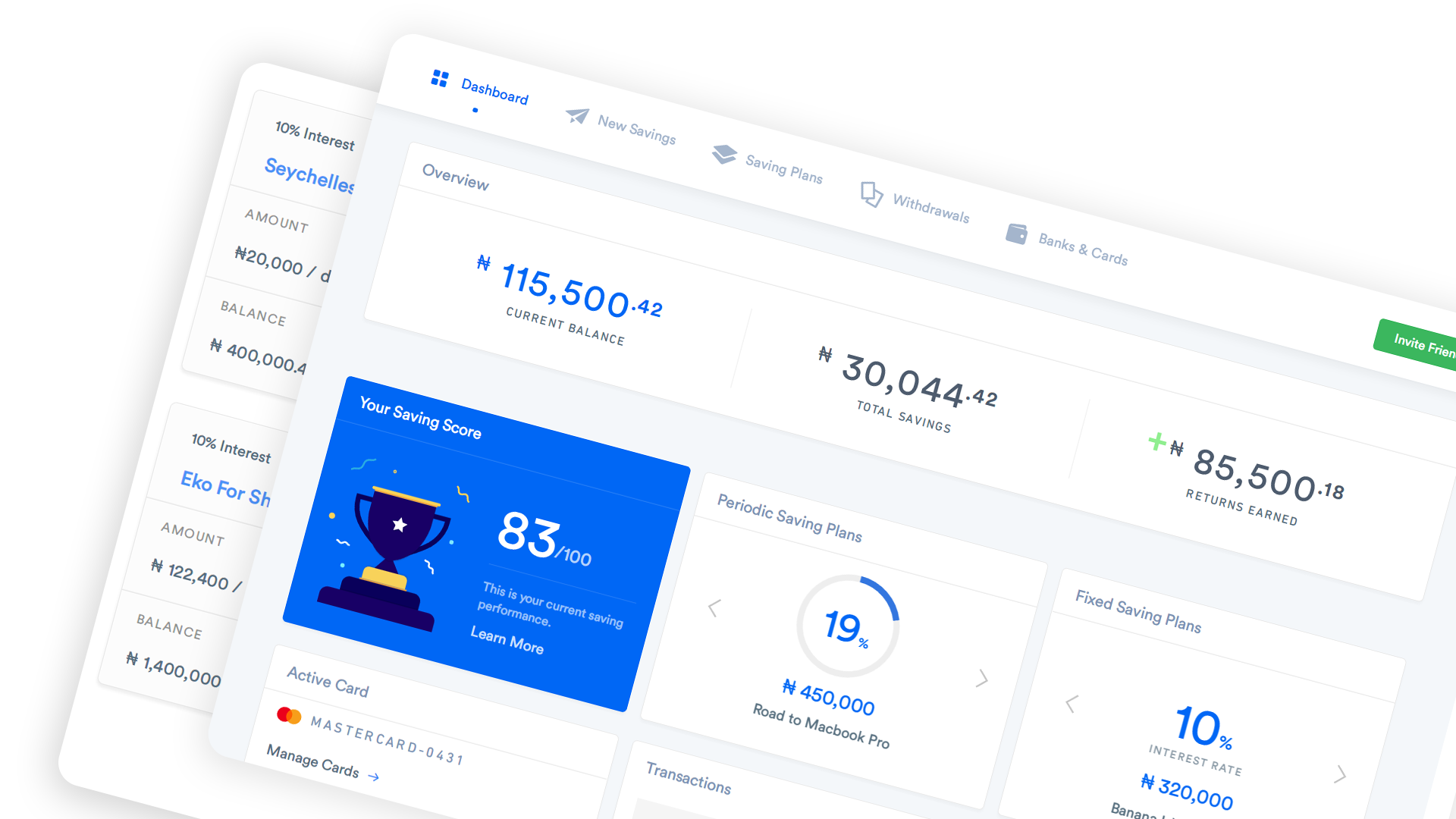 Cowrywise is a legit Nigerian investment platform with an array of investment products.
Through their systematic investment plan, you can automate investments. You can invest in mutual funds in Naira or dollars. Additionally, you can start your investment journey within 1000 NGN. Note that the interest on your investments is bound to increase as the initial amount increases. All the interest or gains on initial investments are calculated every year.
Additionally, you can redeem your investments as they mature.
4. Trove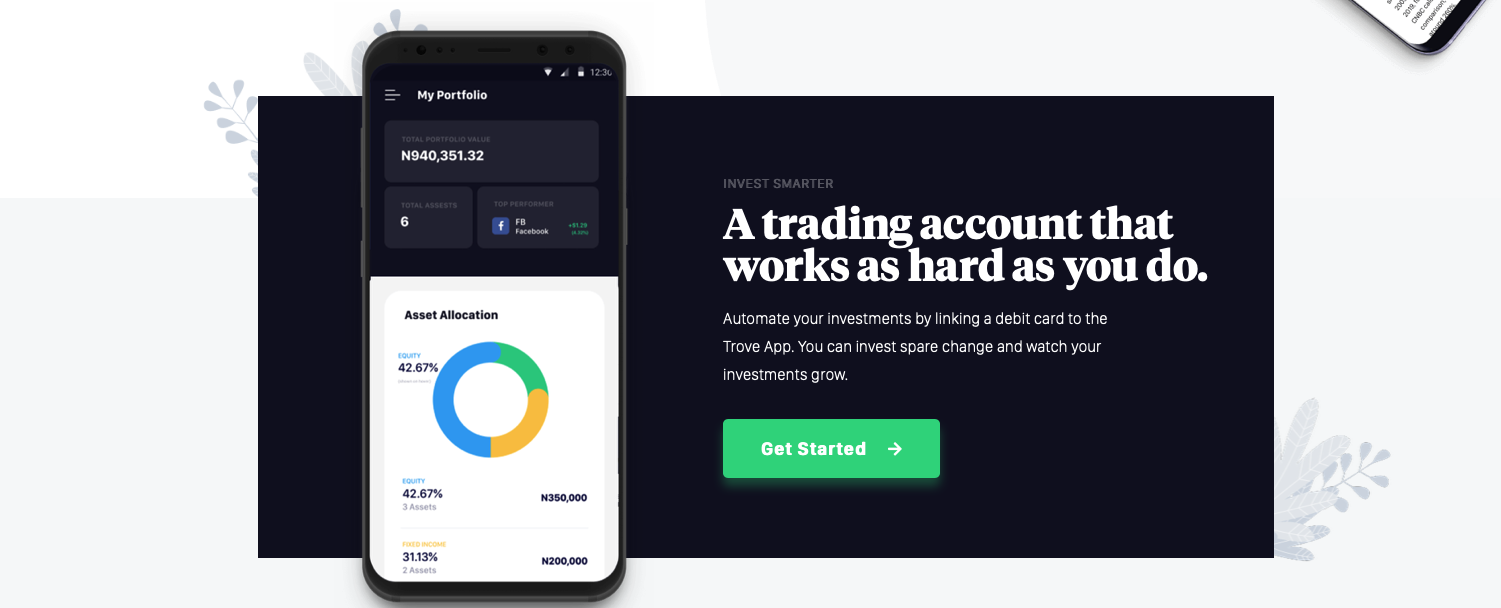 Trove is Nigeria's pioneer stock trading and investment platform allowing you to trade global stocks from the comfort of your home, for as little as $10 or N1,000.
Can't afford to buy 1 share of your favourite company? No problem, Trove lets you invest in bits through fractional investing.
***Security: Trove is a legit company and has affiliations with top and legally recognized companies both in Nigeria and abroad. All the US trading accounts on the Trove platform are held by DriveWealth LLC which is known to be a regulated member of FINRA/SIPC.
5. Bamboo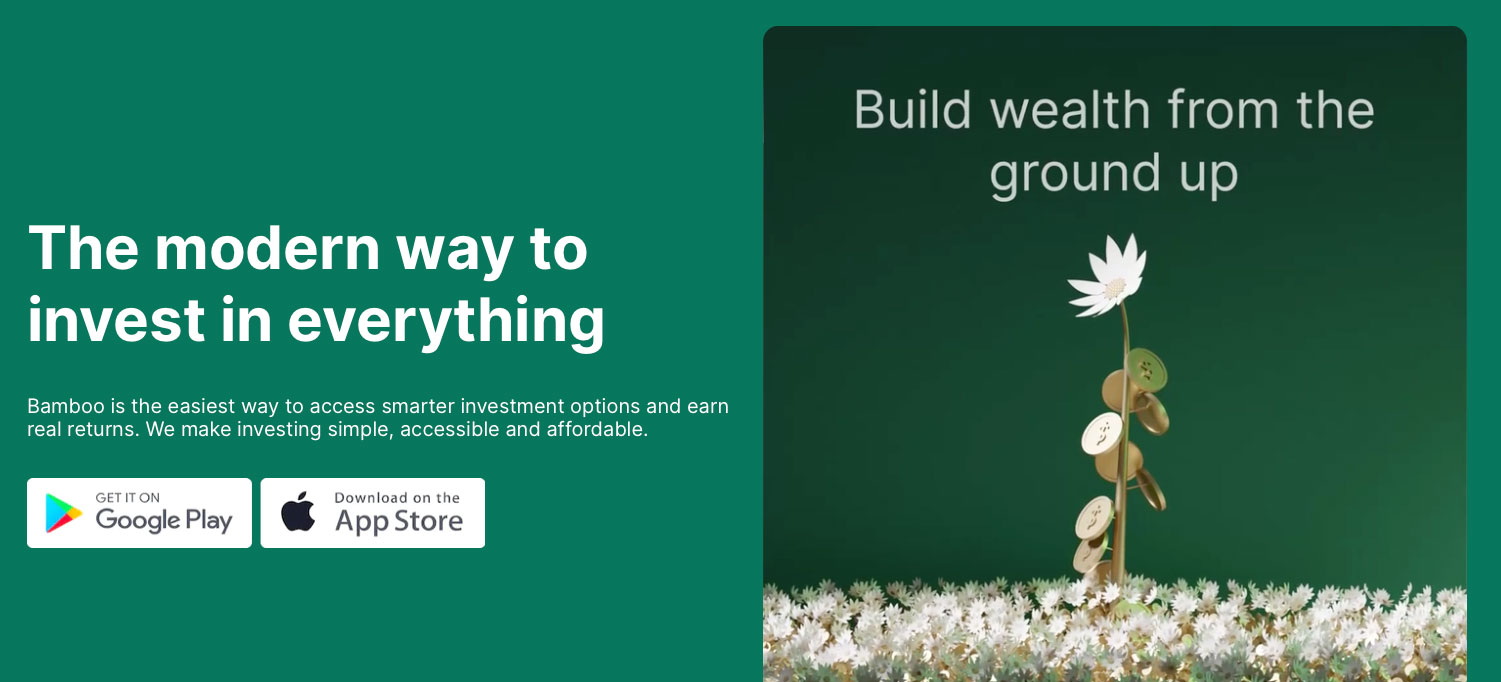 Another legitimate on our Investment Apps in Nigeria is called Bamboo.
Bamboo is an investment company that allows Nigerians to invest in 3000+ US Stocks on the go, from their smartphones.
The Bamboo app requires a minimum investment of USD 20 or the equivalent in local currency, the naira. You can also keep tabs on the value of all of your investments in one location.
Bamboo allows you to buy shares in fractions so even if you don't want to buy 1 whole share, you can buy less. You can buy any stock with any amount you wish to, regardless of the share price. However, you will need to have money in your Bamboo wallet with which you can start investing in Fixed Returns or stocks.
***Security: Bamboo is a legit platform that holds all its accounts at a top-tier U.S. brokerage firm; a member of the Securities Investor Protection Corporation (SIPC). Bamboo is also registered with the SEC (The Security and Exchange Commission) of both the United States and Nigeria.
6. Risevest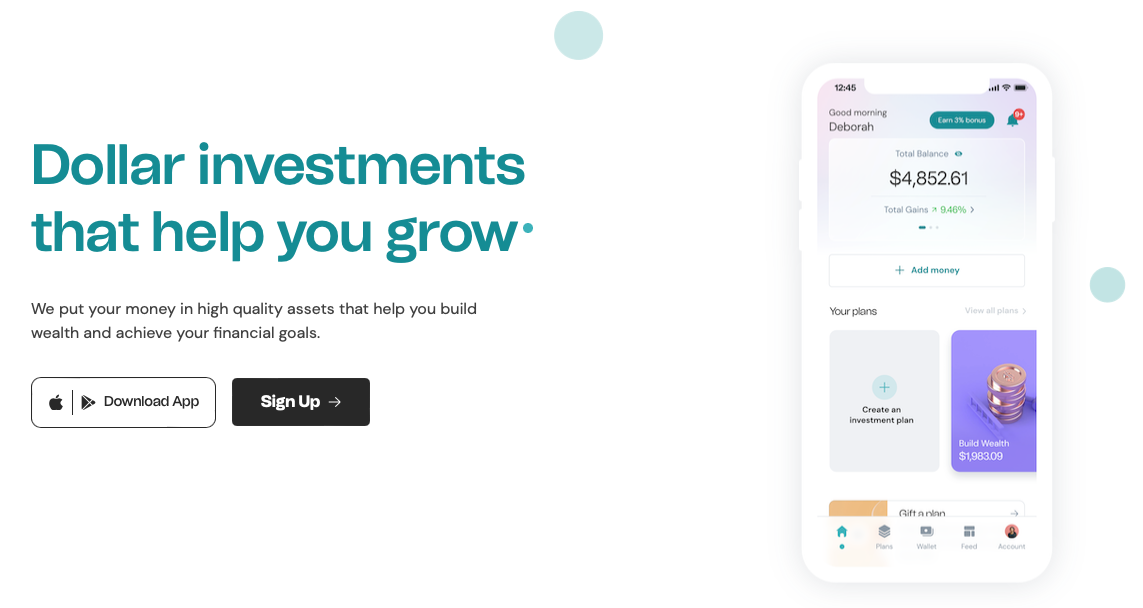 Rise vest is one of the most unique investment apps in Nigeria that allow you to make dollar-denominated investments. So essentially any Nigerian can make automatic dollar investments in US real estate, stocks, and Eurobonds for as low as $10 using only their smartphone.
Here's how it works
Create a plan and invest your funds for 3, 6 or 12 months.
Funds are parked in portfolio of sovereign dollar-denominated bonds with maximum safety.
Interest is paid at maturity in addition to principal.
7. Carbon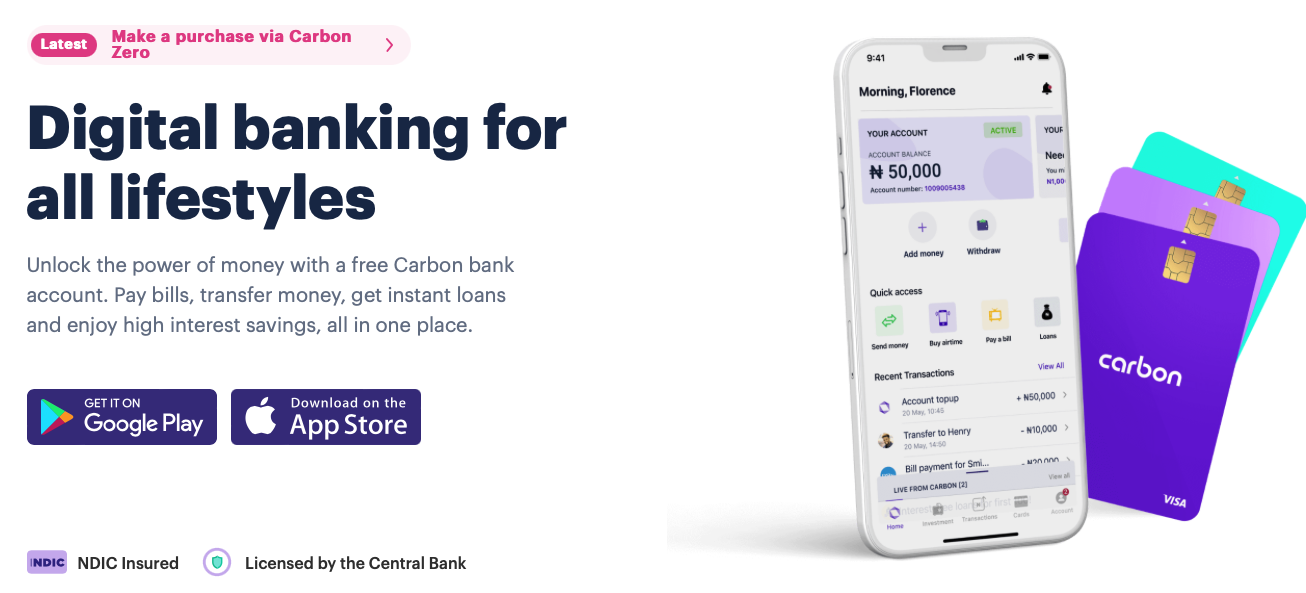 Yes, Carbon is not just a loan app, it is an investment app.
Carbon, which is now one of the digital banks in Nigeria, also lets you make payments, pay bills and access instant online loans in Nigeria. Carbon offers three investment plans to its users, they are:
Cash Vault: This is a fixed deposit account where you can lock away your funds for a period and earn 11% on any investment starting from ₦50,000.
Goals Plan: Here you can set daily, weekly, or monthly investment targets, starting from ₦100. Earn as much as 9.5% when the goal is complete.
FlexSave: This is a one-time investment plan. However, you can keep adding to the account as you deem fit. The FlexSave plan earns up to 9% on your investments.
***Security: Carbon is insured by NDIC and certified by the CBN, so you can be sure that investing your money is safe.
8. I-Invest (for Treasury Bills)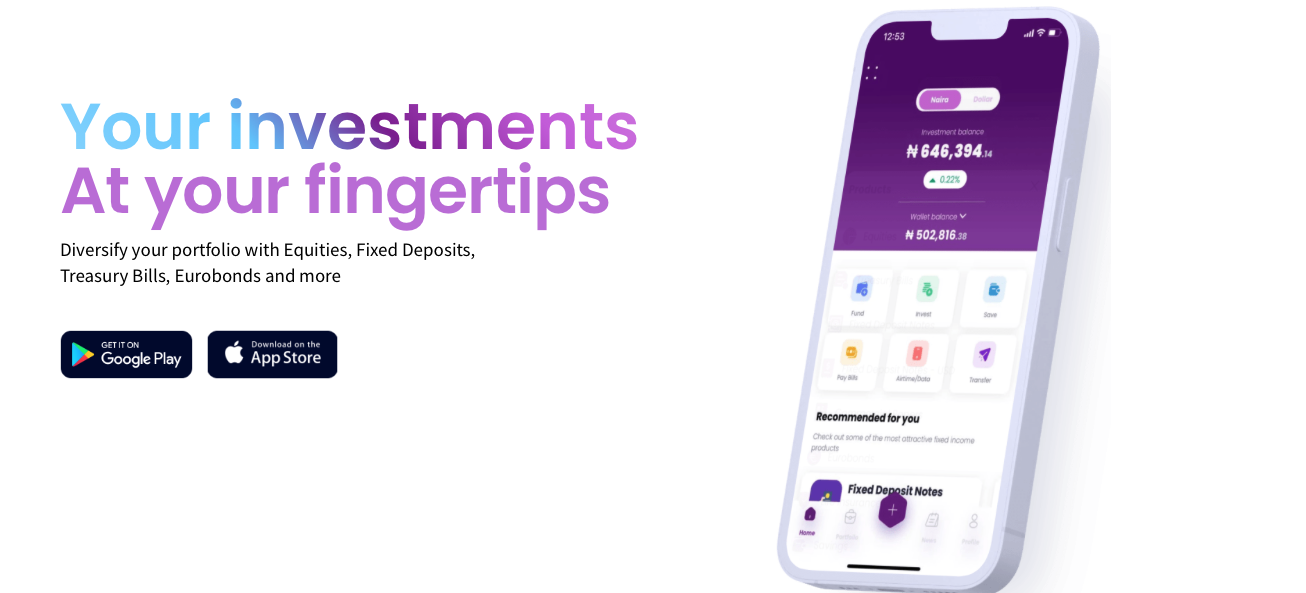 We wrote about I-Invest here.
I-invest is different from all the other types of investment apps in Nigeria on this list. This app allows you to securely purchase and manage Treasury bills, Eurobonds, Shares (Nigerian Stock Exchange), fixed deposits and commercial papers from your mobile device securely.
You can even purchase insurance coverage with this investment app. I-invest became popular because of its Treasury bills offering as t-bills are one of the few risk-free investments that exist.
With I-invest treasury bill plans, both your investment capital, and interest is paid to your account upon maturity. You can also cash out your money at any time. However, that only happens after a minimum holding period of 30 days. Some features of I-invest are
Available Platforms: Android, iOS
Maintenance Fees: None
Pre-liquidate: Yes, after a minimum holding period of 30 days.
In conclusion, investment apps have revolutionized the way we manage our money and grow our wealth. With a wide range of features and benefits, these apps make it easier than ever to take control of your financial future. Whether you're a seasoned investor or just starting out, there is an investment app in Nigeria that is perfect for you. So why wait? Start exploring the best investment apps today and take the first step towards achieving your financial goals.
Investing carries risk, including the potential loss of principal. Please conduct your own research and consult with a financial advisor before making any investment decisions.
Start Investing.
Zee
Recommended reading