Unique Invoice apps in 2022 are the ultimate lifesaver. Imagine being on the go and being able to whip up invoices for your brand as you go, especially if you double as CEO, Accountant, Auditor, etc – it's the ultimate flex.
Here are 10 Different and Unique Invoice Apps in 2022.
1. Swift Invoice – Editor's Choice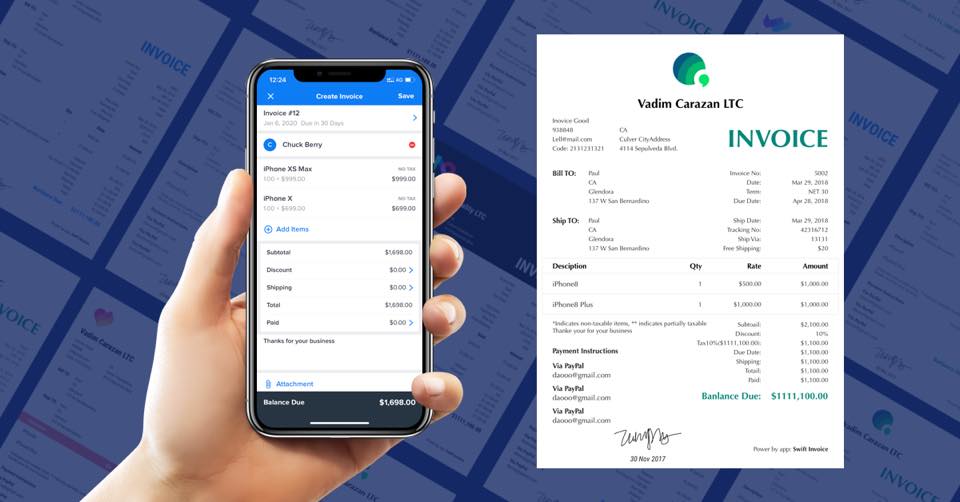 This is our 3rd year with Swift Invoice, and it is the official Invoice Maker for all our clients, but local and international, and I am happy to say that it has grown on me. I love it. We recommend it. HIGHLY.
Swift invoice comfortably tops our recommendation list of iOS invoice makers with a beautiful UI and tons of features. The app is free to download and available on Android and Web as well. Create an account and sync all invoices among platforms.
The app allows you to add clients, items, your personal logo, supports multiple currencies, taxes, and more. You can also choose from multiple templates to jazz up the final invoice look.
Pros
Beautiful UI
A bunch of templates to choose from
The ability to add a personal logo
Face ID protection
Cross-platform support
Rich template customization options
One downside is that I can't have multiple businesses and multiple currencies, especially since we have foreign clients, so I'm always changing currency logo when I need to, and its slightly inconvenient. But outside that, it's a 10 for us here at Pishon Design Studio.
Free to download with $19.99 per year in-app purchase. Avoid the free at all costs.
No, this isn't sponsored.
2. Invoice Maker by Billdu
Billdu invoice maker is loaded with a ton of useful features for professionals and small businesses. Alongside numerous features, it also allows users to create unique templates by adding their company logo, signature, etc.
When approaching new clients, you can create estimates or quotes, and once approved, the same quote can be converted to an invoice. Also, you can keep track of expenses, thanks to the expense manager, and can scan and add bills to the same.
Lastly, multiple users and devices within the company can be added to the account. It helps synchronize the data and highlights the unpaid invoices by marking them. If you want more details, check out the review on our website, or you can try the app for 30 days for free and later subscribe to a plan of your choice.
3. Bonsai Time Tracker & Invoices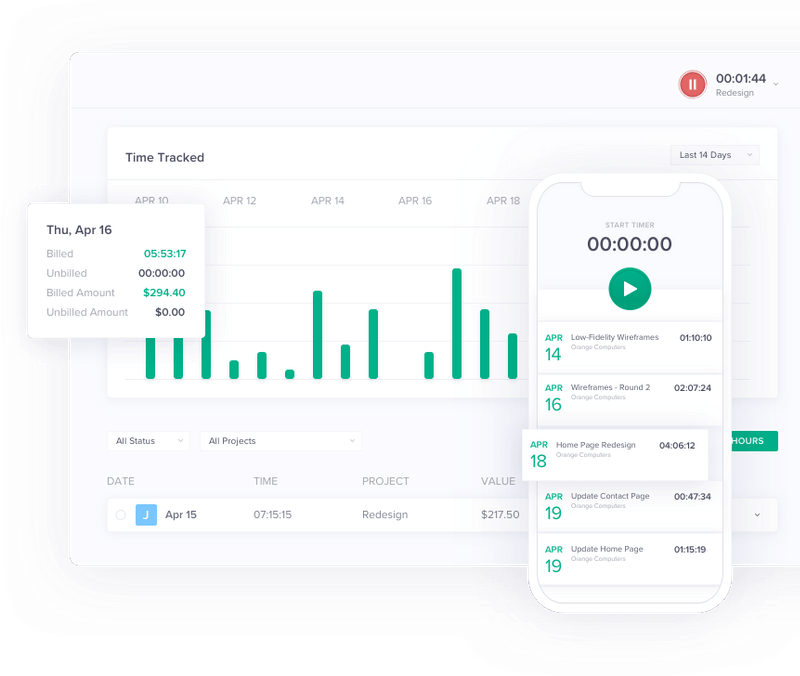 Bonsai is designed keeping freelancers, contract works, etc., in mind. It can easily handle almost any invoice-related matter, from time tracking to expense management. The best part is that the UI is sleek, minimal, and easy to use.
You can track time and expenses via the mobile app or web. Moreover, you can send invoices with timesheets and expenses attached. Or invite collaborators (clients, teammates) to specific projects for limited access and functionality.
There's more; you can view and manage all account activity from a friendly dashboard; total income, expenses, pending payments, overdue, profit, and more.
4. Zoho Invoice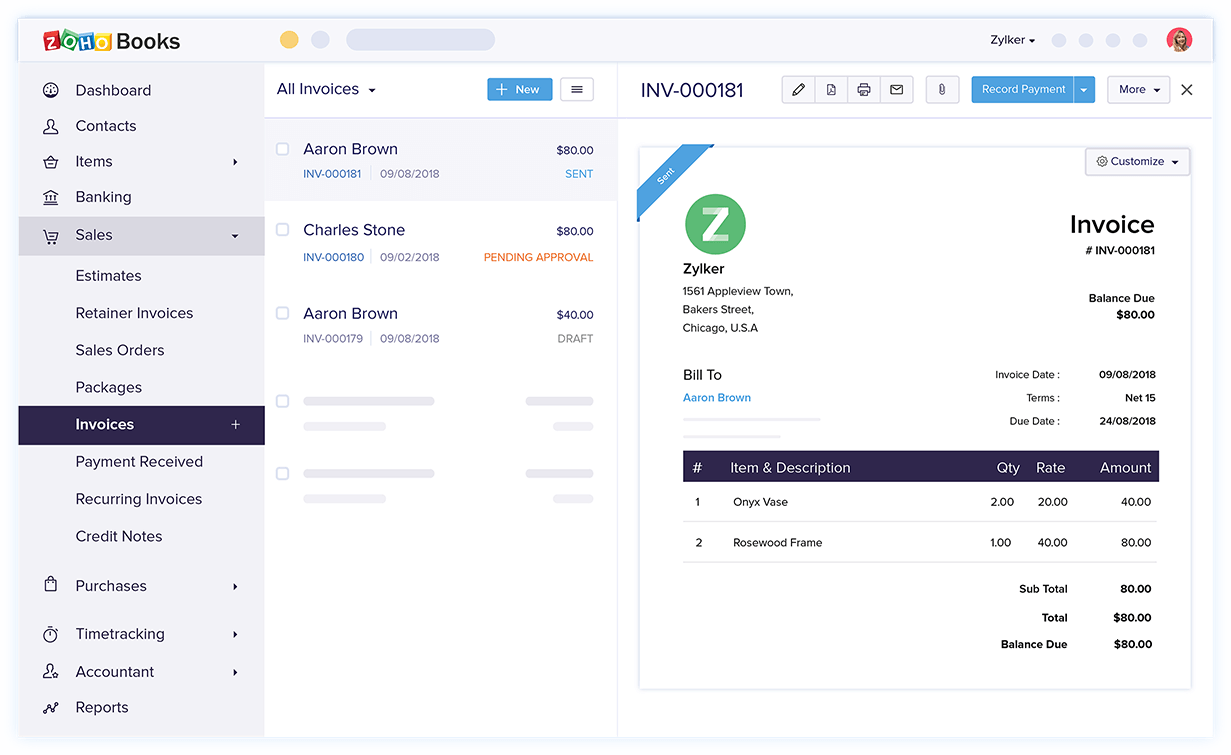 Zoho is a popular name when it comes to the unique invoice apps in 2022. It offers outstanding invoice creating features in addition to categorizing expenses, allowing tracking of time and bills, tracking payment status from clients, and offering a user-friendly interface to make it easy even for non-accounting people.
But, what makes it better than other iOS invoice apps is its support for creating invoices in multiple languages and currencies. Therefore, if your business is spread across multiple locations where different languages and currencies are used, the Zoho Invoice app is the one you should use.
5. Xero Accounting
I like the idea of Xero. It feels premium, and if you're selling premium, your invoices gotta be premium.
Xero is another strong contender when it comes to the best invoice apps for iPhone. The app allows you to create and send invoices on the go. You can customize invoices by adding your company logo, create invoice layouts to reuse them, set payment terms in invoices, and customize the fields in your invoices.
Xero also allows you to accept payments from your customers directly from the app. You simply need to add a 'pay now' button to online invoices to facilitate one-click payment.
Additionally, you can also see whether your customer has viewed an invoice from the app. Also, you can combine multiple invoices into a single PDF and attach them to an email.
While most invoices before didn't support the Naira currency, Xero web a step further by partnering with paystack so Nigerian clients can pay you directly. Such a win for the country.
here's a detailed Xero Review 
6. Tiny Invoice – Estimate Maker – Editor's Choice #2.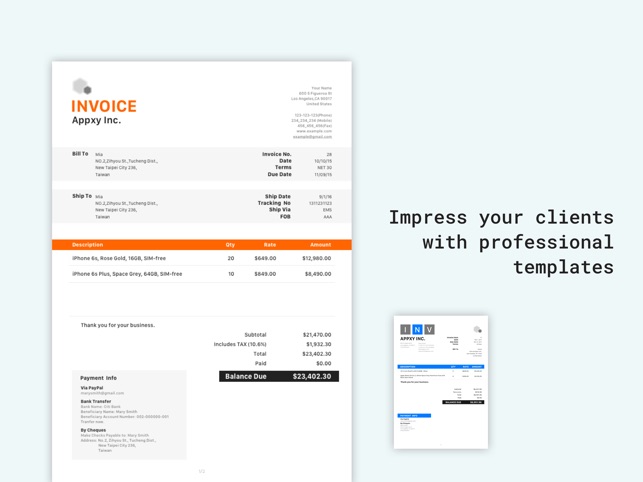 Honestly, this very app is the reason I named this article Unique Invoice Apps in 2022. I was browsing and looking for an invoice apart from the number 1 above. I needed something unique, different from all the ones out on the App Store. So imagine my delight when I found this.
Don't let the name 'tiny' fool you – Tiny Invoice is one of the best invoice apps available out there. The app packs a surprising amount of templates and customization options.
It is a perfect on-the-go invoicing solution for small businesses, freelancers, contractors, etc. It comes with lots of customizable templates, using which you can create professional invoices and estimates in a matter of minutes. It also helps you to create intuitive reports to keep track of your expenses. It is a powerful tool with tons of features to use. It also allows you to customize invoices and estimates with your company logo and signatures.
Tiny invoice is the second invoice we use for our other business, and honestly, it gives swift a run for its money, in my opinion. 
Price: In-app purchases starts from $3.99 per month
7. Moon Invoice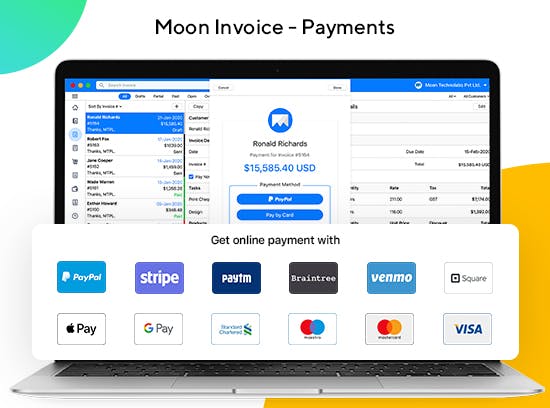 Another one of our unique invoice apps in 2022 is Moon.
Moon is feature-rich and it straight-away asks to customize invoices during the startup. You can change everything including text color, fill color, border color, text style, size, paper size, and even header, footer, and signature. It supports all the popular options such as PayPal, UPI, Google Pay, American Express, Mastercard, Stripe, Square, and Apple Pay.
Free to download with a very high cost of $20 per month subscription to unlock more features such as professional invoices, unlimited clients, and more.
8. Invoice2go: Easy Invoice Maker

Invoice2go is one of the easiest invoice apps you will find. This is a reputable tool that helps you to create and track accurate invoices. Using this app, you can also send reminders to your clients. It can also process debit/credit card transfers. This is an efficient invoice app that can easily record and track your total expenses. It features a neat and clean dashboard displaying charts and graphs. With the help of this app, you can create 13 types of reports, including sales and expense reports.
Price: Standard Plan: $4.99 per month, Advanced Plan: $7.9 per month, Unlimited Plan: $8.99 per month
9. Invoice Ninja
Invoice Ninja is an excellent tool for freelancers and small business owners who have more complex needs beyond simple hand-crafted invoices.
As a free user, you can manage up to 100 clients and unlimited invoices, plus advanced features like time tracking, auto-billing, branded invoices, direct payment integration with over 40 gateways, and the ability to accept deposits and partial payments. However, invoices have a "Created by Invoice Ninja" watermark.
Upgrading to the $10 per month plan increases your max clients to unlimited, grants access to 10 professional invoice templates, a custom Invoice Ninja URL where clients can view and pay invoices, the ability to create custom invoices, auto-reminder emails, and much more.
10. Invoicely
Invoicely serves the same kinds of users as other invoicing apps: freelancers and small business owners who deal with complex accounting needs beyond simple invoices.
One of the more advanced features is managing multiple businesses with multiple team members and clients for each business, which comes in handy for serial entrepreneurs. You can also receive payments online directly to your invoice, which Invoicely uses to auto-update an invoice's paid status.
11. Spark Invoice Maker
Spark Invoice Maker allows you to create professional invoices no matter what business you are in. Add your corporate logo to your invoice, edit taxation, add discounts, and change currencies with just a few taps.
Ideal for all freelancers and small business owners who are always on the go.
Send invoices on the spot. You can deliver your Spark invoices to your clients as email or message attachments whenever, wherever.
Enjoy minimal yet professional invoice design and layout that impresses your clients.
Keep track of your invoices and clients with our user-friendly, easy-to-navigate account history.
12. Invoice Simple
Invoice Simple is good for small business owners, contractors and freelancers needing a fast, easy to use mobile invoicing solution. It's look is a little dated, but we are looking for unique invoice apps in 2022, yea?
With Invoice Simple, you can add as much or as little detail as you need. Include payment information, due dates, photos, discounts, shipping details, signatures, and more. Deliver via email, text or print. You can even get notified when the customer reads your invoice.
Get paid via credit card, online payments, cash, check, PayPal, and more.
Free to download with a $5.99 per month subscription.
Thanks to invoice makers, creating invoices has never been easier. Gone are the days when you need to boot up your computer and scramble over word processing software to build an invoice.
Zee.
Related posts