All the Virtual Dollar Cards in Nigeria are a scam. Yes, we said so.
If you are anywhere within Nigeria, you know for certain that unless you have a foreign dollar card, Naira cards no longer work here. So it's a big deal for people who have to purchase subscription services like Spotify, iTunes, and even hosting services, like we do.
Hence the rise of Virtual Dollar cards in Nigeria.
The so called Top Virtual Dollar Cards in Nigeria
Payday Virtual Dollar Card.
Fundall Virtual Dollar Card.
Chipper Cash Visa Virtual
Barter by Flutterwave.
ALAT Virtual Dollar Card.
Kuda Bank Virtual Dollar Card.
In 2022, Flutterwave shut down its Virtual Dollar Card service, ALAT stopped its own since, Kuda Bank's Virtual Dollar Cards service is non-existent.
So why did we call them scams?
Because none of these Virtual Dollar Cards work. None.
Even though we have 3 active foreign cards to use, we decided to embark on a test to see if as of this post, March 2023, any of these Virtual Dollar Cards in Nigeria would work.
1. Let's start with Payday Virtual Dollar Card.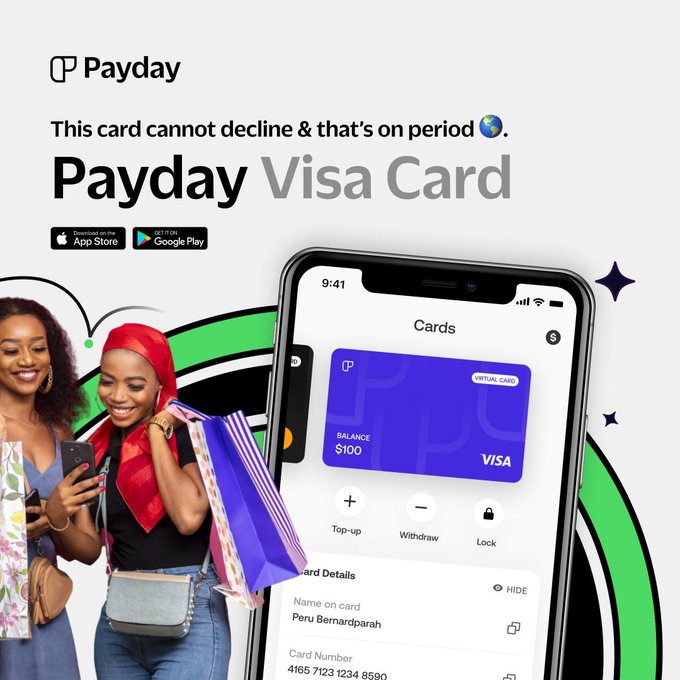 Payday is a neobank for remote workers & digital professionals. The platform makes it easy for Africans (living in Africa) to receive money from anyone anywhere in the world.
Of all the Virtual Dollar Cards, I'm rooting that Payday isn't a flop. But the reviews against are more than the reviews for.

and more…


and more…

Search Twitter for #paydayapp and you'll see dozens and dozens of complains which is a legit red flag.
here's one more concerning review

2. Then Fundall Virtual Dollar Card
I registered on Fundall and decided – my mistake – to fund the so called card. Did it work? No.
I think these fintech apps use the ruse of giving out virtual dollar cards just to click-bait you into opening an account with them and then when you need the card the most, they tell you it's not available. Just like Fundall.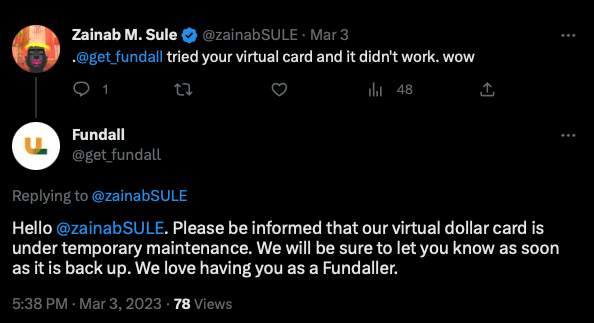 3. What about Chipper Cash?
Chipper Cash is also FINTECH. As with all of them, the idea is to Send and receive money across Africa the fast and easy way. Enjoy free transfers and the lowest cross-border rates. Their Virtual Dollar Card is also popular in African space.
So, are they like Payday and Fundall?
As with the others, for the benefit of this mini-research, I also installed Chipper Cash on my phone just so I could test their Virtual Dollar Card system. I uninstalled it just as fast.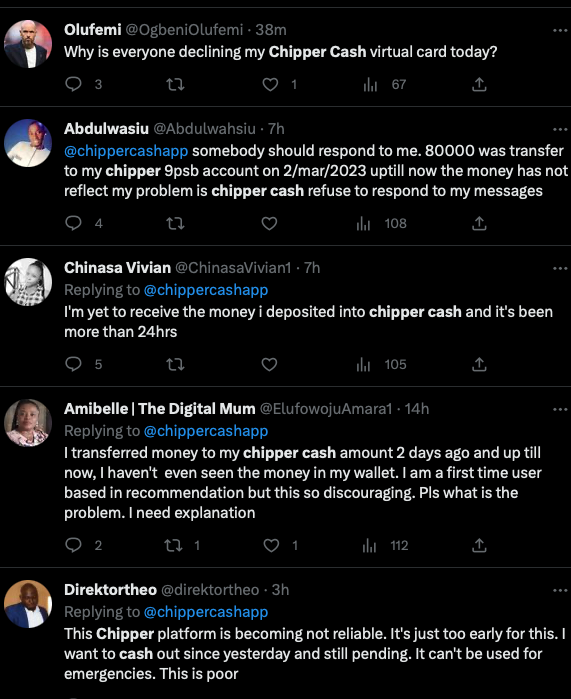 This is the same story for all the other platforms.
Nigeria thrives on sensationalism, and most of us do not do our due diligence when patronising other businesses. When we first heard about the Virtual Dollar Cards, I was excited, because, realistically only an insensitive government will cut of access to international purchases by its citizens. But that's our reality.
So is there really no Virtual Dollar cards in Nigeria that will work seamlessly?
Honestly, No. And we've tried them all. Every member of this team had a Kuda bank account. (We've closed it too.)
I may sound like a broken record, but there is a reason why I ALWAYs recommend Payoneer.
First, there are not NIGERIAN, and that means they are very likely to work and STAY working. This isn't a segue into promoting Payoneer. Or Paypal. We could do so with any dedicated blog post. Why Money has been an issue for Nigerians is something that should be studied in high school and PGD. Kenya has Mpesa, US and the rest of the world has Paypal. Why can't we have just one thing that works?
This is our advice to get a REAL dollar card – Not VIRTUAL:
Walk into any sensible Nigerian bank – GTB is the lesser of 2 evils, or UBA or Standard Chartered bank (NOT ZENITH BANK), and apply for a proper USD card, especially if you really need to do business internationally. THIS is your BEST bet.
Wait 2 weeks and get your card.
Yes it is a hassle to start going to the bank manually to pay in Naira at black market rate but no worries, soon you'll start getting inflow and all will be fine. Click to learn how to make money online so the inflow comes in.
A brief word about Payoneer
We've already written different posts about them, and other FOREIGN payment alternatives, but here's a recap:
Your Payoneer account is your key to unlock a universe of opportunities. Whether making international payments, receiving funds, managing your digital business, or accessing capital, Payoneer opens your business up to the world.
You can receive payments from anywhere in the world by giving them your local US bank account (which payoneer gives upon registration)
You can get a PHYSICAL dollar card. (Yes, when you reach $5k in transactions)
If you're a serious user, and want to avoid the drama of Nigerian banks and CBN, then click here to register on Payoneer
That's all there is to it.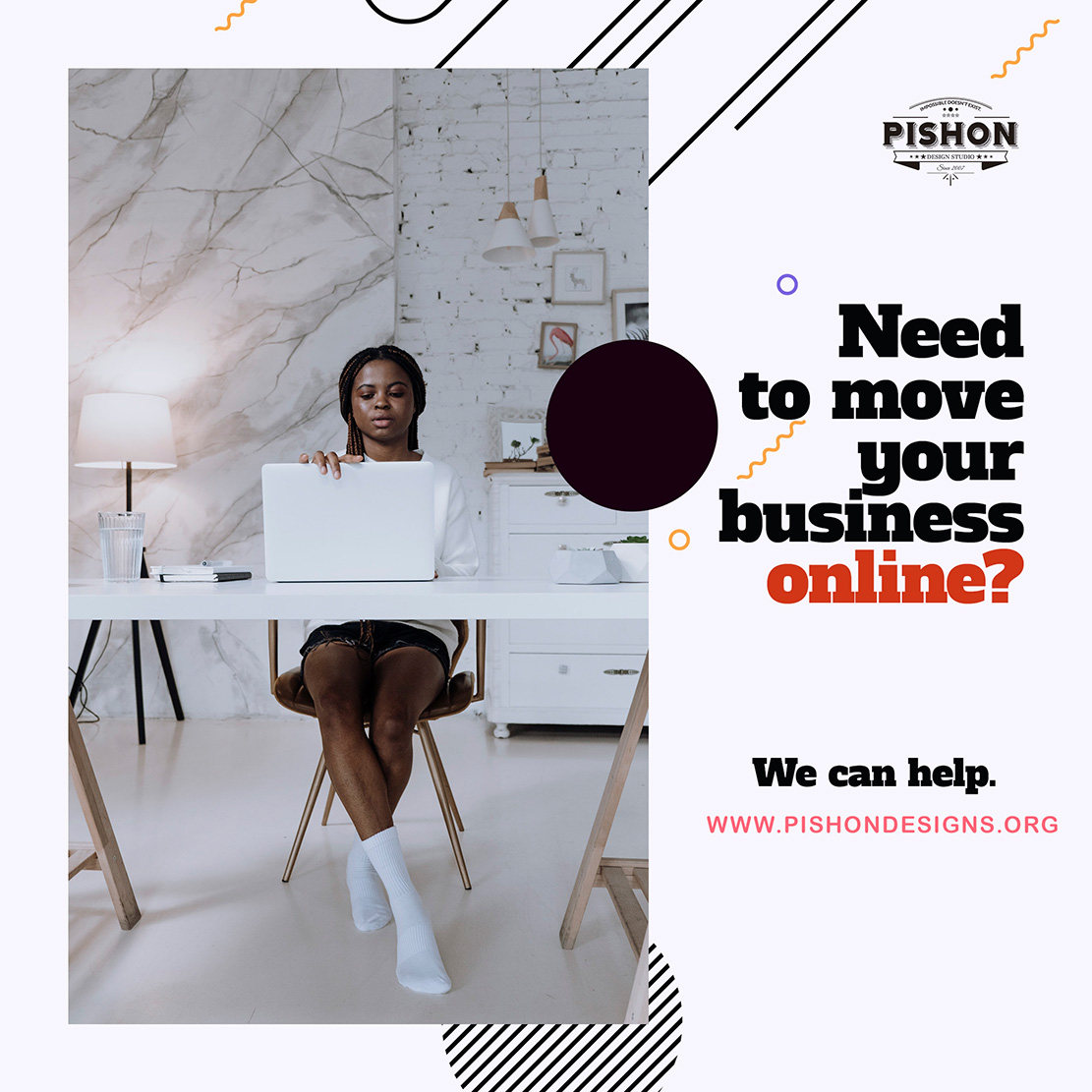 Recommended reading