I've seen so many questions by newbies and pros alike about the differences and similarities between Wix and WordPress and I'm hoping this post can enlighten you further.
Before we proceed further, this article is about WordPress.org— not WordPress.com. WordPress.com is a separate service that's more like a website builder like Wix and is entirely different.
What is Wix?

First, if you're new to tech speak, Wix is a website builder that has templates and can be used to create really good looking conventional websites. Think of it like a phone that uses themes. What Wix claims is that you don't need to be a professional before you can use the platform. It's not a software, it's online, extremely visual and you can just choose a template, edit it minimally and you are good to go.
What is WordPress?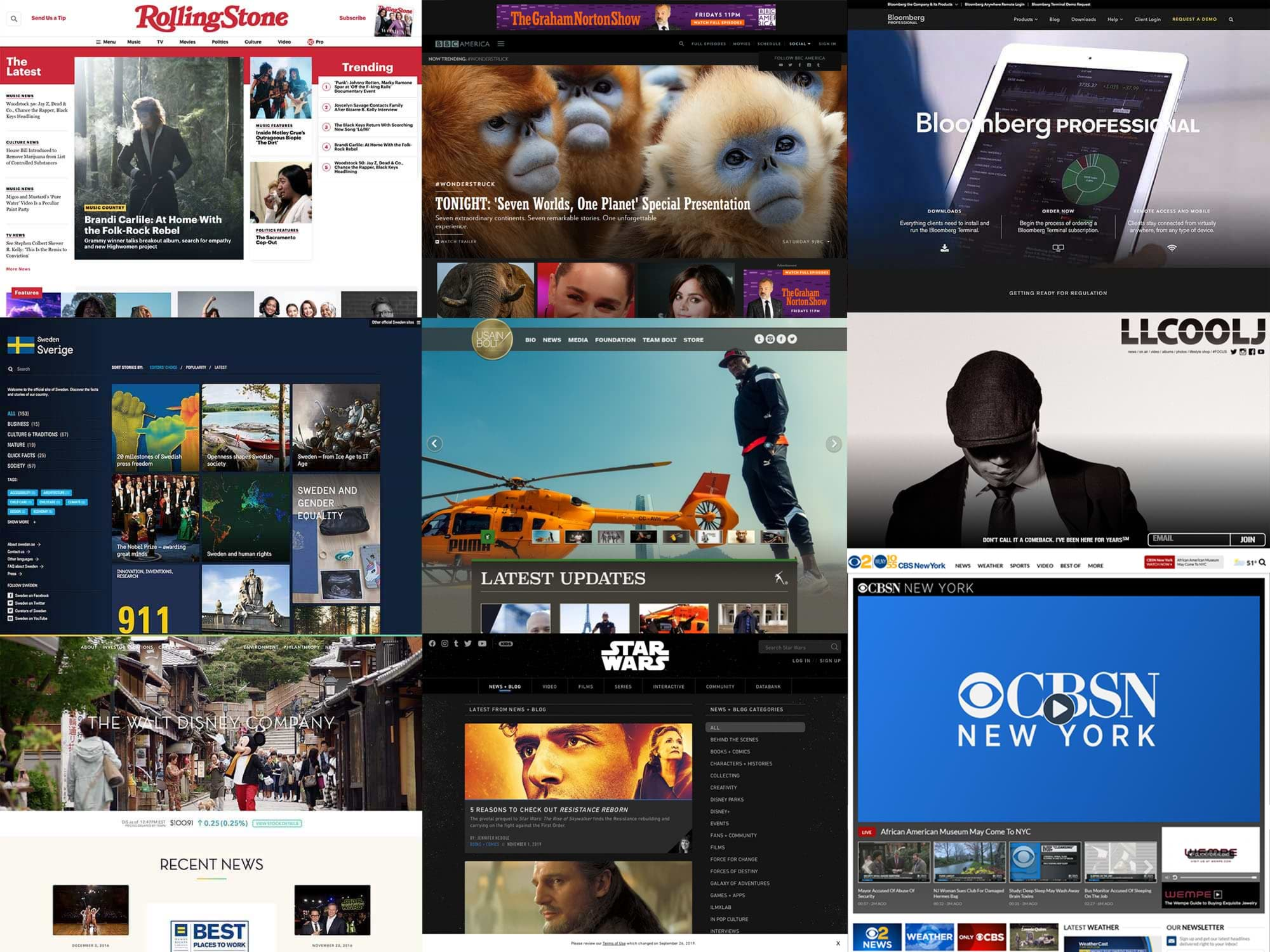 WordPress on the other hand is a web builder as well but offers even more. It's a CMS – content management system – that goes beyond templates and plugins. If you're looking to build a website that will wow your competition and potential customers alike, then by all means, USE WORDPRESS.
WordPress has infinitely more options, if you want an unconventional website.
There are other options of course, Blogger, Drupal, Joomla, etc but this post is WordPress or Wix.
So, Wix or WordPress?
This post is not to tell you which is better – though this website is built on WordPress and that should tell you something – but rather to compare and help you make the right decision, because depending on what you want, you could be leaning either way.
I'll break this comparison into categories so you can understand better.
Pricing
Theme availability
Ease of use
Plugins / apps
E-commerce integration
Data backup and migration
1. Pricing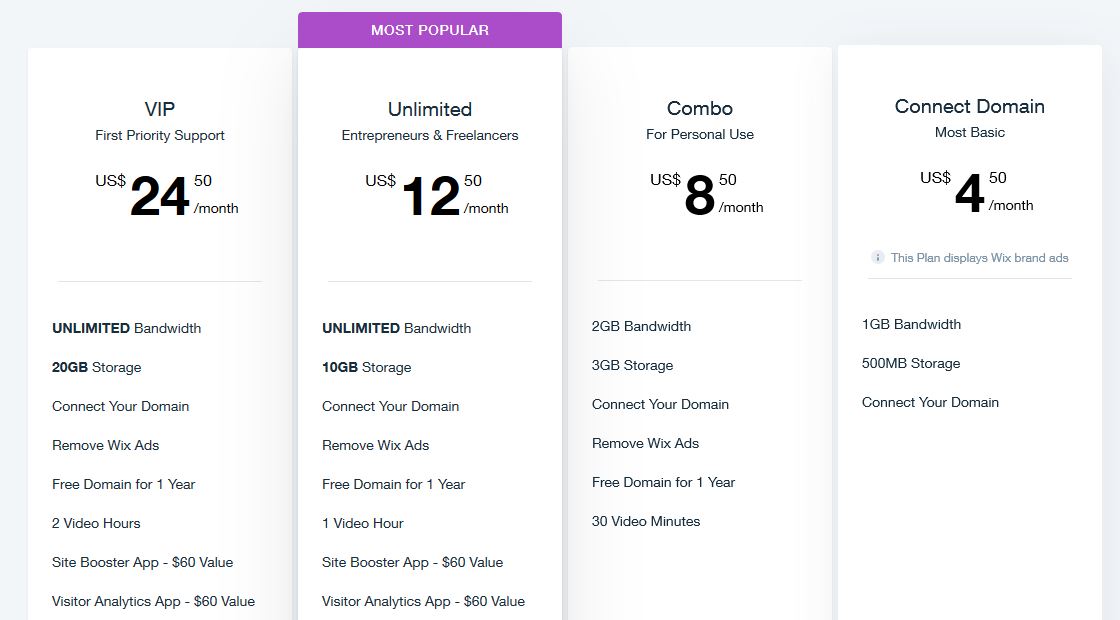 Getting WordPress on your site is relatively cheap. All you need to do is to buy hosting – and all hosting comes bundled with a Cpanel – think of it like an app drawer – of which every thing you need is available. The highest you can spend depends on the specs you need. You can go as low as $5/month or $10.
Wix, on the other hand isn't free. it's free version comes with ads that you'd hate. To remove the ads you need to get a premium plan that starts at $12.50/month for the popular plan.
That's $150/yr MINUS domain name and other add-ons, compared to WordPress which comes bundled in your hosting for a maximum of maybe $50/yr.
Pricing flexibility, Wix or WordPress? WordPress is DEFINITELY cheaper in the long run.
2. Theme availability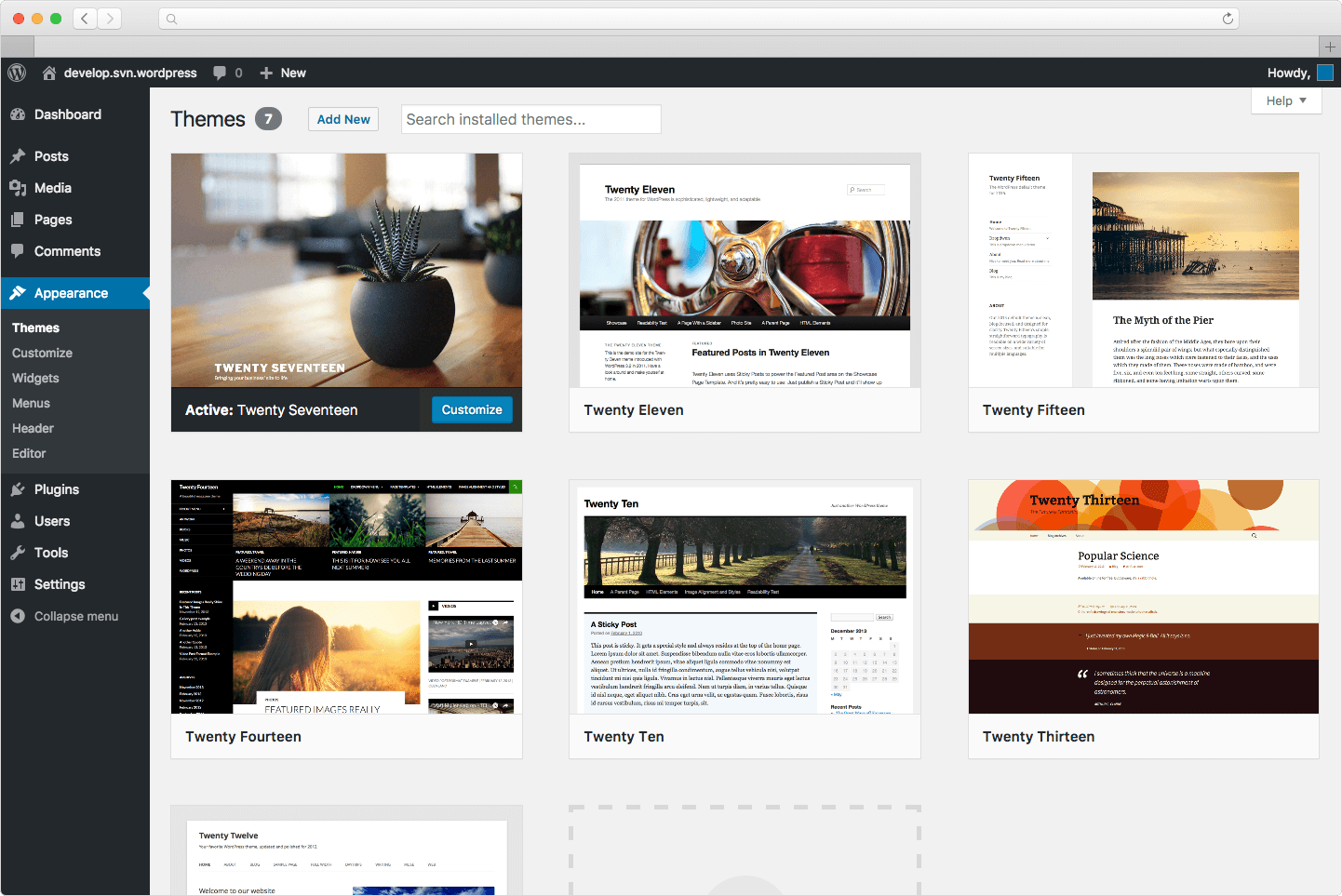 Due to the insane popularity of WordPress, there's no shortage of themes.
Wix? wix has 300 templates.
Wix sites are always hosted by Wix. This means that templates cannot be downloaded or exported. And while it is possible to take any template and make it uniquely your own, it is not possible to purchase a template and make it unavailable for others to use. – Source
At the time of writing, there were 55,000+ plugins on WordPress.org and 12,000+ themes on Themeforest.
The official WordPress store has 11,000+ themes.
That's A LOT of options.
It's important to note that WordPress has a number of plugins that enable you to create complete WordPress sites (including WooCommerce websites) without having to write a single line of code.
Most notable of these tools is Elementor, a hugely popular code-free WordPress website builder that even boasts built-in
WordPress hosting
features.
For availability, Wix or WordPress? Definitely WordPress!
3. Ease of use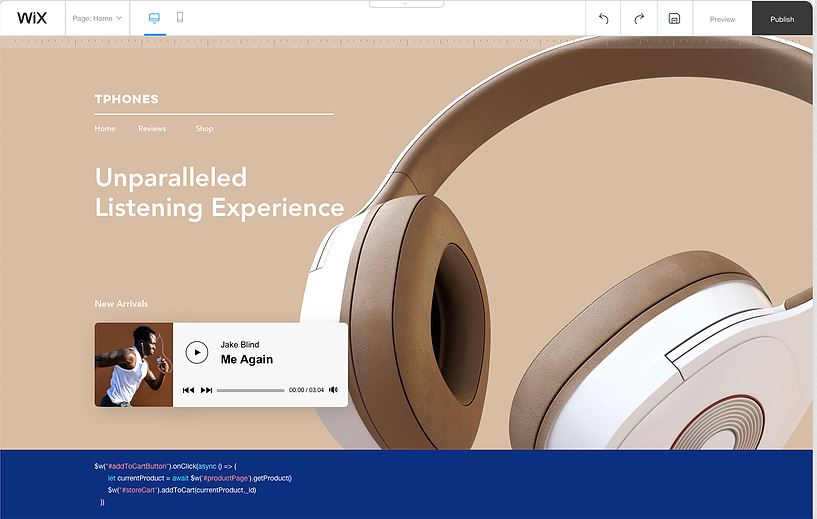 A client once asked me to redo her Wix website for her but after 2 weeks, damn. And I can code. Now imagine someone who cannot. Your site ends up being a template replica and you won't too like it.
To generalize, website builders like Wix are easier to use but less customizable. They also include hosting— so you don't have to set up a web host— but that means you can't ever move your website off of Wix and on to a new web host.
WordPress has a steeper learning curve but is highly customizable. You need to setup WordPress on a web host— and basically that's it. WordPress is open-source, which means it's free for anyone to use and modify (though hosting, themes and plugins can all cost money).
So who wins this? Wix or WordPress? Let's give it to Wix.
4. Plugins Vs Apps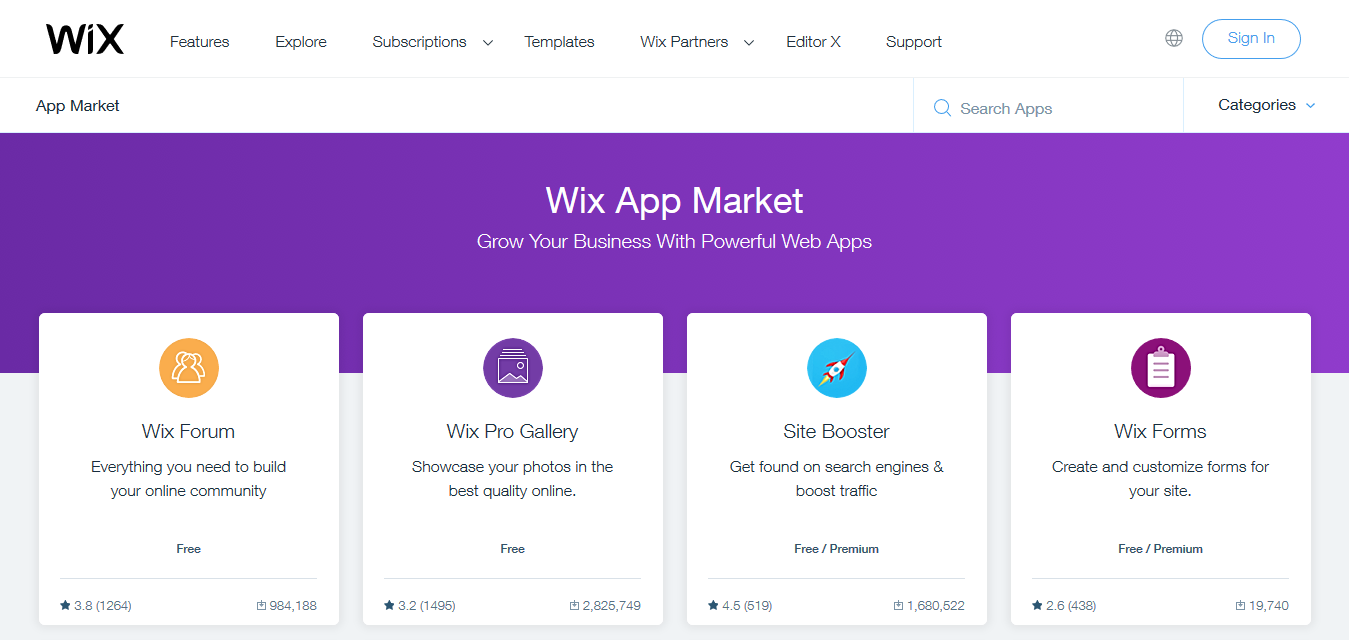 WordPress has plugins, while Wix has an app market. Plugins and Apps are third-party extensions that you can use with your platform to add more features.
Wix comes with nearly 200+ apps that you can add can help you add features to your site such as contact forms, gallery, comments, social media buttons, email marketing and so on. WordPress has more than 55000+ plugins on the other hand and thus has more options.
One disadvantage of WordPress here is that because of the sheer amount of plugins, and themes, there's bound to be incompatibility issues which can be fixed – probably – if you know how to code or by going back and forth with the developer.
Not everyone wants that hassle. Wix apps are already certified to work out of the box with their themes, so no issues.
BUT if you can think of a feature, there's probably a WordPress plugin that makes it happen while Wix only offers conventional out-of-the-box features such as photo gallery, event apps, etc.
So Wix or WordPress? Hmm. WordPress.
5. e-commerce Integration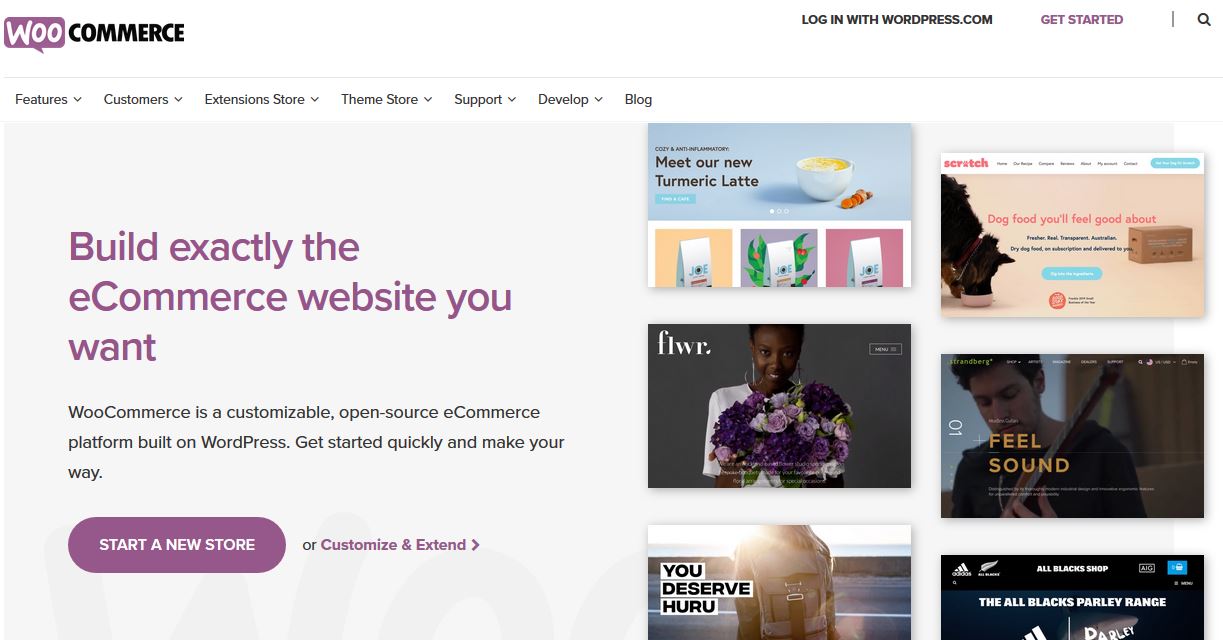 Some people are interested in their own website because they want to sell stuff online. So Wix or WordPress?
Wix does offer eCommerce options, but this is with their paid plans. And to further complicate issues, you can only accept payments using PayPal or Authorize.net. If you now decide to use third-party apps you would pay even more.
With WordPress, however, it is so easy to create your online store. One main plugin that aids this is WooCommerce, which powers more than 42% of all e-commerce websites in the world. WooCommerce is a customizable, open-source eCommerce platform built on WordPress. Did we mention that it's free?
So for e-commerce, Wix or WordPress? Definitely WordPress.
6. Data Back-up & Migration
Let's say you want to move hosting companies for cheaper options, is that possible with Wix? Em, nah. According to Wix documentation, all your content is hosted exclusively on Wix's servers and cannot be exported elsewhere. So the work around is to do it MANUALLY – posts, images, etc. And if you're like us with over 300 posts, that's painful.
With WordPress, it literally takes like a few seconds using the in-built one click exporter that allows you to download your content in XML format and restore anytime you need it.
So Wix or WordPress? When it comes to back-up, WordPress.
Conclusion
This isn't a better or worse comparison, it's just a guide so you know exactly what you're are getting into. There's no right or wrong, good or bad. I'd definitely choose WordPress over Wix, simply because of the fact that I want MORE. Another person could choose Wix for the same reason of wanting less. So whichever you choose, make it worth it!
If you want to blog, I'd recommend WordPress though. Just saying. 🙂
To create a website with Wix,
Sign up for a free website builder.
Customize a template.
Drag and drop 100s of design features.
Publish your website and go live.
Each advanced feature in Wix amounts to more $$.
To create a website with WordPress
Decide your domain name and pick a hosting company. We recommend inMotion. 
WordPress is added in your hosting features.
The only $$ you'll spend is what you used to purchase hosting.
So make your choice, or just ask us to build one for you. *Wink!
Kisses.
QOSR
Related Posts on WordPress