Email or Social Media? Why must it be either, or?
The power of social media?
I think it's because we don't own social media platforms. I am Nigerian, and that means as of today, June 12 2021, Twitter has been banned – temporarily, they say – in Nigeria just because a tweet of the President was deleted. This singular act has cost entrepreneurs whose business models rely on the platform to come crashing down and millions of dollars have been lost.
In the same way, in 2018, Facebook started reducing the organic reach of brands to almost half the size. I (my personal brand) have an organic audience of almost 260,000 followers on the platform. My analysis shows I don't even reach half of them.
I'm no fan of Trump, but during the elections, one wrong tweet got him banned and removed from Twitter, Facebook, IG and ALL platforms.
That's some power.
Is Email any better?
I have annoying unread emails from people I'm sure I've never subscribed to. Yea, sure there is a downside to email, but you can't help but notice the positives, such as:
Email —– 20% open rate
Facebook —– 5% talking about this
20,000 fans —– 1,000 > talking about this
5,000 emails —– 1,000 opened and 300 to 400 clicks to your site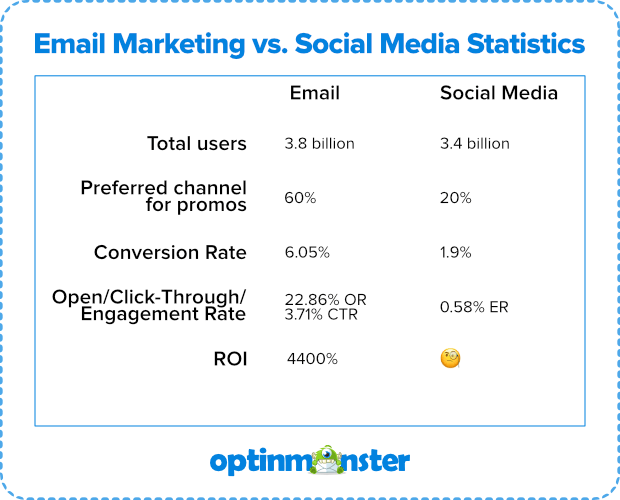 The above chart supports my point.
So should it be Email or Social Media?
Email marketing and social media work best when used together. According to Adweek, emails reach 90 percent of recipients compared to a meager two percent social media impression rate.
Email advertising campaigns produce reliable results that marketers can build on with social media promotions. Both platforms come with positive benefits as well as specific challenges. By exploiting both their strengths, businesses can increase consumer engagement drastically.
Here's something valid:
It really depends on the nature of your business. Email marketing can work if your target market are professionals but if you're targeting a younger audience, most probably, they don't check their emails. The most important thing you must consider is knowing who your customers are. Alternatively, you can get the aid of social media companies…
Advantages of having an Email List
Read: 100 Ways To Grow Your Email List
I would say these 3 top my list:
1. Your emails WILL BE SEEN.
Email gets more attention than a post or tweet on Twitter. With recent changes by Facebook the people who actually see your posts in their newsfeed has dropped dramatically. Now you have to use promoted posts to have any meaningful reach.
Email is vastly different. They can engage by deleting, responding or unsubscribing!
2. Email is still Popular.
Email is still the most used electronic media. Most people – myself included – check it first thing in the morning and take a glance before they go to bed.
71% consumers favor email as their first online "check" of the day. –ExactTarget
3. Email gets you more engagement
Value of a Facebook fan and Twitter follower is much lower than that of an email subscriber in your newsletter. If you are doing it right then, you should get at least 20% of open rate. Click through rates maybe 2-4% of or even higher. The Pishon Newsletter has a 40% open rate.
So really I'd suggest opening your account on mailchimp.com and start growing.
ZS
Recommended Links