So… here are my top 4 worst hosting companies for 2017.
People think all they need to do for their website is just buy hosting from any company and that's it. Well you couldn't be more wrong! Having a web hosting company isn't just where it stops, it's where it starts. There are other things to look for, like Customer Service, Space, and most importantly, reputation.
Anyone who has ever run a website understands that customer service and support is something that's easy to overlook and skimp on upfront…but you will always need support at some point, and when you need it…you really need it.
In the course of my years as a designer, I have come across the good, the bad, and the ugly. Read on!
1. 1&1 – now IONOS by 1&1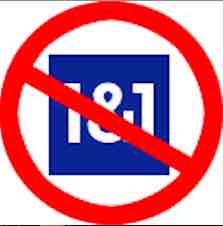 1&1 offers a wide range of products from domain names to hosting to website packages. 1&1 is actually one of the oldest web hosting companies – founded in 1988.
Having a big company doesn't necessarily mean good service, and as of the time of this post, I've taken down at least 7 of my sites with them.
I have been billed for a year for a load of domains I didn't want renewing. They have just send an invoice demanding payment, and it turns up they signed me up to a contract without my knowledge.

I should be able to cancel at any time and pay for a month but they have billed me for a year. – Anonymous review
My rating:
Customer Service: 6/10
UX Interface/Friendliness: 2/10
Price: 9/10 (That's the only good thing!)
Hosting Performance: 5/10
Tip: Always check out reviews on google before you buy from a host.
2. Godaddy

No 2 of my Top 4 Worst Hosting Companies in 2017 list is GoDaddy. Yup. I have sites under Godaddy, but only because I know how to handle them. Just last week, I wrote a post on why you shouldn't use them for domains.
Customer Service: 1/10
UX Interface/Friendliness: 4/10
Price: 6/10
Hosting Performance: 6/10
3. iPAGE
Number 3 on our Top 4 Worst Hosting Companies in 2017 list is iPage.
iPage hosting reviews deem them to be cheap and ok, but being ok isn't good enough. iPage was established in 1998 in Boston, MA and has grown into one of the most successful economical web hosting companies. Offering domain registrations, shared, VPS and dedicated hosting, their platform is powering over one million websites.
iPage's pricing is virtually unbeatable. Their customer support is pretty good too! Unfortunately, their other performance statistics don't fair as well.
iPage is cheap. The support is decent. But their uptime is terrible. Equaled only by slooooow page speeds. In this case, you can't afford NOT to pay a tiny bit bit more to make sure your website is stable, quick, and effective. P.S. If you want to see hosting providers that ranked we recommend, check out our top hosting companies review here.
My rating:
Customer Service: 7/10
UX Interface/Friendliness: 5/10
Price: 9/10
Hosting Performance: 3/10 – Downtime is massive! Don't risk.
4. e-host
And finally, the number 4 on our Top 4 Worst Hosting Companies in 2017 list is……drum roll… ehost!
Update: e-host is closed.
There you have it! My Top 4 Worst Hosting Companies in 2017. A word to the wise… use google before you purchase and only buy from secure websites.
Cheers.
Zee