I'm not new to the iPhone gang, but I am definitely frustrated because I'm a music addict, and I don't want to be tied to iTunes before and subscriptions before I can listen to music I love. This brings me to look for the Best iPhone Music Player Apps and hence this post. Happy reading.
Note that these iPhone players MUST be able to play music OFFLINE. Just buy it once – if necessary – and it's yours.
What are the best iPhone music player apps for 2020?
I'm not going to list apps like Spotify, Deezer, Google Play music because these are all subscription based fans once you don't pay, the music you're listening to is no longer available offline.
Let's start with —-
1. VOX MUSIC PLAYER APP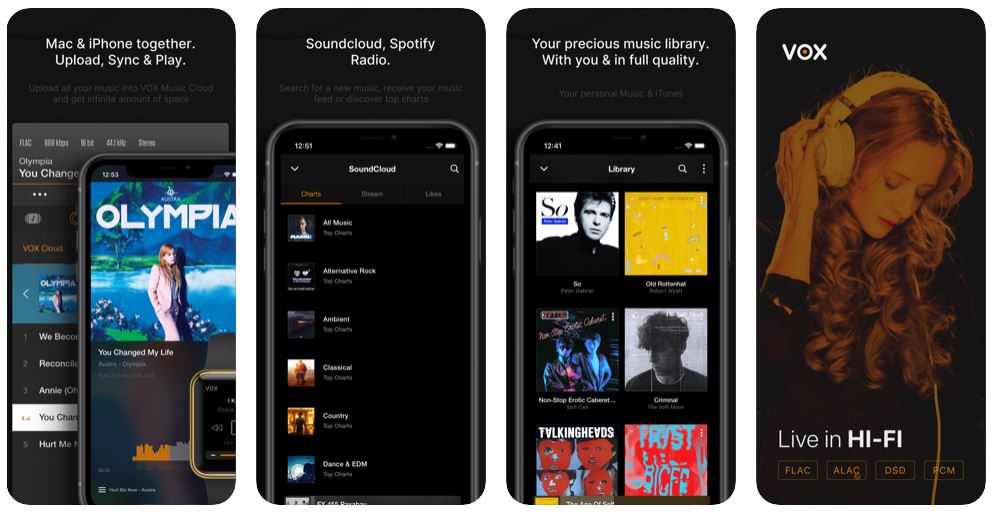 VOX is fine sha. I also hear it's considered the best iPhone offline music player in 2020. It works on iPads and other iOS devices as well. Also has really cool swipe gestures.
VOX supports all popular formats including Hi-Res ones.
• Lossless: FLAC, APE, WAV, ALAC, etc. and Lossy: MP3, WMA, OGG, etc. All Hi-Res audio formats support for crisp and clear sound. VOX FLAC player uses a custom-made audio engine based on BASS™.
Another nice point in its favor is that you can link you SoundCloud, LASTFM and Spotify accounts so your music is in one place. Dope.
It seems like the perfect app, until you see the monthly subscription.
Install here. (Free with option of a Vox Cloud subcription)
2. VLC for IOS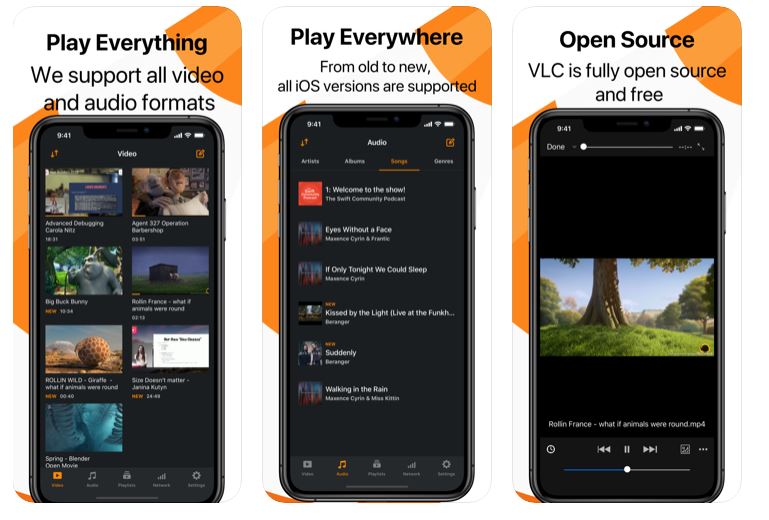 I put VLC on the list because of it's reliability. It does the job and does it well.
VLC for iOS is a port of the free VLC media player to iPad, iPhone and iPod touch.\nIt can play all your movies, shows and music in most formats directly without conversion.
It allows file synchronization with Dropbox, GDrive, OneDrive, Box, iCloud Drive, iTunes, direct downloads and through WiFi sharing as well as streaming from SMB, FTP, UPnP/DLNA media servers and the web.
It can handle a lot, so give it a try and let me know.
3. FLAC PLAYER +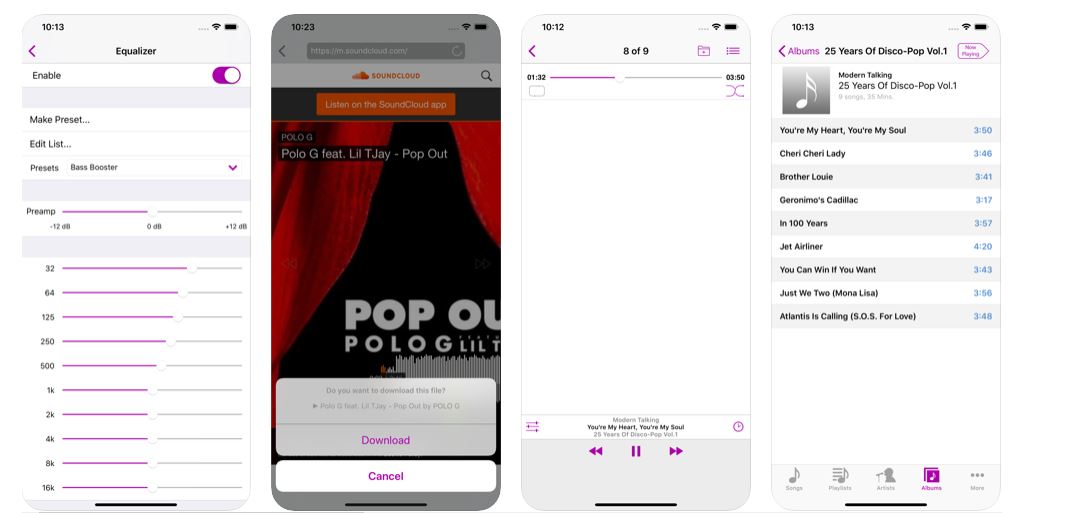 FLAC PLAYER + is good and also made it to my list of best offline iPhone music players for the main reason that it supports local playback. It also supports FLAC, MP3, AAC & WMA.
FLAC stands for Free Lossless Audio Codec, an audio format similar to MP3, but lossless, meaning that audio is compressed in FLAC without any loss in quality. This is similar to how Zip works, except with FLAC you will get much better compression because it is designed specifically for audio, and you can play back compressed FLAC files with FLAC Player+ app just like you would an MP3 file.
With FLAC PLAYER + you can group by playlists and also transfer music via WiFi. Not bad.
4. ECOUTE MUSIC PLAYER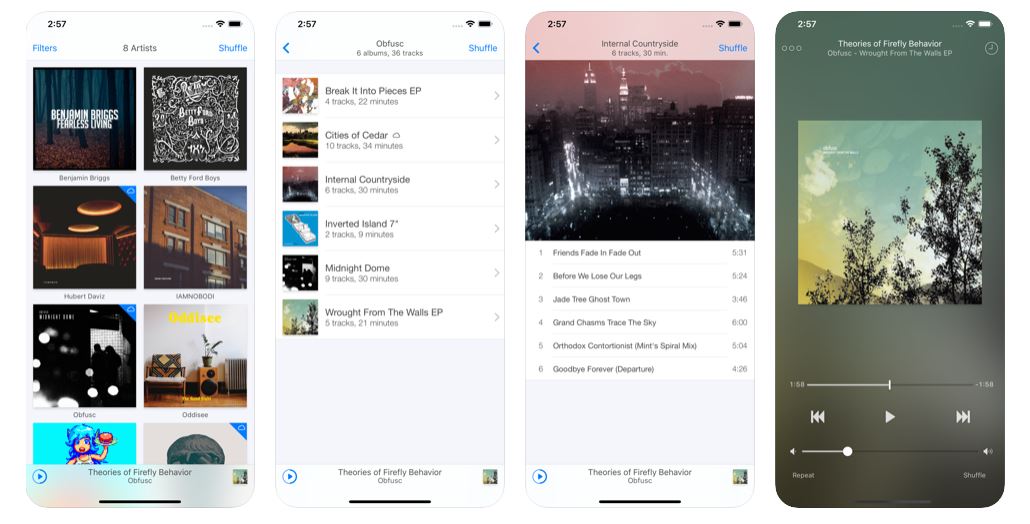 For $1, this is a good a good alternative to Apple Music app and seems quite fine.
Ecoute for iOS is an alternative player using your existing musical library. It sports a clean and elegant interface, revolves around gestures to help you control your music quickly, and integrates Twitter, Facebook, and Last.fm so you can share your favorites tracks.
It also lets you share to social media as it integrates them quite seamlessly.
5. STOCK MUSIC APP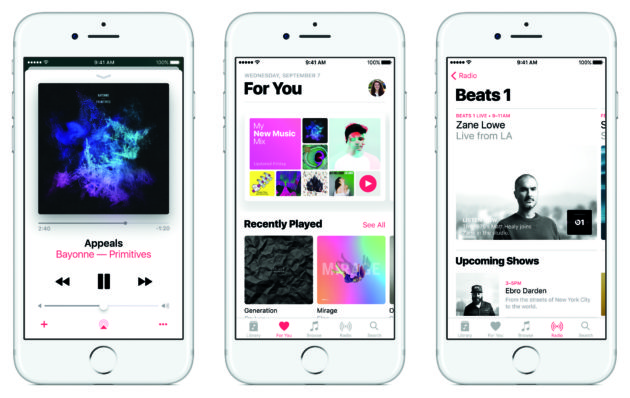 Well, of course. The Default iPhone music player is free, beautifully designed and simple. You can add as much music as you want and create a local library that can be played offline or you can download whatever song or album you want and add them to your personal playlist.
Best part? No ads, saves power and is really beautifully designed. Only downside is that it doesn't support all media files.
Comes with your iPhone. (FREE)

6. Cs MUSIC PLAYER APP (FORMERLY CELSIUM)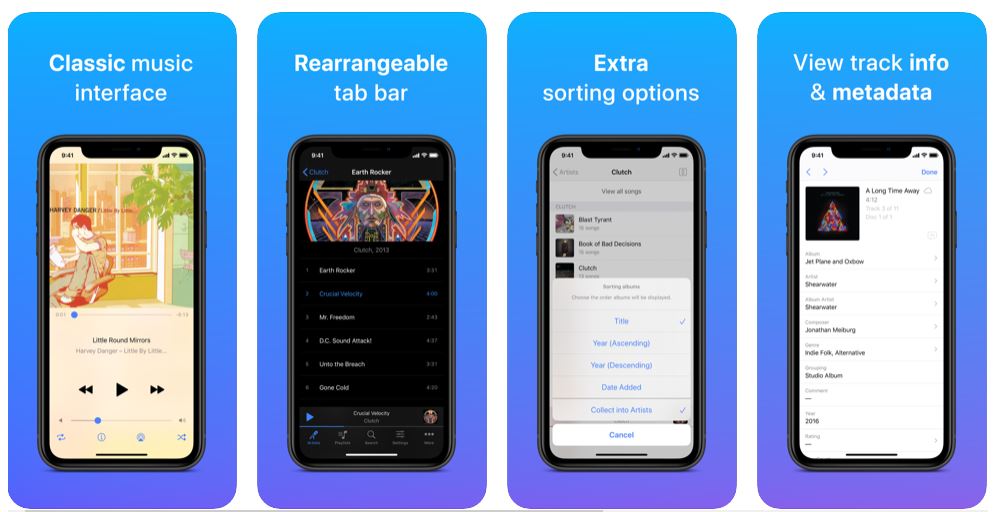 Definitely not bad. Cesium is another iPhone music player app that is not just appealing, but functional. All major file formats are accepted, and it's just a breeeze to use. Download and give it a try.
7. PANDORA MUSIC PLAYER APP
Pandora is the best music app for the iPhone, and is highly proficient in streaming impeccable music. According to Statista, there were 75.9 million active Pandora users in the US in 2018. The user only needs to put the desired artist name and Pandora will start recommending the relevant playlist. It's free, but a subscription to Pandora Plus is $4.99.
Install here (Free with subscription options)
Conclusion…
So there you have it, the best iPhone music player apps for 2020 – that are current, relevant and extremely helpful if you're an audiophile like i am. So which ones have you tried?
Kisses.
Zee
Recommended reading