Very recently, we had a request to embed Instagram on a website we designed and this led us to find out the very best of the best Instagram Plugins available in 2019. Let's share our list with you!
Premium plugins allow you to customize your display to a great extent. They also offer additional features and premium support, including customized solutions.
Best of The Best Instagram Plugins
When I say best of the best Instagram plugins, I mean the absolute best. I've used most of these and honestly, it's worth that extra $20 or so.



1. AccessPress Instagram Feed Pro ($18)

One of the most highly rated Instagram plugins available. The display settings of AccessPress Instagram Feed Pro consist of filtering option to filter (allow or block) images according to specific keywords, sort the images (according to date, likes, comment or in random order).
Update: item no longer available on the code canyon store.
2. Instagram Journal ($20)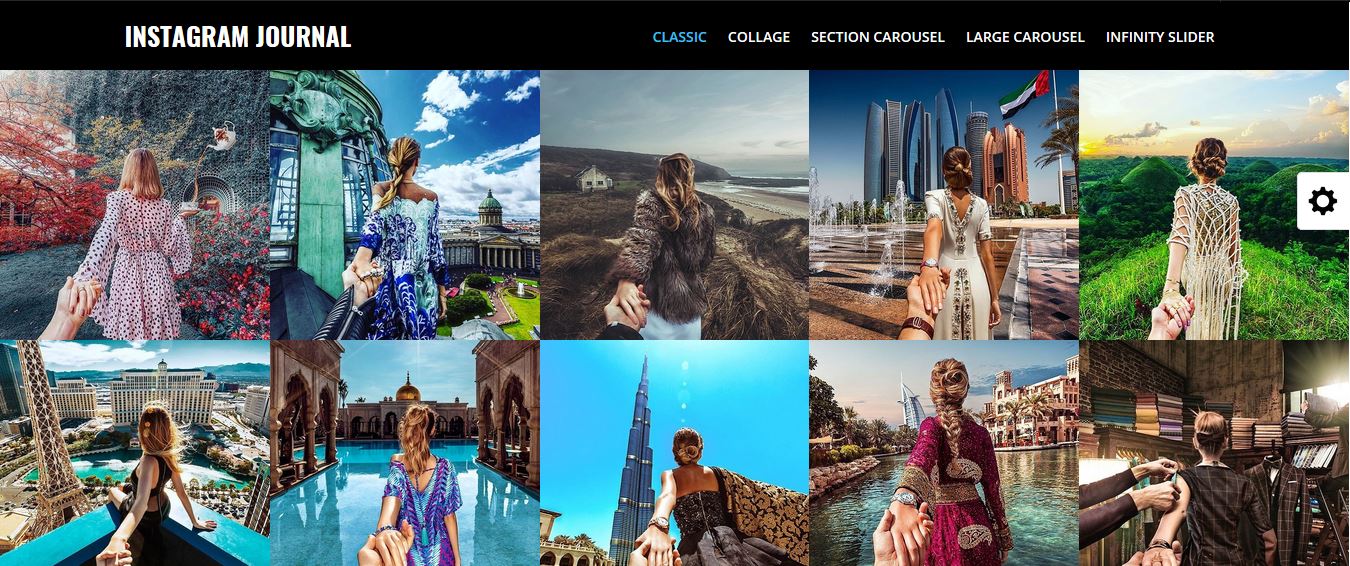 From the description: This is the only WordPress Instagram feed to truly leverage the full power of the Instagram API. Display everything from your photos, photos you've liked, photos of a friends account, photos of a particular hashtag, photos of a location and so much more! Creating galleries is effortless, so effortless you'll never need to use complicated code.
This is arguably the best of the best Instagram plugins I've used.
I couldn't agree more, honestly. This plugin is beautiful.
3. Instalink ($23)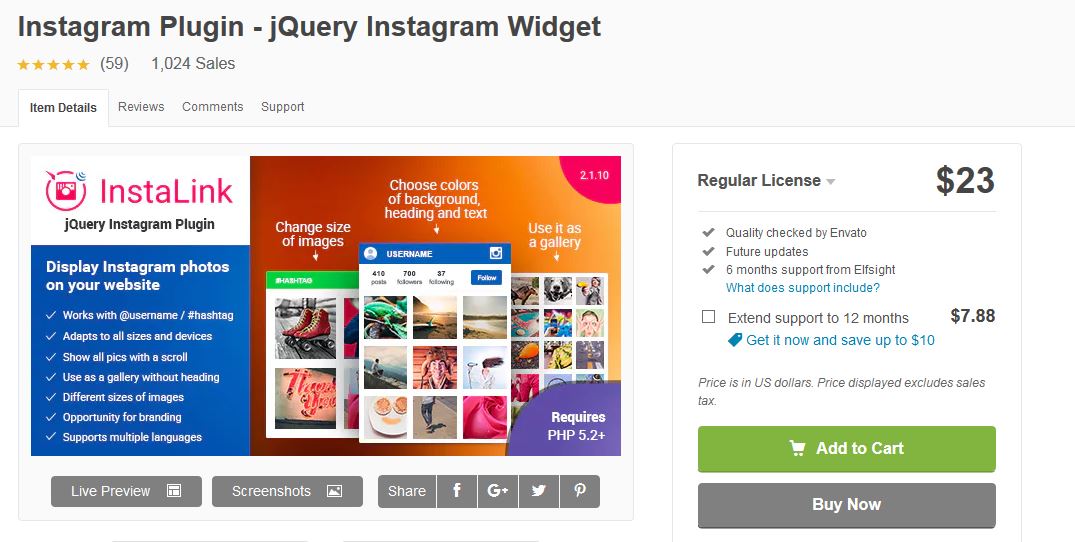 InstaLink is an Instagram widget, which allows you to display photos from an Instagram account or by tag on your website. It's a responsive, flexible, user-friendly plugin with most needed features.
With a responsive design, you can easily display the latest Instagram feeds from your account. You can be creative and choose the way you want your posts to be displayed.
4. Instagram Feed – Flexi Plugin for WordPress ($25)
Update: item no longer available on the code canyon store.
5. Instagram Feed by Smash Balloon ($39)
Add beautifully clean, customizable, and responsive Instagram feeds to your website. Super simple to set up and tons of customization options to seamlessly match the look and feel of your site. I should add that this plugin is the most downloaded Instagram plugin in the WordPress plugin repository.
It's $39 for 1 site, $79 for 5 websites and $119 for unlimited websites.
6. Instagram Feed – Instashow ($20)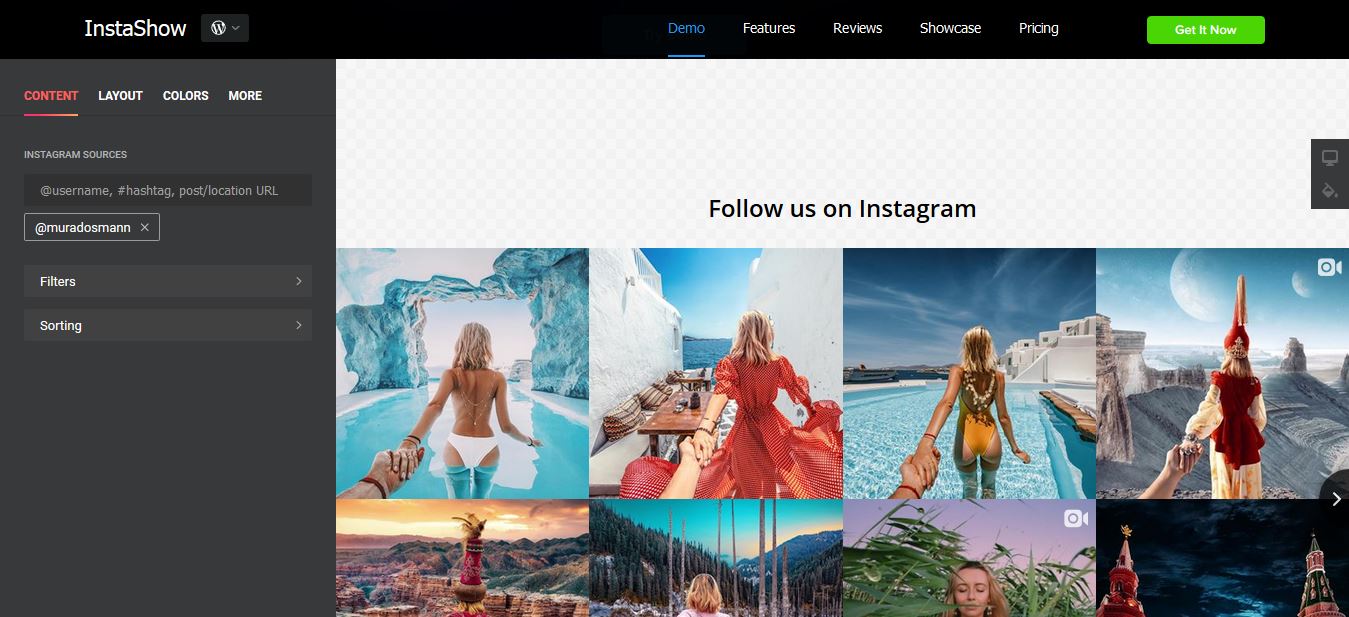 InstaShow is a premium WordPress Instagram feed plugin for creating charming galleries of Instagram images. Take the advantage of an all-new multipurpose responsive Instagram plugin for displaying various photos from Instagram with great number of possibilities to determine necessary resources and to set up additional filters.
7. Grace Instagram Feed ($19)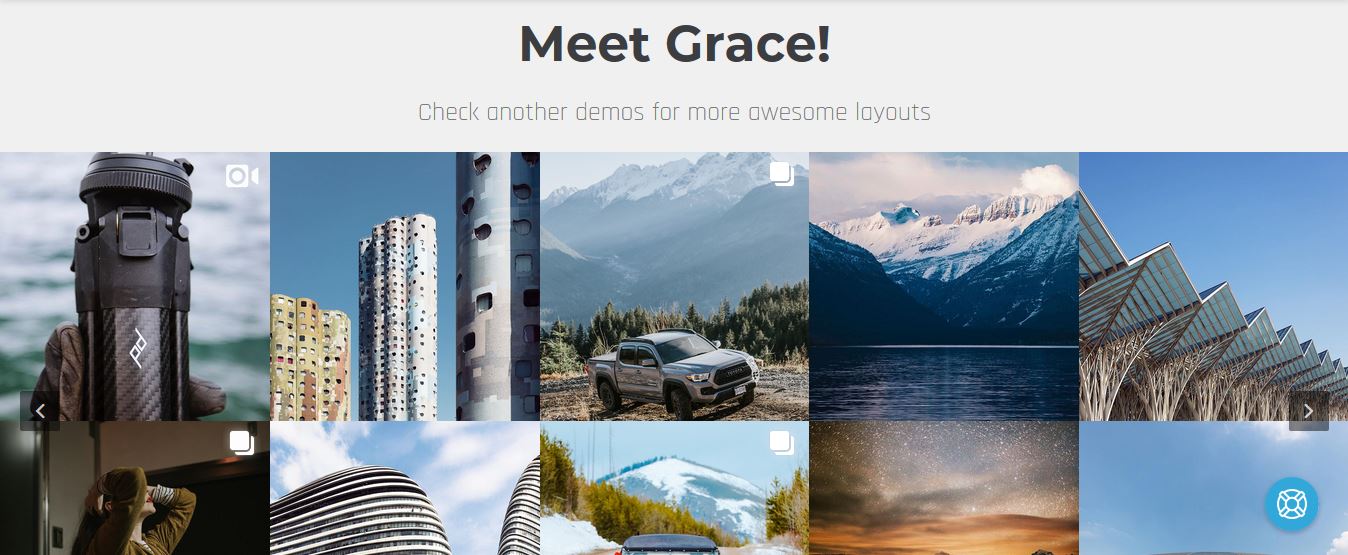 Weird name, but cool plugin.
From their description: Grace is a premium WordPress plugin for creating graceful Instagram feed media walls of Instagram public posts. The plugin lets you aggregate and stream posts of Instagram accounts, hashtags and locations. And the great thing is that you can mix any of Instagram feeds in the same social media wall.
Customization possibilities of Grace are so rich and powerful that you can change and setup almost every aspect of your Instagram feed galleries.
8. Supaz Instagram Feed

Number 8 on my best of the best Instagram Plugin is Supaz.
Supaz Instagram Feeds is an impressive WordPress Instagram plugin for building the most remarkable feeds. With the numerous options and functions, you can create the exact Instagram feed that you always wanted to run on your page. You can choose from different layouts, like grid, masonry, slider, carousel and grid rotation.
Update: item no longer available on the code canyon store.
9. WD Instagram Feed ($25)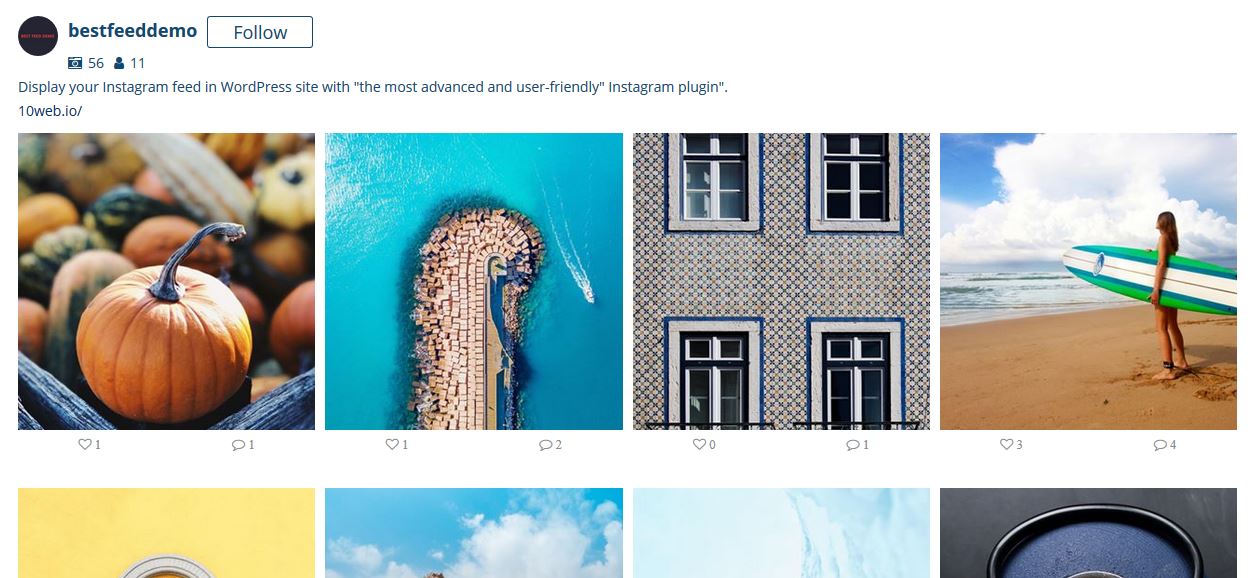 With the WD Instagram Feed plugin, you have the ability to create a beautiful Instagram gallery with some interesting effects like the lightbox with captions.
Pricing is:
Personal – $25 for one domain & six months of access to premium support and updates.
Business – $40 for three domains & one year of support and updates.
Developer –  $60 for unlimited domains & one year of support and updates.
Instagram Feed WD Premium – Everything from the previous plans, along with all 60 of the premium WordPress plugins from Web Dorado.
I like!
So that's a list of the best of the best Instagram plugins available. I could easily have made it 10 or even 20, but this is about sifting the chaff from the wheat so this should give a good guideline for you.
—
Recommended Reads: