Download the Diamond Bank mobile App with ease.
Diamond Bank has over 2 million users in Nigeria, yet it is amazing most still stroll into the bank physically as they are not aware that there is a mobile app to make things easy.
The Diamond Bank Mobile App allows you to access your account for transfers and airtime and even cable subscriptions. If you use a smartphone with internet access, you can download the Diamond Bank Mobile App for Android and Apple iOS devices.
How to download: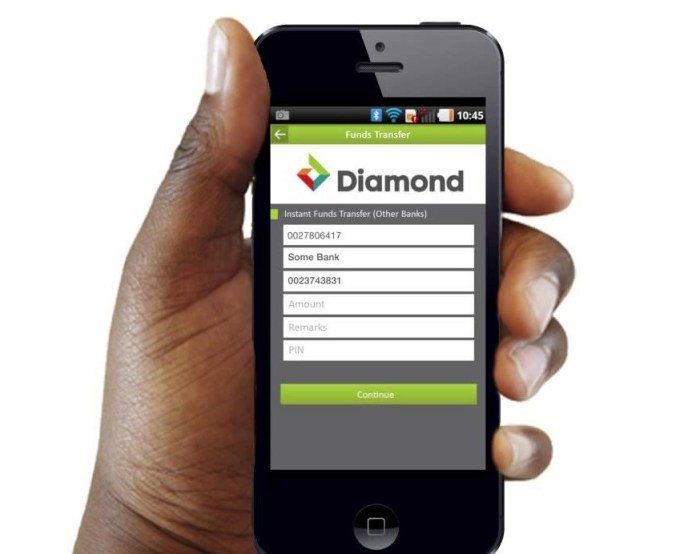 The Diamond Mobile App can be download from  i-Tunes App Store (seen on most IOS devices) or  Google Play (seen on most Android devices) on your phone and  the app will automatically appear on your phone.
Download the mobile app and install
The app icon will automatically appear on your device
Open the App and select 'Register'
Accept the Terms and Conditions
Register the App by following the 3 short steps below:
Enter your diamond online user ID (Internet Banking User ID) or 16-Digit debit card number and any of your account numbers. A 4-digit registration code will be generated and sent to your registered phone number as an SMS (if you used the debit card number, you user Id will also be sent in the same SMS)
Enter the diamond online user ID and/or registration code and select submit
Choose a password – not less than 6 characters and reconfirm it; choose a 4-digit PIN for transactions, reconfirm the PIN and select confirm. Once you have successfully completed registration, you are good.
Please see links below to download:
Download Diamond Mobile App for Android
Download Diamond Mobile App for iOS devices
Download Diamond mobile app for Blackberry
Go now and download!
What you can do with the Diamond Bank Mobile App
 Foreign Currency Transfer (Local and International)
 Search, book and Pay for International and Local flights
 Funds Transfer within and outside Diamond Bank
 eSUSU
 Self Service
 Touch ID for iOS devices
 Debit Card Registration
 Self-Registration on a New Device
 Diamond Money Transfer
 Account statement request
 Airtime Top-up
 Bills payments (over 40Bills)
 Blackberry BIS Subscription
 Cheque services (Stop Cheque, confirm Cheque and New Cheque request)
 Switch on/Off Debit cards
 Credit card repayments
 Events and Movie Tickets Purchase (Movie preview also available)
 Konga Wallet Top-up
 App personalization with a Selfie
Got more  questions about this service? Call 0700 300 0000 or send an e-mail to enquiries@diamondbank.com
For more info: Visit any of the local branches near you.
Recommended Links: